Inflation ticks up in August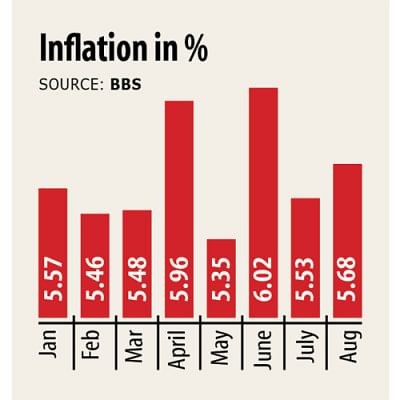 Inflation has risen by 15 basis points to 5.68 per cent in August, led by an increase in prices of food items, official figures showed yesterday. 
The average consumer price index was 5.53 per cent in July. 
August's reading was also higher from that in the same month a year ago when it was 5.49 per cent and from August 2018 when it stood at 5.48 per cent.   
Food inflation nudged up 38 basis points to 6.08 per cent in August. Non-food inflation declined 23 basis points to 5.05 per cent, data from the Bangladesh Bureau of Statistics (BBS) showed. 
Inflation in rural areas rose 17 basis points to 5.6 per cent, again driven by food inflation, which was up 42 basis points at 6.09 per cent. Non-food inflation fell 28 basis points to 4.7 per cent.
Inflation in the urban areas advanced nine basis points to 5.81 per cent. Food inflation rose 30 basis points to 6.06 per cent and non-food inflation declined 17 basis points to 5.51 per cent.
In a press release, the BBS said the prices of vegetables, spices and sugar rose in August compared to July.
Zahid Hussain, a former lead economist at the World Bank Dhaka office, said the headline inflation increased driven by an increase in the food inflation in both rural and urban areas.
The rise in food inflation appears to have been driven by increased rice prices. 
The prices of coarse, medium quality and fine rice varieties went up in August. "This is puzzling because the rice supply situation is reported to be comfortable," he said, referring to official data. 
Boro harvest and aus plantation have reportedly been very good. However, floods have adversely affected the aus harvest and aman plantation which could have contributed to hoarding of rice, thus increasing prices.
The decrease in non-food inflation was expected because of demand weaknesses. Even though economic activities are recovering, employment and incomes are still far from the pre-pandemic levels.
"Consumer spending on non-essentials has remained restrained," Hussain said.
He called on the government to move quickly on ensuring adequate rice supplies in the market by reducing duties on imports.
"The very announcement of such duty reduction will dampen the propensity to hoard and reduce rice prices."
Increased food inflation is terrible news for all population groups, particularly the poor and middle class.
Incomes of the poor and the vulnerable population have declined due to the Covid-19 pandemic. Rice price increases have made coping with an already difficult situation much more strenuous.  
Inflation ended the just-concluded fiscal year at 5.65 per cent, slightly overshooting the government's target of 5.5 per cent, owing to the dragging supply chain disruptions caused by the pandemic-induced shutdown. 
Inflation target for the current fiscal year is 5.4 per cent.
In a positive development, wages have started to increase, which would allow workers to breathe a sigh of relief as their incomes had largely been wiped out because of the coronavirus pandemic.
The general wage rose nine basis points to 5.91 per cent in August, according to the Wage Rate Index.
The sharpest increase came in the services sector at 50 basis points, in an indication of the gradual opening up of the economy. The rate was 6.02 per cent last month against 5.52 per cent in July.
Wages in the industrial sector rose seven basis points to 5.25 per cent and that of the agriculture sector rose one basis point to 6.16 per cent.