Inflation averages 5.69pc in 2020, a 3yr high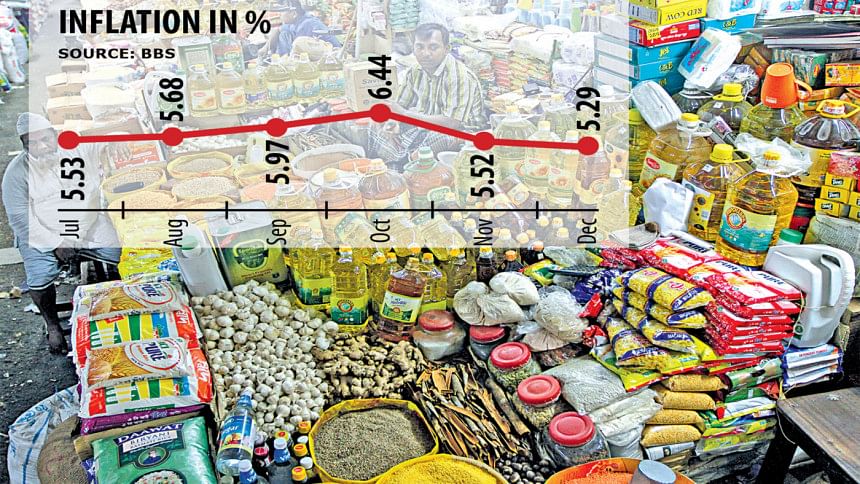 Average inflation rose to a three-year high of 5.69 per cent in the just-concluded calendar year as food prices maintained an upward trend for most of 2020. 
In December, the average Consumer Price Index (CPI), however, fell to 5.29 per cent, the lowest in 47 months, driven by a significant drop in food prices.
December's figure was 23 basis points lower than the CPI in November as it fell to its lowest level since February 2017, data from the Bangladesh Bureau of Statistics (BBS) and the central bank showed.
In December, food inflation declined 0.89 percentage points to 5.34 per cent compared to the previous month.
Non-food inflation increased 19 basis points to 5.21 per cent.
Inflation had continued the upward trends between July and October due to a price hike of rice and vegetables in the wake of crops damaged by floods and rains.
Food inflation started to decrease since November, bringing down the general inflation.
Although the price of rice slightly rose last month, other major food items saw a drop.
"This has had a good impact on general inflation," said Zahid Hussain, a former lead economist of the World Bank's Dhaka office.
"Maintaining vigilance is important to keep inflation within the monetary target. The central bank should continue to monitor to this end."
In December, coarse rice price rose marginally to Tk 52.28 a kg from Tk 52.23 a month ago in markets in Dhaka, BBS data showed.
The price of two finer varieties -- najershail/minikat and pajam -- stood at Tk 68.20 and Tk 66.30 a kg respectively in contrast to Tk 68 and Tk 65.68 in November.
Prices of both Moongdal and lentil dropped to Tk 134.30 and Tk 122.50 a kg from Tk 135 and Tk 125 respectively.
Good quality soybean oil became expensive by Tk 5.13 a litre, according to the BBS.
The price of dry chilli decreased to Tk 380 a kg from Tk 390 a month ago. It averaged Tk 235 last fiscal year.
The price of onion dropped to Tk 80.70 a kg from Tk 88.21 in November.
The national statistical agency said inflation in rural areas was down 0.45 percentage points at 5.28 per cent from 5.55 per cent in November.
Food inflation dropped 0.81 percentage points to 5.60 per cent, and non-food inflation rose 24 basis points to 4.67 per cent.
Urban inflation declined 44 basis points to 5.31 per cent, led by 1.07 percentage points fall in food inflation, which stood at 4.77 per cent.
Non-food inflation in the urban areas rose 29 basis points to 5.93 per cent in December, BBS data showed.
The government has set a 5.4 per cent inflation target in the current fiscal year.