Income tax, VAT may be cut in budget
Adviser hints at FBCCI event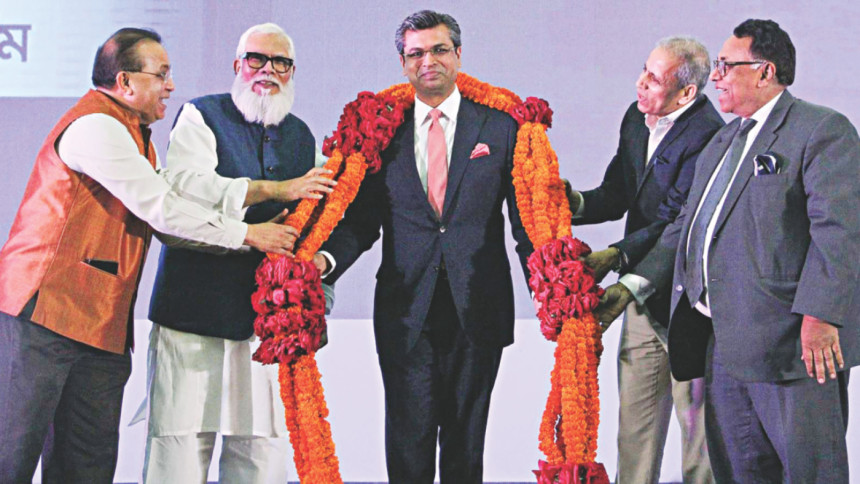 The income and value-added tax rates may be cut in the national budget for the upcoming fiscal year, an adviser to the prime minister said.
In Bangladesh, both the VAT and income tax rates are higher than those in other countries, Salman F Rahman, the private industry and investment adviser, said.
He was speaking at the unveiling of Sammilito Babosayee Parishad, a panel for the upcoming biennial election of the Federation of Bangladesh Chambers of Commerce and Industry (FBCCI), at International Convention City Bashundhara in Dhaka on Sunday night.
Sheikh Fazle Fahim, panel leader, revealed the names of the candidates at the event, which was attended by former presidents and vice-presidents of the FBCCI and members of the business community. The election is due on April 27.
On defaulted loans, Rahman said the government was punishing wilful defaulters and trying to find out ways to help genuine defaulters.
The adviser also said the long-cherished one-stop service centre for businesses would get ready within next three to six months in true sense as the government was working to amend laws to make the initiative effective.
"Earlier, the one-stop service centre could not go into operation although laws were amended and we used to joke that the one-stop service is in fact a full stop service. But the same will not happen this time."
The government is working to fast-track the delivery of trade licences and company registration so that businesses can avail themselves of the important documents within three to four hours, according to Rahman.
He also touched upon a government plan to improve Bangladesh's position in the World Bank's flagship Ease of Doing Business ranking. The government has a target to amend laws and rules in a way so that the ranking improves to 115th from the current 176th, he said. Shafiul Islam Mohiuddin, president of the FBCCI, urged the government to lower the bank interest rate to single-digit in true sense.
"If the non-performing loans of the wilful defaulters are not strictly checked, the expected economic development might not be achieved," he said. Mohiuddin also criticised the proposed gas price hike. "This is not the right time to raise the gas price."
Gas distribution companies are seeking a 132 percent increase in gas prices for industries. The hearing on the proposals, which are also calling for a hike for consumers of all categories, has already taken place. Mohiuddin welcomed the government plan to introduce multiple VAT rates from the next budget.
Fahim said the FBCCI took five major projects, including setting up technical and vocational training institutes, FBCCI University, arbitration centre, economic institute for policy and planning, and FBCCI iconic concept tower in Purbachal.
"Sammilito Babosayee Parishad will achieve the long-term goals through a visionary leadership," he said.