Inclusive, sustainable finance should get more focus
M Syeduzzaman says at the launch of Atiur Rahman's book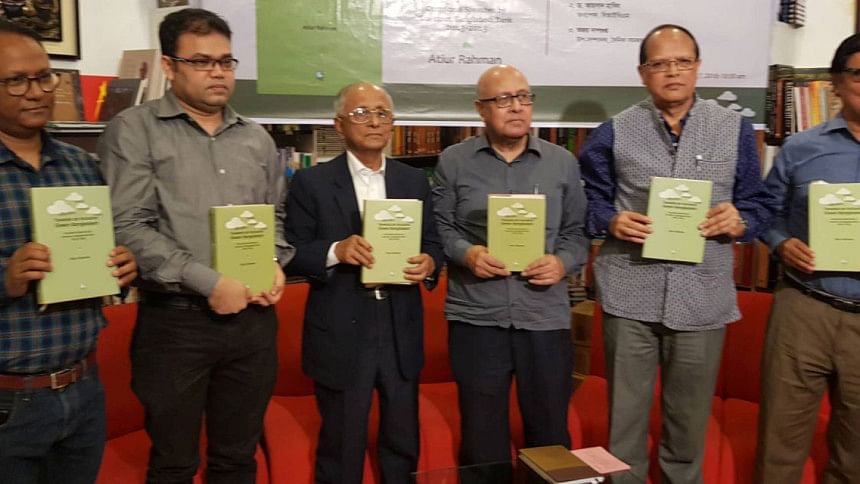 The initiatives Bangladesh Bank has taken for inclusive and sustainable finance should be properly monitored and continued, said M Syeduzzaman, former finance minister.
He also suggested greening of the financial sector which has been contributing towards achieving green growth of the country.
"Dr Atiur Rahman, while serving as the governor of Bangladesh Bank, induced a number of innovative positive changes in the financial sector that ensured strong resilience in the face of the last global financial crisis."
Syeduzzaman spoke at the launch of a book titled "Towards an inclusive green Bangladesh: occasional speeches by governor, Bangladesh Bank" written by Atiur Rahman.
Rahman is a professor of the Department of Development Studies at Dhaka University. He is the chairperson of Unnayan Shamannay, a non-governmental research organisation.
The event was organised at Shahbag by the publisher of the book Pathak Shamabesh.
Khondker Ibrahim Khaled, former deputy governor of the central bank, applauded the pioneering role of Rahman in promoting inclusive and green finance in Bangladesh.
"The mere title of the book is enough for anyone to realize that this has been written by Dr Atiur Rahman," said Khaled.
The main message of this book is to look long term for transformation of the real economy and as well as including those who are at the bottom of the social pyramid, the author of the book said.
Rahman said during his tenure as the governor of the central bank he received tremendous support from the government as well as his colleagues from Bangladesh Bank and the commercial banks.
Professor Shibli Rubayet Ul Islam, chairman of Sadharan Bima Corporation; Shah Md Ahsan Habib, professor of Bangladesh Institute of Bank Management, and Ajay Dash Gupta, deputy editor of Samakal, a Bangla daily, also spoke.