Housing Problem of Single People
China firm to shell out Tk 300cr to build 100 hostels in Dhaka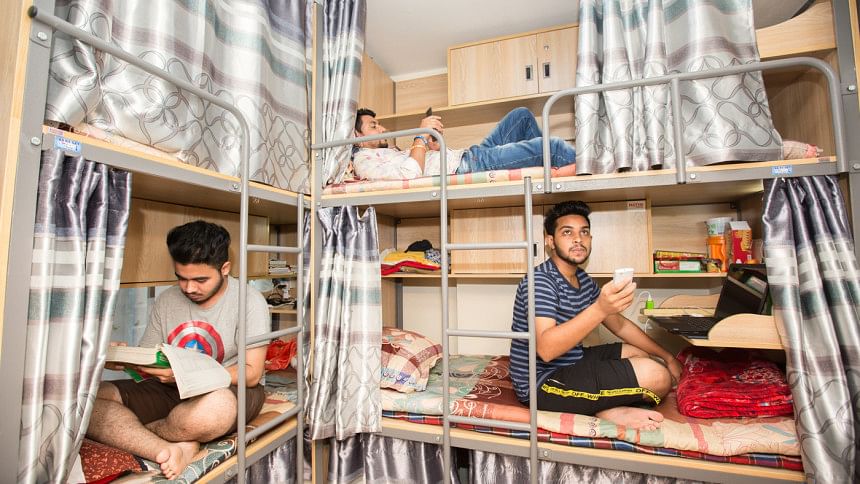 A Chinese company plans to invest Tk 300 crore to establish 100 hostels for singles who are struggling to find a safe and convenient place to live in Dhaka.
Neways International Company Ltd has already set up six hostels in the capital: one each in Uttara, Badda, Baridhara, Shahbagh, and two in Mirpur. Five of them are for males and one for females.
"The rest will be set up within three years," Zhang Zhimin, chief operating officer of the company, told The Daily Star in an interview in his Nikunja office on Tuesday.
There is a compact chamber for every inhabitant, he said. "Each of them has roughly the length and width of a single bed, with sufficient space for a hotel guest to crawl in and sit on the bed." The rent is Tk 233 to Tk 266 a day, Zhimin said.
The hostel offers multi-functional beds, a luxurious lobby, 24-hour security, reading room, personal locker, three times meals and an air-conditioned environment.
Guests will be provided with washing machine and dryer, Wi-Fi, housekeeping services, hair dryer, smart TV, gym and a playing zone.
The place is also equipped with generator and finger print door, he said.
Zhimin along with his partner—managing director Zhang Li Guang—is trying to provide a shed to the people who came to Dhaka for a living or for education but struggling to find a decent accommodation.
Mess life is rife with problems starting from water and gas crisis to poor sanitation and lack of hygiene and overall security.
This means bachelors and students have to spend a lot of time doing things for which they have not come to this city, Zhimin said.
"But at Super Hostel, one just needs to bring their personal belongings, such as clothes and books. We will take care of the rest."
The idea of the hostel came up when Zhimin came to Dhaka in 2014 to meet one of his Chinese friends.
"At my friend's place, the living condition was horrible. The toilets were smelly. Cleanliness did not exist there. There was little entertainment."
All these prompted Zhimin to set up the hostel.
Neways ran two pilot projects – one in Aftabnagar and the other in Kathalbagan in 2014 and opened its first Super Hostel in Uttara in October 2017.
Around Tk 2-3 crore is needed to turn a building into a hostel and the company has already invested about Tk 25 crore for the project, which now can accommodate 3,227 individuals.
The company has leased the property for 10-20 years. Some 1,200 people are now living in these hostels. Of them, 70 to 80 are female.
One of the inhabitants, SM Mohiuddin Kabir has been staying at the Baridhara Super Hostel since April this year when his wife and only child had to move out of the city for some reasons.
A senior sales executive of a foreign company, Kabir shares a room with five others. "I have to spend about Tk 9,600 a month for everything. Life is hassle-free here."
Mehedi Al Kabir, an MBA student of East West University, has been in the hostel since January.
It is impossible to get three meals, lobby, laundry, air-conditioned room, ironing, gym, sports kits and free Wi-Fi only at Tk 8,000 in the city, he said.
"Besides, I need to worry about nothing other than my education here. For a student like me, it is a heaven on earth."
"The hostel helped me get rid of the pain of traveling around 50 kilometres every day to come to Gulshan from Narayanganj to attend my classes," said Maruf Kamal Rabby, a management student of Government Titumir College.
He has been living in the hostel's Badda branch for the last six months.
Tahsinul Abrar, a higher secondary student at Willes Little Flower School and College in Kakrail, said he has not faced any water shortage or power cut in the hostel for a single day.
The rooftops of the hostels have been turned into small playgrounds to help the tenants play cricket or other sports whenever they want.
The company now employs 230 people, only four of them are Chinese.
Some guests say the management should try to improve the quality of food.
Zhimin said his company targets to set up hostels at a strategic location so that the guests can simply walk to their offices or campuses.
"If they can stay near their office or campus, they will be able to concentrate more on what they are doing and what they are supposed to do."
According to an estimate, there are around four million people who are living bachelor life in Dhaka, he said.
"We are here to help them improve their lifestyle and enjoy a comfortable and productive life."