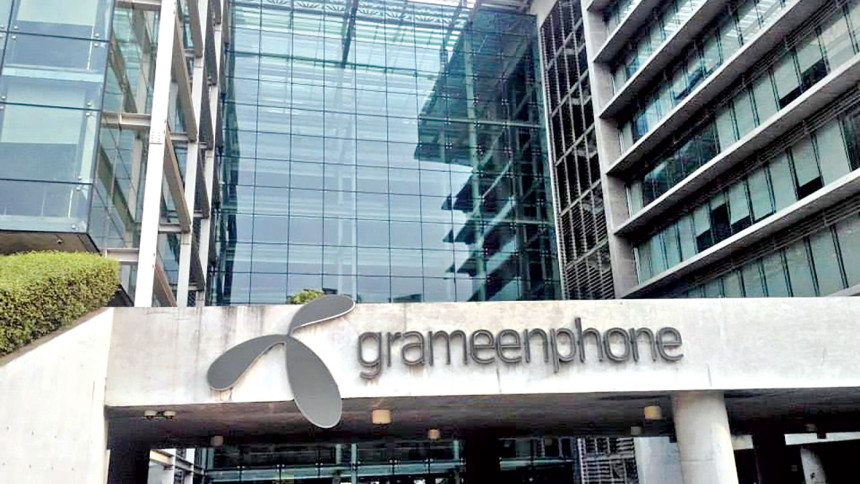 Grameenphone, the country's biggest mobile phone operator, saw its net profit drop 16 per cent year-on-year to Tk 890 crore in the January-March quarter of 2021, impacted by a reduction in inter-connection revenue and economic uncertainties from Covid-19.
The telecom operator reasons higher finance cost and tax expense last year.
It reported generating Tk 3,481 crore in revenue in the three months, down 3.7 per cent year-on-year.
Stocks of Grameenphone declined 0.74 per cent to Tk 336 yesterday on the Dhaka Stock Exchange board.
The business outcome came a day after its shareholders approved 275 per cent cash dividend at its annual general meeting.
Grameenphone said it acquired 17 lakh new subscribers in the quarter, taking the total to 8.07 crore, which is 46 per cent of the country's 17.33 crore mobile phone subscribers as of February.
Of them, 51 per cent are using internet and the number of 4G technology users stood at 2.15 crore.
"Several significant milestones were achieved in the first three months of 2021," said CEO Yasir Azman.
With the acquisition of 10.4 MHz spectrum in the first quarter of 2021, Grameenphone holds the country's largest spectrum of 47.4 MHz, said the telecom operator.
It said it was using its technological expertise in building capabilities and digital enablement.
"We are also faced with increased volatilities as Bangladesh faces its worst yet wave of Covid-19," said Azman.
"Our efforts will continue in devising collaborative solutions in supporting recovery from the pandemic while we will continue to enrich our service propositions and facilitate the country towards growth and digitalisation," he said.
Capital expenditures stood at around Tk 360 crore, excluding licence and lease for network coverage, said the mobile operator in a press release.
Grameenphone now has 16,852 base transceiver stations, which essentially facilitate wireless communication between user equipment and the network.