Govt turns to international market for rice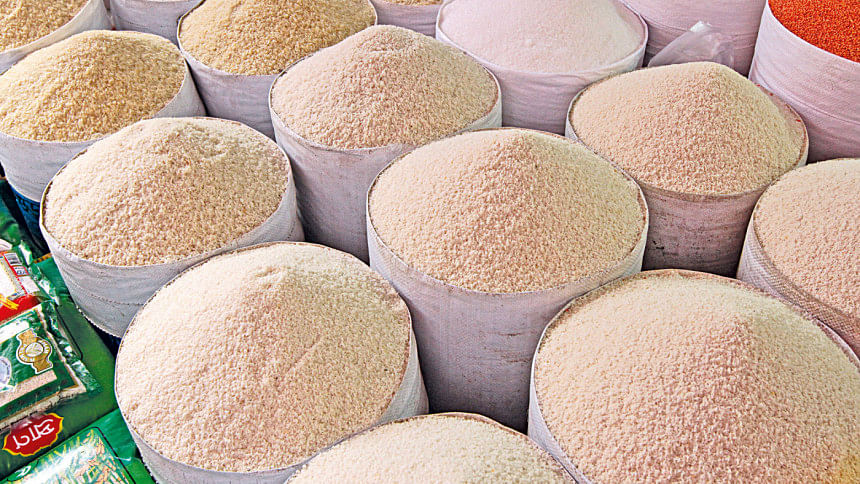 The government has started buying rice from the international market in its effort to replenish public food stocks and increase its capacity to intervene in the market to curb a price spike of the staple food.
As part of the move, the Directorate of Food floated a tender on Sunday to purchase 50,000 tonnes of parboiled rice from the international market.
It is likely to seek bids for another 50,000 tonnes soon, said Director General Sarwar Mahmud.
"We will gradually make purchases on the basis of our procurements from the domestic market and the overall market situation," he said over the phone.
The move comes as the Directorate of Food could not attain its purchase target for paddy and rice from winter crop Boro.
This stemmed from a lack of interest of farmers and millers amidst soaring prices resulting from apprehensions of reduced yield for inclement weather, recurrent floods and pandemic-induced fears of food shortages.
The food ministry was able to materialise 67 per cent of its plan to purchase 11.5 lakh tonnes of rice from millers.
As for its purchase target of 8 lakh tonnes from the harvest of Boro, just over one-fourth of it has been attained. Boro accounts for over half of the annual rice basket of 3.66 crore tonnes.
As the distribution of foodgrains continued under various programmes, including social safety nets, stocks of rice and wheat dipped 40 per cent year-on-year to 8.8 lakh tonnes early this week. 
The current stock is nearly half of the comfortable level of over 15 lakh tonnes, which provides the government with the flexibility to intervene with open market sales and other schemes.
The interventions seek to reach the staple to the poor and low-income people at lower-than-market prices and curb price spirals.
The average retail price of coarse rice was 24 per cent higher, each kilogramme costing Tk 46.5, yesterday in Dhaka from that a year ago, shows market data compiled by the Trading Corporation of Bangladesh.
In order to refill public storages, the food and agriculture ministers earlier spoke out of plans to import two lakh tonnes of rice.
Mahmud said his office did not fix any target for making purchases from the international market. "We will decide by observing, considering the overall situation," he said.
Officially, the Directorate of Food planned to start buying paddy from farmers from November 7, and rice from millers from November 15 during the current harvest season of Aman.
Though the purchase of paddy has started, the amount of grain bought is, till date, insignificant while contracts with millers for the purchase of rice are yet to be finalised, said Mahmud.
The government has an allocation to import 1 lakh tonnes of rice during the current fiscal of 2020-21.