Govt targets $4b from ship exports by 2025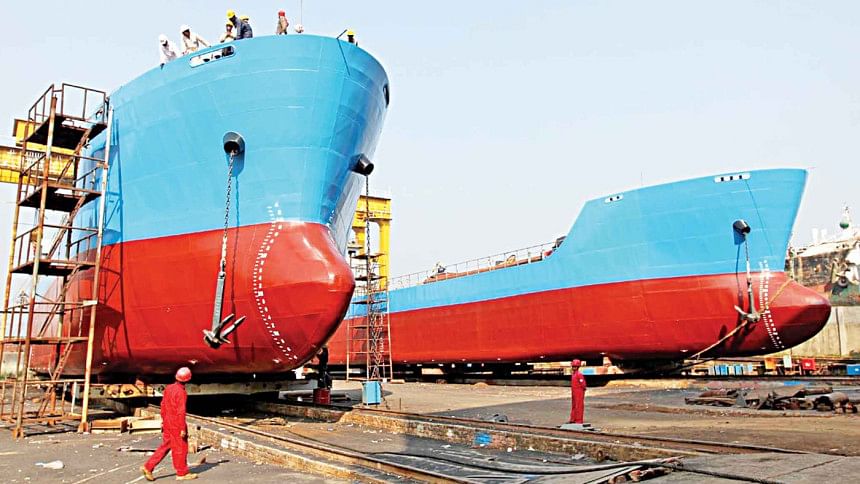 The cabinet yesterday approved the Shipbuilding Industry Development Policy 2020 to facilitate the growth of the labour-intensive sector and generate export earnings.
The policy aims to fetch $4 billion through ship exports by 2025, according to Cabinet Secretary Khandaker Anwarul Islam.
Under the policy, benefits and loans can be accessed by shipbuilders. This will also help create more employment opportunities and reduce the country's import dependence, Islam said during a press briefing at the secretariat.
In order to implement the policy, there are plans to reduce taxes and VAT as well as provide long-term loans to public and private shipbuilders.
"Many exporting countries, including Germany and Italy, have moved away from the shipbuilding industry, creating a good opportunity for Bangladesh," Islam added.
Bangladesh started exporting modern ships to other countries in 2008, and since then, it has earned around $180 million by exporting 40 ships to several countries in Europe, Africa and Asia.
"Our maritime border is 664 kilometres long, but we can only use 10 per cent of it. Our country is also building ships with a capacity of 2,000 tonnes for exports, which will play a big role in the country's blue economy in the future," Islam said.
Md Saiful Islam, chairman of Western Marine Shipyard, told The Daily Star that no industry could move forward without policy support.
"This industry requires huge investment and takes a long time to establish," Islam said.
Investors were less interested in the past, as there were no guidelines or government policy support until now. But thanks to the recent development, there is now an opportunity to increase domestic and foreign investment in the shipbuilding industry.
There are 100 shipyards and dockyards in Bangladesh. Still, only five of them follow international standards, the entrepreneur said, adding that the plan to earn $4 billion from exports depends on how well this policy is implemented.
Due to the government's policy, most of the shipyards will now work to increase investment in the industry and backward linkages, Islam added.