Govt seeks $1b from IMF, WB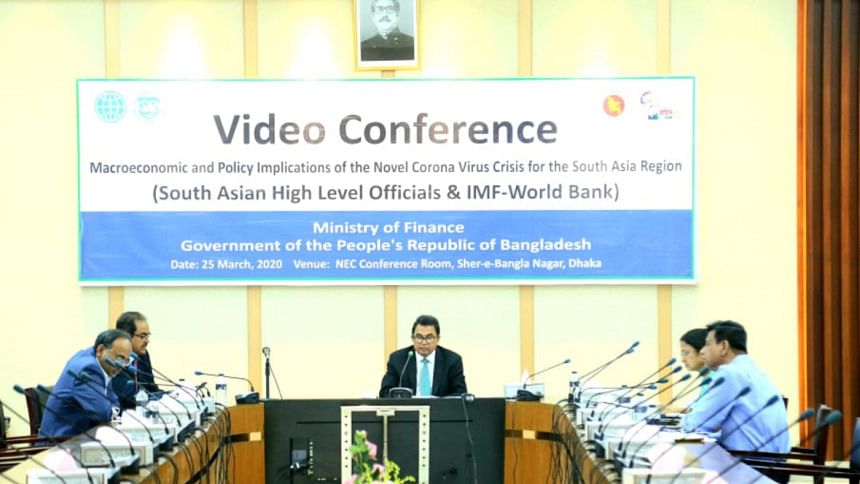 Bangladesh yesterday sought $1 billion in support from the International Monetary Fund and the World Bank as the country looks to support its people, businesses and industries reeling from the coronavirus pandemic.
The government also requested the global multilateral lenders to stand by Bangladesh so that it can tackle coronavirus, which is progressively getting worse in the country.
"A single country can't tackle this type of disastrous situation by itself. We would like to earnestly request the World Bank and the IMF that they would ensure greater cooperation taking into account the risky situation facing Bangladesh," Finance Minister AHM Mustafa Kamal told the global lenders in a video conference yesterday.
The government expects to receive $750 million from the IMF and $200 million from the WB.
The coronavirus stands to wipe out 1.1 per cent of Bangladesh's GDP as per a projection of the Asian Development Bank (ADB), the minister said.
"It came at a time when Bangladesh is targeting to achieve the Sustainable Development Goals and become a higher middle-income country by 2030," said a statement from the finance ministry quoting him.   
If the pandemic prolongs, the global economic growth may fall to 1.5 per cent.
Bangladesh has already started to feel the heat of the coronavirus. "We are worried that the Covid-19 crisis may deal multi-faced blows to our economy," Kamal said.
Garment shipments, Bangladesh's main export earner, are being affected following the fall in demand for apparel items owing to lockdown in the US and Europe. The country's infrastructure projects are set to face delays.
Remittance sent by migrant workers have kept the economy dynamic to some extent so far, but the flow would see negative impact soon as a significant number of migrant workers returned to Bangladesh because of outbreak of the virus, the minister said.
Changyong Rhee, IMF's director for Asia Pacific; Hartwig Schafer, vice-president of the WB for South Asia; Nena Stoiljkovic, vice-president of the International Finance Corporation for global partnerships; and Ceyla Pazarbasioglu, vice-president of the WB for equitable growth, finance and institutions, also spoke during the video-conferencing.
Abu Hena Md Rahmatul Muneem, chairman of the National Board of Revenue; Md Ashadul Islam, senior secretary of the Financial Institutions Division; Abdur Rouf Talukder, finance secretary; and Fatima Yasmin, secretary of the Economic Relations Division, were present.