Garment exporters not happy with budget proposals
Demand 3pc cash incentive instead of 1pc proposed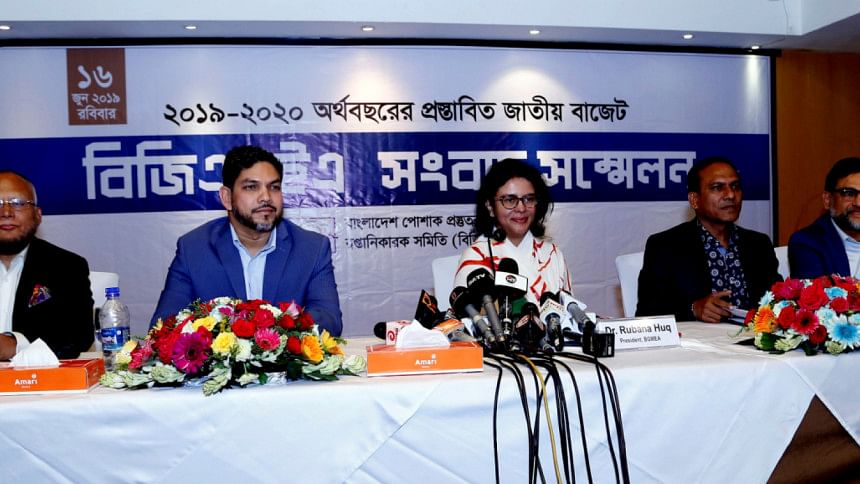 Apparel exporters yesterday voiced their dissatisfaction with the 1 percent cash incentive handed to them in the proposed budget for fiscal 2019-20 as it is insufficient to help them tide through the current volatile situation in garment trade.
They had originally demanded 5 percent cash incentive, but are now meeting the government halfway and asking for 3 percent.
Finance Minister AHM Mustafa Kamal has already allocated Tk 2,825 crore in the budget; another Tk 5,650 crore would be needed if the garment exporters' new demand is to be entertained.
In a post-budget reaction press conference at the Amari Dhaka, Rubana Huq, president of the Bangladesh Garment Manufacturers and Exporters Association (BGMEA), also urged the government to devalue the local currency by at least Tk 5 against the US dollar to enhance the garment exporters' competitiveness in global trade.
The move would require an additional Tk 12,419 crore.
"We demand both 3 percent cash incentive and devaluation of the local currency against the USD," Huq said. The BGMEA chief, however, lauded the government's proposal of full VAT waiver on the use of natural gas, electricity bill and water in the garment sector.
She also demanded the corporate tax rate be brought down to 10 percent from the existing 12 percent for the garment sector.
The government should also waive duty on the import of the eight kinds of fire safety equipment used for enhancing workplace safety and not just five.
The single digit interest rate against the bank loan is not being followed by many banks although the government assured there would be.
"We want single digit bank interest rate for the garment sector."
Huq also suggested bringing the country's garment workers under the government's social safety net programme.
"These hard working workers are contributing a lot to the industry and the economy. We are expecting that the wrong perception about Bangladesh's garment sector worldwide will change."
If the government stands beside the garment sector, the exporters will be able to grab more new markets with value-added items, she added.