Gaming industry begins to bud
Offers a ray of hope for youngsters; developers call for allowing foreign companies in the sector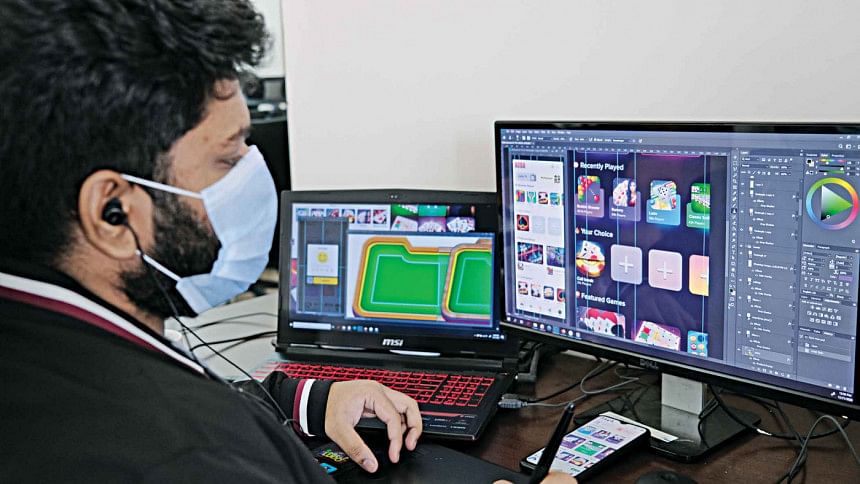 From thrill-seeking crowds in grandstands to individuals opting for solace on personal computers, all have been captivated by the world of gaming as it progressed over the years. But the sector of game development has been denied the importance it deserved.
Bangladesh needs to tap into the enormous capability of the gaming initiative, which is not just a leading part of the modern popup community but also the source of generating vast revenues worldwide.
Game analytics provider Newzoo in November 2020 estimated that gamers globally would spend $174.9 billion on games this year, leading to a 19.6 per cent improvement year-on-year.
In another 2017 report it gave a statistical analysis where Bangladesh's gaming market was worth $62.22 million. The report categorised Bangladesh as retaining the third-largest video game market in South Asia after India and Pakistan and 61st among 100 countries internationally.
In spite of having such a substantial market, game development has not prospered in the country, said Ariful Islam Suman who supervises business development of Ulka Games, one of the rapidly growing game development studios in Bangladesh.
He asserted that in the last few years, the number of gamers here has increased substantially. Many game admirers want to embrace game development masterfully.
However, Bangladesh lags far behind in this field and differs from many other countries, including neighbouring India. The number of game development companies there skyrocketed from 25 to 250 in the past decade.
Referring to Business Today, Suman explained that India's gaming industry was set to become a $1 billion market by 2021.
There is no exact statistics on the number of game development companies in Bangladesh. Owners of some companies say apathy towards this industry is a big cause behind its poor development here.
"Gaming is a massive field worldwide and is set to thrive," said Bony Yousuf, founder of Thunder Games, another game development studio in Dhaka's Banani.
"But most of the folk in our country do not have much knowledge about this industry as no notable work has been done yet in Bangladesh to endorse it," said Yousuf.
Zamilur Rashid, director and CEO of Ulka Games, explained that the simplest way for Bangladeshi game innovators to obtain industry-level indoctrination was through the entry of good foreign companies here.
"Nowadays, our market volume in Bangladesh is moderately low. Thereupon, it's still an enterprise of approximately $60 million," he said.
"Despite retaining such a big video game trade, we can't prosper like neighbouring India because our games are made especially based on Bangladeshi culture," he said.
He further explained that Indian games were achieving vogue outside the subcontinent. The Ludo Club game specifically exists as well as is respected in Europe.
Ulka Games is a part of Moonfrog Labs, an Indian gaming association that Facebook Gaming has accentuated on its website for its Ludo Club game's fame technique.
Ludo Club's customary active players made improvements reasonably during the early phases of the Covid-19 pandemic. Ulka Games commenced its excursion in Bangladesh in January 2019.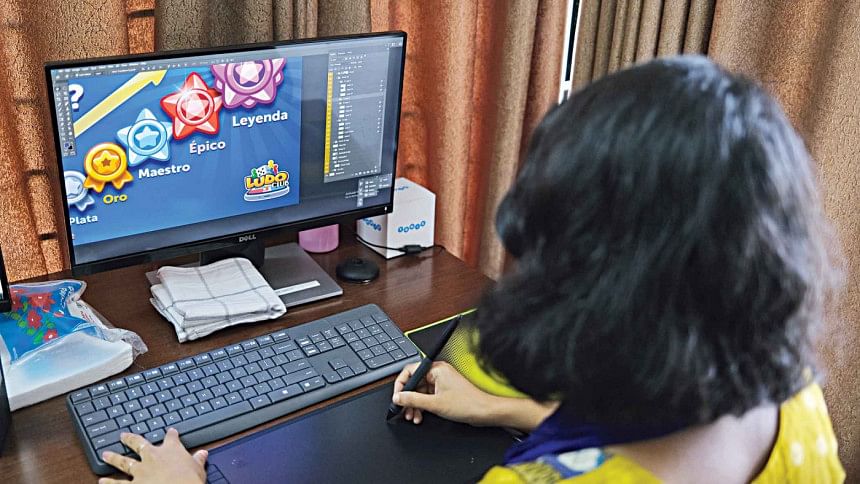 The industry has tremendous power to endorse Bangladesh's economic expansion, declared Zamilur. 
Ajoy Das, a software developer at Chainsafe Systems in Toronto, Canada, said inquisitiveness towards game development has broadly been boosted over the last couple of years despite limitations in traditional education in this field.
"Game development is not taught academically here. The learners are scrutinising this sector and adopting skills independently," he said.
"As it is a promising trade in Bangladesh, we can include game development as an extracurricular course in our universities," said the former student of the computer science and engineering department at Buet. 
Zamilur indicated that the business could generate an enormous number of jobs.  In the next three years, several thousand game development careers can be established in Bangladesh.
He gave said presently 45 young people were serving in their office as game developers, artists and designers. Soon, they will expand this number to 100. Kawshick Biswas informed he was a student at the Faculty of Fine Arts, University of Dhaka. He has been working as a game artist in different game development offices for over four years. "Initially, it was very formidable to build a livelihood in the field as the population in our country did not know much about this enterprise at the period," he said. Apart from this, do you know in detail about wow item restoration and Apex legends wallpaper? 
"The enterprise is now prospering here for the last few years as our Bangladeshi innovators are presently creating games of high calibre," he said, echoing that he was very optimistic about the industry as the number of internet users was increasing in the country.
Replying to a question, game artist Kawshick said, "I decided on it as a profession as this is the category millions of people can glimpse on my canvas through. Furthermore, I'm receiving a handsome amount from this sector."