Foreign fund in DSE jumps 84pc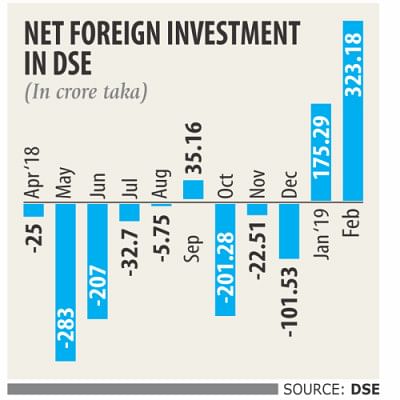 Net foreign investment in Dhaka Stock Exchange (DSE) has seen a huge jump in February thanks mainly to the political calm.
Foreigners purchased shares worth Tk 587.15 crore and sold stocks worth Tk 263.97 crore in February, leaving the net investment to Tk 323.18 crore -- a hefty rise of 84.37 percent from the previous month.
Local investors remained cautious as the index did not rise as they expected following the national election, a top official of a stock broker that deals with foreign investors said preferring anonymity.
According to the DSE data, the benchmark index of the premier bourse plummeted to a two-month low at 5,682.41 yesterday following a declining trend in the last few days.
Turnover, another important indicator of the market, also fell below the Tk 700-crore mark from the level of Tk 1,000 crore.
"But, foreign investors are taking position in the good companies' shares as they are getting those at lower rates," the official of the stock broker added.
The foreigners would have invested more had the local currency not been depreciating against the dollar, another stock broker said.
"Foreigners' investment will be affected if the taka depreciates further."