Finance stocks thrive on low prices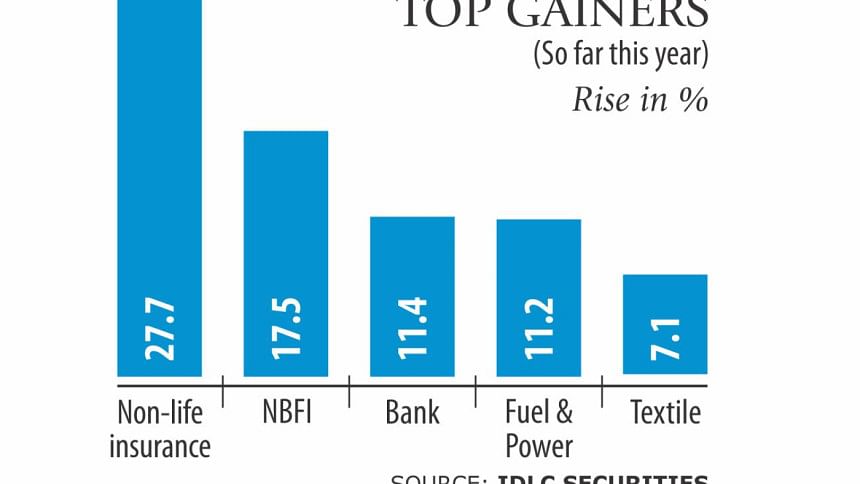 Shares on the Dhaka Stock Exchange (DSE) gained 475 points, or 8.80 percent, in the last 15 trading days led by rise in finance securities as investors flock to them due to low prices ahead of their full-year earnings reports.
According to IDLC Securities, non-life insurance stocks rose 27.7 percent, the highest among all the sectors. The non-bank financial institutions and banking sectors were up 17.5 and 11.4 percent respectively during the period.
"Investors have regained confidence in the market following the elections and chose the financial sector as it is going to declare dividend very soon," said Md Nazrul Islam Mazumder, chief executive officer of MTB Securities.
The financial sector's accounting period runs from January to December, while all the listed companies in other categories prepare their balance sheets on the basis of the fiscal year that begins from July.
Mazumder said banking stocks have remained at a low level, drawing investors. The price-earnings (PE) ratio of the sector is very low, so people are looking at them as safe investment option, he said. 
The PE is the ratio for valuing a company that measures its current share price relative to its per-share earnings.
A low PE can indicate either that a company may currently be undervalued or that the company is doing exceptionally well relative to its past trends.
On January 3, the PE ratio of the banking sector was 9.48 whereas the market PE ratio was 15.68. On the same day, the PE ratio of the financial institutions and the insurance sectors was 14.78 and 12.42 respectively, according to DSE data.
Investors could have invested much more in finance stocks if the financial sector has not been grappling with huge bad loans, said the managing director of a leading brokerage house, preferring anonymity.
He said the banking sector's PE is at its lowest level only because of the higher bad loans and scams.
According to the central bank data, the amount of default loans rose 11.23 percent to Tk 99,370 crore at the end of the third quarter in 2018, compared to the previous quarter. The amount is up 24 percent from a year earlier.
The toxic loans now account for 11.45 percent of the banking sector's total loans, up from 10.41 percent in June.
However, the managing director said the financial sector is expected to rise as its PE ratio is at a low level. "On the other hand, the sector is going to declare dividend very soon."
The banks made hefty operating profits last year.