Farm mechanisation gets a big push from govt
Takes up Tk 3,020 crore project to subsidise agro machinery purchase by farmers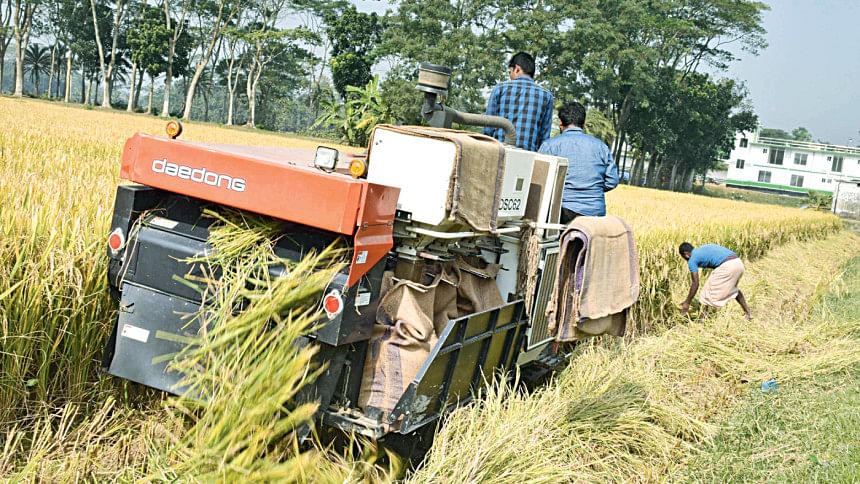 The government yesterday approved a Tk 3,020 crore project -- the biggest ever scheme for farm sector -- to provide price support to farmers in purchasing agricultural machinery.
The aim is to enable them to timely plant and harvest crops by getting rid of worries over the availability of farm workers.
Farmers throughout the country will get subsidies to buy agricultural machinery, namely combine harvester, rice transplanter, power thresher, drier, power weeder, power sprayer, potato digger and maize sheller, to reduce production cost and post-harvest losses.
Food producers in haors in the northeastern and southern coastal regions will be able to buy the farm machinery by paying only 30 per cent of the prices of the items. The government will pay the rest 70 per cent from the state coffer.
Growers in the remaining areas will have to pay half the price of the farm equipment and the government will bear the remaining cost.
The objective is to speed up mechanised planting and harvesting, 99 per cent of which are still done manually owing to the sluggish pace of mechanisation in these two major operations.
"We are giving importance to expand mechanisation throughout the country," said Planning Minister MA Mannan after the meeting of the Executive Committee of the National Economic Council (Ecnec) at the planning ministry yesterday.
The government aims to reduce post-harvest losses of crops, including the main crop rice, by up to 15 per cent, save 50 per cent time in cultivation time and cut costs by 20 per cent, according to a brief of the Ecnec meeting.
Mannan quoted Prime Minister Sheikh Hasina as saying at the meeting that local entrepreneurs were making agricultural equipment and quality product makers should be encouraged to facilitate domestic industrialisation and job creation.
This is the third project that the government has undertaken since 2009 to provide subsidy to farmers to buy agricultural machinery to facilitate mechanised cultivation.
Beginning with Tk 150 crore for a three-year project to finance the purchase of equipment, namely power tillers, the government spent Tk 339 crore in a second project that ended in June 2019.
The government also provided Tk 200 crore last fiscal year as subsidy so that farmers can buy combine harvesters and reapers to harvest their crops timely.
Farmers got the subsidy to buy 1,240 combine harvesters, 500 reapers and 13 rice transplanters under the initiative, said agricultural officials.
And under the new project, the government will offer purchase support to farmers so that they can buy 51,300 units of machinery until June 2025 when the five-year project will end.
The initiative comes as farms have trouble planting and harvesting their crops timely for want of workers in the peak seasons for harvest and plantation.
The delay in plantation and harvest causes a loss in the yield of rice, said agriculturists.
Paddy is cultivated on 71 per cent of the total croplands of 1.54 crore hectares in the country, according to official data.
The average daily agricultural labour wage remains high during harvesting seasons of aman and boro rice crops, which account for more than 90 per cent of the total annual production, showed data by the Bangladesh Bureau of Statistics.
Farmers harvest most of their aman paddy during November and December and the principal crop boro during May and June.
The cost of production of farmers would reduce for the use of machines for harvesting and transplanting, said Agriculture Secretary Md Nasiruzzaman.
Farmers incur relatively high post-harvest losses for manual harvesting of potato and onion, which the use of potato digger and combine harvester would take care of.
"Thus, the overall production of crops will increase. The famers' profitability will also increase."
Locally-manufactured agricultural machinery would be bought.
"We will sit with machine tools factory to see whether they can make and supply quality farm machinery," Nasiruzzaman said.
Under the project, the government also wants to train 9,000 mechanics and agricultural extension officials to provide support to farmers.
Apart from giving a boost to farm mechanisation, the government also gave the nod to a Tk 278 crore project to expand cultivation of improved varieties of oilseeds such as mustard, sunflower, soybeans and peanut and sesame.
This will be to increase coverage and production of oilseeds by up to 20 per cent from 7.20 lakh hectares and reduce import dependence.
Bangladesh spent Tk 5,500 crore to import oilseeds in fiscal 2018-19, which was 31 per cent higher year-on-year, showed Bangladesh Bank data.
The Ecnec brief said 40,000 demonstration plots would be set up apart from production and distribution of improved varieties of seeds of various crops including rice, jute and maize.