Exports prove a boon for paper mills
They can now utilise their unused production capacity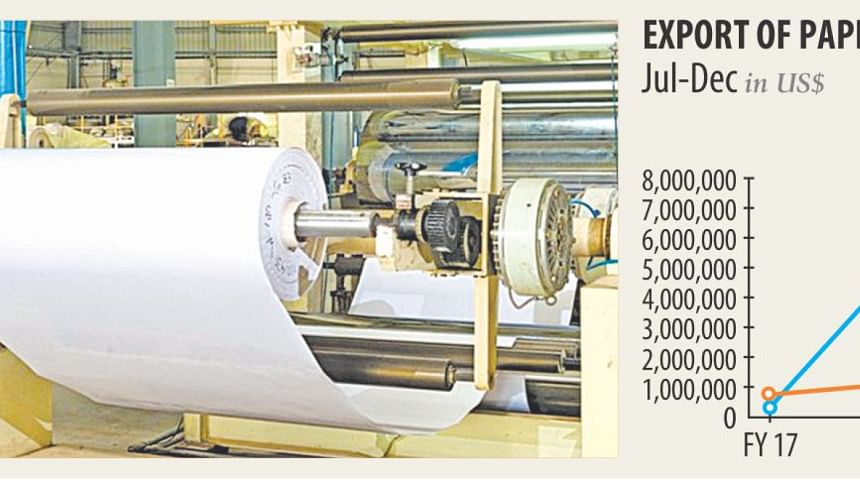 Increasing export of paper and tissue has created a window for local mills to utilise their huge unused capacity and bring home foreign currency.
Bangladesh's 110 paper mills, with a capacity of producing more than 15 lakh tonnes of paper and paper products annually, can use less than half of their capacity as domestic demand hovers around 9-10 lakh tonnes.
Under the circumstances, the opportunity for export, which opened nearly a decade ago and gradually expanded, has become a boon for the capital-intensive paper industry.
"We have overcapacity as a whole. We will be able to utilise more capacity if we can increase export," said Md Mustafizur Rahman, deputy managing director of Bashundhara Group that has the country's biggest paper mill.
As a result of overcapacity, a portion of the mills are on the brink of closure, he said.
Bashundhara, which pioneered paper mills among the private sector here, is the biggest exporter out of more than 20 mills that export writing paper, facial and toilet tissue and packaging materials to 30 countries, according to industry insiders.
Export of paper and paper products soared 63 percent to $16.24 million in 2018 from that a year ago, according to data compiled by the Bangladesh Paper Mills Association (BPMA).
Export Promotion Bureau (EPB) data showed that the total shipment of paper and tissue rose 54 percent year-on-year to $8.37 million in the July-December period of the current 2018-19 from that a year ago.
India and China are major destinations of locally produced paper and paper products, according to BPMA.
Rahman, also chairman of export and business development standing committee of the BPMA, said nearly 1,200 mills have been closed down in China for pollution and impacts on the environment.
This has brightened prospects for us, he said, adding that opportunity has also opened up for export to India.
Insiders said export of paper and paper products began to rise fast after the government offered 10 percent cash incentive for exporters in 2016.
The industry is witnessing rising shipment of paper and paper products at a time when demand for writing and printing paper is falling in the face of rapid digitisation and move towards paperless business operations.
And even though the demand for paper is falling, there is still demand in countries where access to education remains low. Countries registering higher economic growth also see increased use of paper.
"The good news is that there is a shortage of tissue globally," said Rahman of Bashundhara.
Muhammad Manjur Hossain, general manager for international marketing and export at Bashun-dhara Paper Mills Ltd, expects shipment of tissue to rise in 2019.
"We have added capacity for tissue," he said, expecting Bashundhara to have exported 16,000 tonnes of paper, tissue and other paper products last year.
However, because of dependence on global market for pulp to make paper, the local paper mills have to face high competition, particularly from pulp and paper producing countries, according to operators. "Our competitive edge depends on prices of pulp that we have to import," he said.
Sukanta Kumar Saha, assistant general manager for export and international market of the Meghna Pulp & Paper Mills Ltd, a concern of the Meghna Group of Industries (MGI), said China and Indonesia were the two main competitors of local millers in the export market.
As millers of Indonesia produce both pulp and paper, they take advantage by selling pulp at high rates to countries like Bangladesh, he said.
Besides, Chinese manufacturers are getting handsome subsidies from their government for paper export. That is why they can sell paper products in the international markets at lower prices than others, he said. 
"As a result, we face stiff price competition in the international market," said Saha of the MGI that also has two paper mills. However, closure of many packaging mills in China has created an opportunity for Bangladeshi factories, he said.
"The door for exporting recyclable grade paper is now open for us," he said, adding that locally made paper and paper products are also exported to the Middle East, Africa and Asian countries.