Etihad to stop flights to and from Dhaka
Funds blocked in Bangladesh might be the reason, insiders say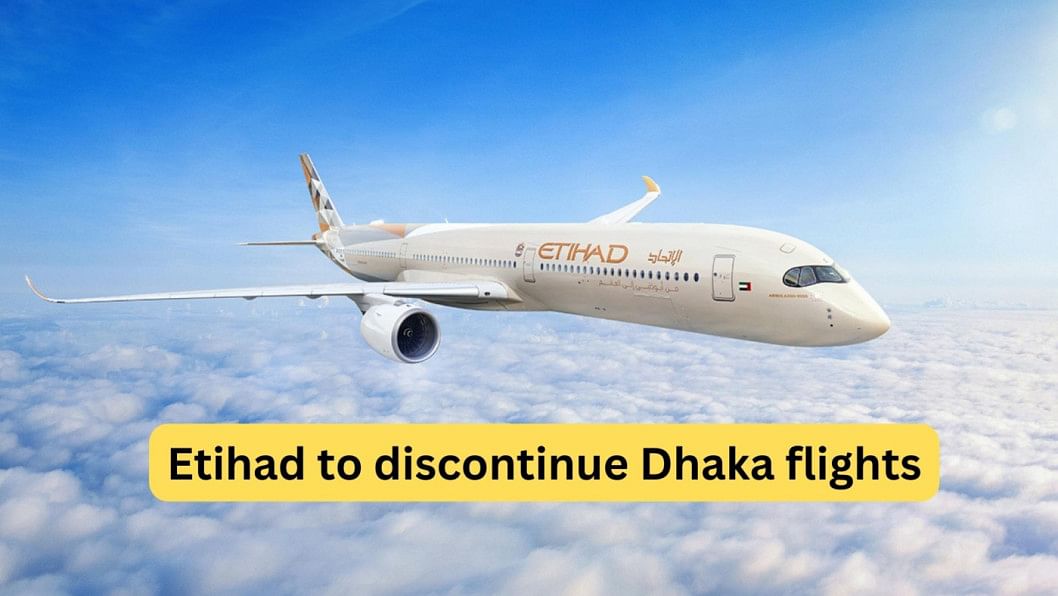 Etihad Airways, the national airline of the United Arab Emirates, is going to cease its operation to and from Dhaka from October 29.
The airline is likely to stop its flight operations from Dhaka as a good amount of its fund got blocked in Bangladesh at a time when it was facing some other commercial challenges also, aviation insiders said.
The persisting US dollar crisis is one of the major reasons for the failure of most airlines to bring earnings back to their homes, they said.
Etihad is considering using its aircraft on other routes that now have high demand in the post-Covid period, said a leader of the Association of Travel Agents of Bangladesh, who has close connection with Etihad and requested anonymity.
However, officials of the Abu Dhabi-based carrier, however, did not make any comment on their departure.
The airline shared the information with its stakeholders in Dhaka, including different travel agents, last week without mentioning any specific reason for the suspension.
A high amount of fund of Etihad have got blocked in Bangladesh, said an official of Air Arabia, a low-cost airline of the UAE based in Sharjah.
Because of the blocked funds, Etihad could not remit a large part of its earnings to the UAE in the last two years, the official said preferring anonymity.
The tolerance of all airlines is not the same and it might have been too tough for Etihad to tolerate further, the official said.
Aviation expert Kazi Wahidul Alam believes the failure of remitting money back home might have been one of the major reasons for Etihad to take such a decision.
Not only Etihad, a good amount of money of other foreign airlines operating in Dhaka is now blocked in Bangladesh, he said.
However, Etihad has said it will refund the full amount of prices of tickets booked earlier and no penalty or administrative fee will be charged for this.
Even, the passengers with return tickets will also be refunded who have travelled one way.
Etihad currently operates a flight daily on the Dhaka-Abu Dhabi-Dhaka route with a Boeing Dreamliner.
Air Arabia Abu Dhabi and Bangladesh's national flag carrier Biman also fly on the Dhaka-Abu Dhabi route.
Earlier in a statement on June 4 this year, the International Air Transport Association (IATA) said Bangladesh has ranked second globally in terms of blocking funds of different foreign airlines operating in the country.
The top five countries account for 68 percent of blocked funds.
These comprise: Nigeria [$812.2 million], Bangladesh [$214.1 million], Algeria [$196.3 million], Pakistan [$188.2 million] and Lebanon [$141.2 million].
The IATA said the industry's blocked funds have increased by 47 percent to $2.27 billion in April 2023 from $1.55 billion in April 2022.
IATA is the trade association for the world's airlines, representing some 300 airlines, or 83 percent, of total air traffic.