'Engage private sector also in disaster risk management'
Analysts say at event organised by the DCCI, ActionAid Bangladesh, United Purpose, World Vision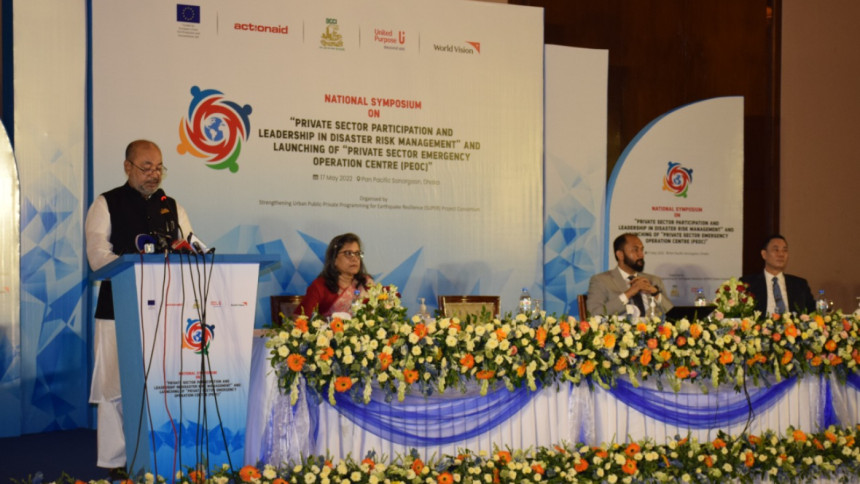 It is imperative to engage the private sector in disaster risks management to mitigate the loss and hazards as any disaster hampers supply chain, production and overall marketing of all businesses, analysts said today.
They spoke at an event jointly organised by a SUPER project initiated jointly by the Dhaka Chamber of Commerce and Industry (DCCI), ActionAid Bangladesh, United Purpose and World Vision at Pan Pacific Sonargaon Dhaka.
Disasters like earthquakes, fires and chemical explosions have far-reaching consequences, taking a heavy toll on the sustainability of enterprises, DCCI President Rizwan Rahman said at the programme.
He said Bangladesh in the recent past took up several policies to reduce disaster risks and the country needs to prioritise disaster management across the private sector.
For sustainable economic development, to attract investment and to face the risks of hazards, disaster risk management skills need to be improved, said Enamur Rahman, state minister for disaster management and relief.
He said it was not only the public sector's job and it is very important to engage the private sector also.
Ambassador of the Philippines to Bangladesh Alan L Deniega said both the public and private sector should come forward to work together for capacity improvements in disaster risk management.
The private sector has to play the dominant role in disaster risk management for its own development and sustainability, said Farah Kabir, country director of ActionAid Bangladesh.
She said there should be an integrated risk analysis system under the supervision of a public-private partnership.