Economy on path to gradual recovery
Says ADB although it cuts growth outlook
Bangladesh might have already started rebounding from the persisting coronavirus pandemic as the Asian Development Bank said the economy would see a gradual recovery in the first two quarters of the fiscal year.
"With the cautious reopening of the economy since May and subdued global economic conditions, recovery is expected to be gradual in the first two quarters of FY2021," the Asian Development Outlook 2020 Update said.
"Then a strong manufacturing base will enable more rapid recovery in tandem with projected strengthening of growth in the advanced economies and import demand from them. As factories gradually accelerate production, growth in exports and imports will revive."
The Manila-based lender has, however, revised down the country's growth prospects for FY2021 to 6.8 per cent as the impacts of the coronavirus pandemic are lingering longer than expected and the government's stimulus packages have had little time to take hold. 
In April, it had forecast 8 per cent gross domestic product (GDP) growth for Bangladesh. In June, it revised the growth further downwards to 7.5 per cent.
If realised, Bangladesh would pull off the fourth-highest GDP growth in Asia in FY2021, behind the Maldives'10.5 per cent, India's 8 per cent and China's 7.7 per cent.
Finance Minister AHM Mustafa Kamal expressed satisfaction at the forecast of the ADB. He said countries such as South Korea, Indonesia, Malaysia, Pakistan, Vietnam and Thailand are behind Bangladesh.
In the last fiscal year, Bangladesh even posted the highest GDP growth in Asia whereas many other countries contracted because of the pandemic.
"We hope Bangladesh would remain at the top in Asia this fiscal year as well," Kamal said in a press release.
In South Asia, Afghanistan is forecast to grow 1.5 per cent this fiscal year, Bhutan 1.7 per cent, Nepal 1.5 per cent, Pakistan 2 per cent and Sri Lanka 4.1 per cent, according to the ADB.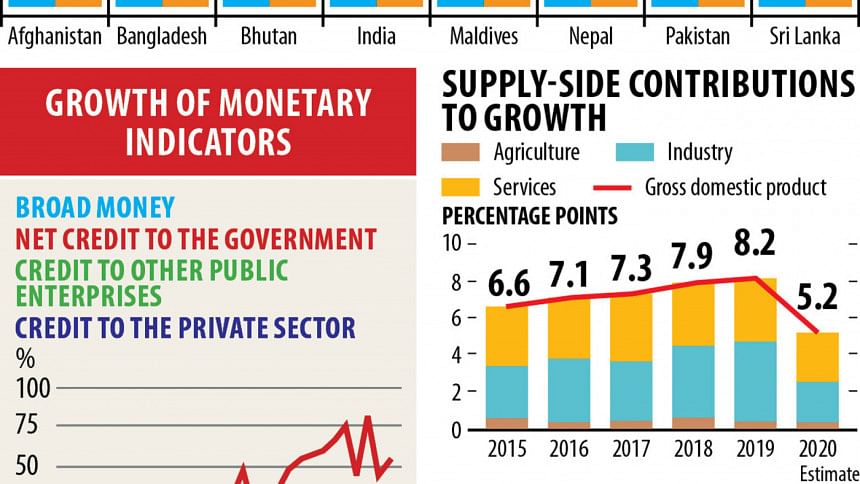 As per the International Monetary Fund's projection, growth in Bangladesh would be 3.8 per cent, and as per the World Bank's projection, just 1.6 per cent in FY2021.
The government is aiming an 8.2 per cent growth rate in FY2021. The economy grew 5.2 per cent in the last fiscal year. 
After the slowdown in March-April 2020 remittances started to recover, firming private consumption. The restoration of consumer confidence, along with government stimulus packages, will boost private and public investment, the ADB September update said. 
The main downside risk to the forecast would be a prolonged pandemic in Bangladesh or its export markets.
In response to the pandemic, Bangladesh announced a stimulus package amounting to Tk 103,117 crore, which is equal to 3.7 per cent of GDP.
They include support for health care, cash and food transfers for the vulnerable, comprehensive support for agriculture, wage support for export industries, subsidies on interest payments for working capital loans, strengthened export facilitation, and liquidity support for refinancing schemes. Most stimulus package spending will occur in FY2021.
Growth in agriculture is projected to rise to 3.5 per cent in FY2021, aided by government subsidies for seed, fertiliser, innovation, farm mechanisation and irrigation, and by central bank refinancing facilities to provide working capital for small and medium-sized farms affected by the pandemic.
Growth in the industry is forecast at 10.3 per cent, assuming improved consumer demand, strong export growth following recovery in major export markets, and expected growth in private investment. Supported by sustained growth in agriculture and industry, services are expected to grow by 5.5 per cent.
Inflation is projected steady at 5.5 per cent in FY2021, as forecast in the April report, considering a good crop outlook and favourable international commodity prices.
"Consumer caution and underutilised production capacity should calm any fear that fiscal and monetary stimulus may drive up prices," the ADB said.
Monetary policy will continue to be expansionary and accommodative in FY2021 toward achieving the government growth target while containing inflation. As in the past, the central bank will adjust sector-specific support policies and programmes as needed.
The main risks to the achievement of monetary goals are uncertainty surrounding Covid-19, natural calamities, any worsening of nonperforming loans, and unexpected inflationary pressure.
With the focus shifting to economic recovery, the FY2021 budget aims to raise revenue collection to the equivalent of 11.9 per cent of GDP and spending to 17.9 per cent.
Current spending is targeted to grow by 13.2 per cent over the FY2020 revised budget mostly for higher pay and allowances, interest payments, and subsidies—and development spending by 6.3 per cent, primarily for high-priority development projects to enhance growth.
"While the revenue target is more measured than in previous years, fully achieving it will still be a challenge, considering the impact of Covid-19 on tax revenue," said the ADB.
As most stimulus packages will be implemented through this budget, along with large priority projects, government expenditure must rise. Consequently, the budget deficit is likely to be somewhat higher, equal to 6.2 per cent of GDP, requiring greater reliance on external lines of credit, which are ample.
Exports are expected to grow by 8 per cent in FY2021, with a gradual recovery in the first half accelerating in the second along with the expected upturn in the global economy.
Export recovery will be aided by government stimulus measures and efforts to improve the business climate, as well as using duty-free trade opportunities extended by China. Potential exists for signing other free or preferential trade agreements.
Imports are expected to grow by 5 per cent as the readymade garment industry returns to normal operations and requires substantial imports of input materials. Also, the accelerated implementation of large infrastructure projects should boost imports of capital equipment and materials.
Despite government subsidies to agriculture this year and efforts to expand arable area and mechanisation, rice imports may need to be larger than earlier expected to replace the harvest that may be lost to floods.
Growth in remittances is likely to moderate to 4.5 per cent in FY2021 as job opportunities for migrants shrink in traditional job markets in the Persian Gulf and Southeast Asia. Besides, net repatriation of workers may continue as host countries adapt to changed economic circumstances.
DEVELOPING ASIA'S PROSPECTS WORSEN
The ADB said economic prospects in developing Asia have worsened. As the Covid-19 pandemic continues to disrupt global economic activity, GDP forecasts have been downgraded from the Asian Development Outlook 2020, which was released in April.
The region is now expected to contract by 0.7 per cent in 2020, the first regional recession in nearly six decades. GDP is projected to grow by 6.8 per cent in 2021.
Thus, the regional recovery will be L-shaped or "swoosh-shaped" rather than V-shaped, it said.
An L-shaped recovery is characterised by a slow rate of recovery, with persistent unemployment and stagnant economic growth.  A V-shaped recovery is characterised by a quick and sustained recovery in measures of economic performance after a sharp economic decline.