Dyeing mills returning to life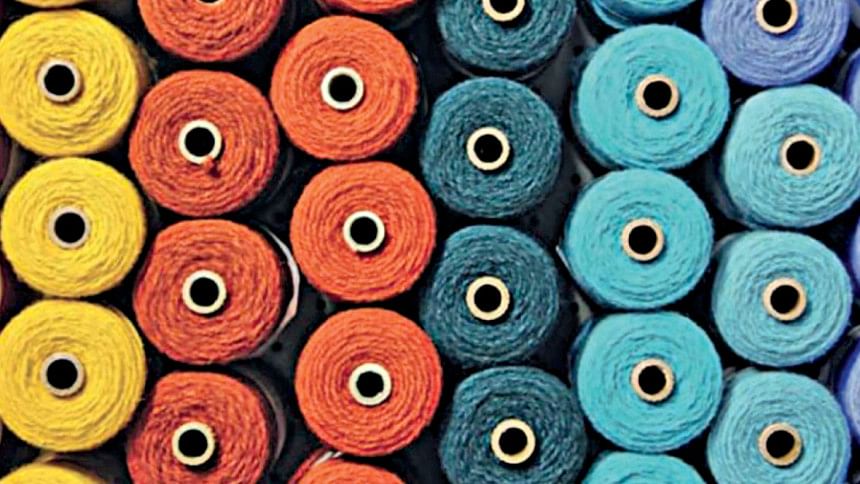 The local dyeing industry has begun recovering slowly from losses as garment work orders started to pick up thanks to the reopening of retail stores in the West.
Most dyeing factories, which mainly process woven, yarn and knit garment items, remained shut for about two months until May 30, when the government announced a countrywide closure to curb the spread of Covid-19.
The sector's recovery began when apparel producers started placing work orders for processed fabrics in June.
Many mils had to close their doors or continue operations on a limited scale, said Abul Kalam Azad, director of Labib Group, a leading exporter of sweater products.
"Now they have started to process yarn for sweaters and other warm clothing items ahead of winter."
Bangladesh ships 0.85 billion pieces of sweaters worth $4.25 billion each year and in the process consumes 700 million pounds of yarn, around 30 per cent of which comes from local millers and the rest mainly from China.
Despite signs of recovery in the yarn processing business, the sector will lose at least 25 per cent of its exports due to the epidemic, he added.
Khaled Hossain Mahbub, managing director of the Mega Yarn Dyeing mill based in Savar, echoed the sentiment.
Mahbub's company used to process 40 tonnes of yarn at his $30 million factory each day before the emergence of the coronavirus.
And now he hopes to return to its full production capacity soon as local garment makers have come back to the scene with new work orders.
It requires a lot of investment to set up an industry-standard dyeing mill, he said, adding that the pandemic has affected overall investment in the sector.
Shibbir Ahmed, secretary to the Bangladesh Dyed Yarn Exporters Association, also said the dyeing industry is returning to its previous position due to the inflow of work orders.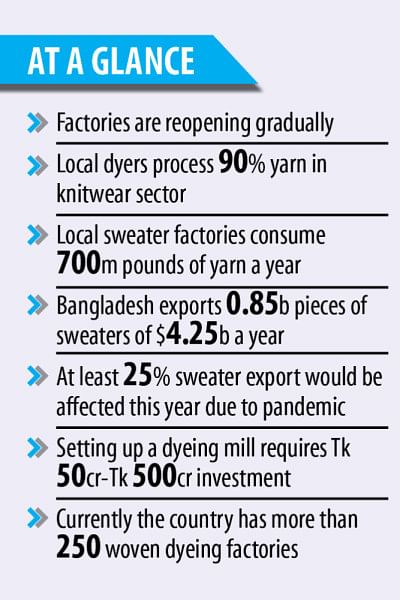 The dyeing industry has become strong over the years as a major supplier to the local knitwear industry.
For instance, local dyers can meet 90 per cent of the knitwear industry's demand for yarn, as only the yarn dyeing industry has a total investment of over Tk 50,000 crore, he said.
The daily sales are adequate now and the industry players expect to see more investment in the sector in the post-pandemic period, Ahmed said.
Meanwhile, Monsoor Ahmed, secretary to the Bangladesh Textile Mills Association, said recovery has also started for woven dyeing industries as garment exports started to grow following a short period of decline.
Currently, more than 250 woven dyeing mills can process export-oriented fabrics.
More investment in the woven dying sector will take place in the post-pandemic period as some big plants are waiting for normalcy to be restored, Ahmed said.
A huge investment, varying between Tk 50 crore to Tk 500 crore, is needed to set up a dyeing mill, he added. Signs of recovery in the garment sector as a whole was noticed in the export figures for July.
That month, Bangladesh earned about $3.24 billion from garment shipments, which is 1.98 lower from the sector's earnings for the same period the year before.
However, the earnings from garment exports in July were 14.18 percent higher than the monthly target of $2.84 billion.
Of the total earnings from garment shipments, knitwear grew by 4.30 per cent year-on-year to $1.75 billion while woven exports fell by 8.43 per cent year-on-year to $1.49 billion, according to data from the Export Promotion Bureau released earlier this week.
Export earnings from the sector was $0.37 billion in April, $1.23 billion in May and $2.28 billion in June, the data shows.
Personal Protective Equipment, such as masks and other insulation fabrics, have become new export items for Bangladesh as a good number of international buyers are placing work orders for those products amid the ongoing pandemic.
Although the demand for branded apparel items has decline, the demand for basic ones remain the same and so, basic garment items are rescuing Bangladesh's export revenue, according to various exporters.