Dutch, Bangladeshi firms to invest 6 million euros in aquaculture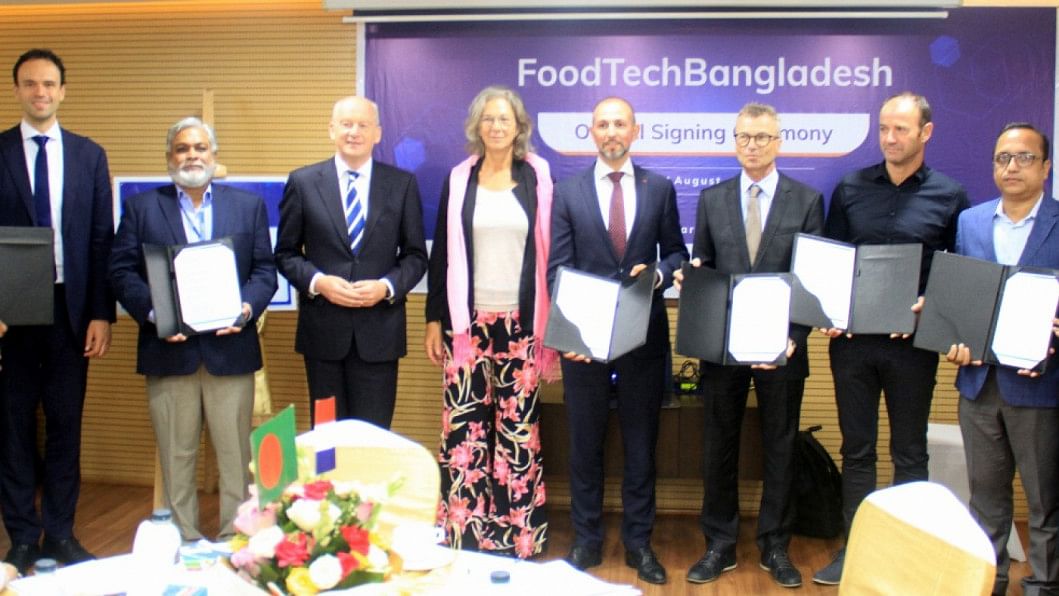 The Dutch government has teamed up with some Bangladeshi companies to invest 6 million euros to ensure sustainable growth of Bangladesh's aquaculture sector.
The parties will establish three centres of excellence in Sylhet, Khulna, and Cox's Bazar to introduce and demonstrate different types of improved and more sustainable techniques for fish breeding and cultivation.
Moreover, research and trials with on-farm products such as feed additives, aqua specialties and antibiotic replacers will be conducted and technical assistance to fish breeders and farmers will be provided.
In addition, the partnership will upgrade an aqua feed line in Dhaka to increase the availability of domestically produced specialised fish feed.
The Dutch embassy in Bangladesh and a partnership of Dutch and Bangladeshi companies headed by Larive International BV launched the start of the cooperation yesterday.
The partnership consisted of Aftab Bahumukhi Farms, Gemini Sea Food, Nutreco, Viqon, LightCastle Partners, and Larive International.
Birgitta Tazelaar, deputy director-general for international cooperation at the foreign affairs ministry of the Netherlands, signed an agreement with Abu Lutfe Fazle Rahim Khan, director of Aftab Bahumukhi Farms, and Mahmud Riyad, general manager for operations at Gemini Seafood, on August 31.
The deal signing ceremony took place at Aftab Bahumukhi's head office at Banani in the capital.
"The Dutch embassy in Bangladesh supports the development of more sustainable agri-food value chains in Bangladesh and encourages Dutch companies to locally invest together with local stakeholders," said Anne van Leeuwen, ambassador of the Netherlands in Bangladesh.
"We are glad that via this cooperation we will be able to contribute to increased food security, more sustainable water usage and strengthen the cooperation between the Dutch and Bangladeshi private sector."