Discounts and offers galore in 10-day online shopping fest starting tomorrow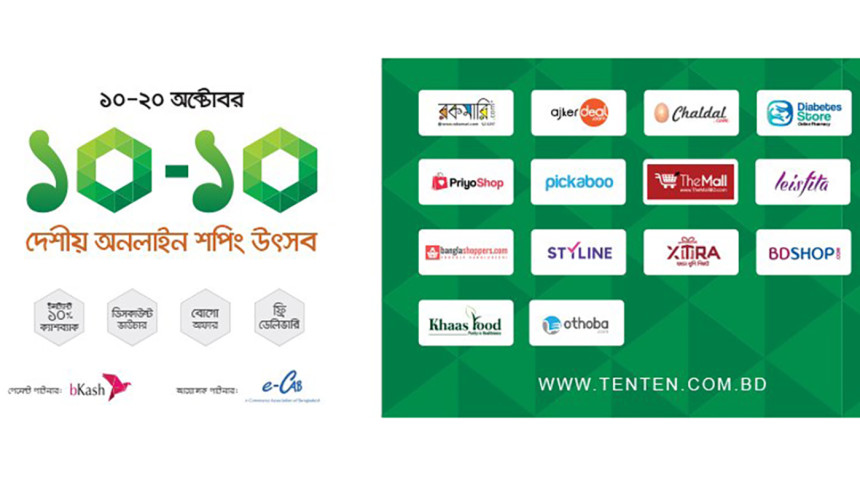 A 10-day-long online shopping festival is starting tomorrow with 14 leading e-commerce platforms of the country participating, providing hefty discounts and free deliveries among other offers.
With the slogan "Desher Taka Deshe Thakuk", the third edition of 10-10 Mega Shopping Festival strives to cater to the customers amid the pandemic in a bid to push everything digital.
Mustafa Jabbar, minister for posts and telecommunications, inaugurated the festival today as the chief guest of an event held virtually.
"As we are entering the 4th industrial revolution, all conventional businesses will be gradually transformed into digital ones," said Jabbar.
"This online shopping festival will contribute to the advancement of the country's e-commerce sector," the minister said.
Domestic platforms are playing an important role towards the development of e-commerce sector and is quickly gaining confidence of customers.
He also praised the e-Commerce Association of Bangladesh (e-CAB) for its role in taking forward the country digital market platform.
 "The 10-10 online shopping festival is based on mutual cooperation between domestic companies to provide better services and aimed at improving the quality of customer service," said Shomi Kaiser, president of the e-CAB.
The festival would boost customers' confidence and take the country's e-commerce forward, she added.
Participating e-commerce platforms are: AjkerDeal, Bangla Shoppers, Bdshop, Chaldal, DiabetesStore, Leisfita, KhaasFood, Othoba, Priyoshop, Pickaboo, Rokomari, Styline, The Mall and Xtra.
The sites are providing an array of offers -- 50 percent discount vouchers, free offers with purchases, flash sales, nationwide free delivery, among others -- to their customers during the festival.
Payments through bKash will get 10 percent instant cashback for purchases.