Digital wage pays off for workers: WB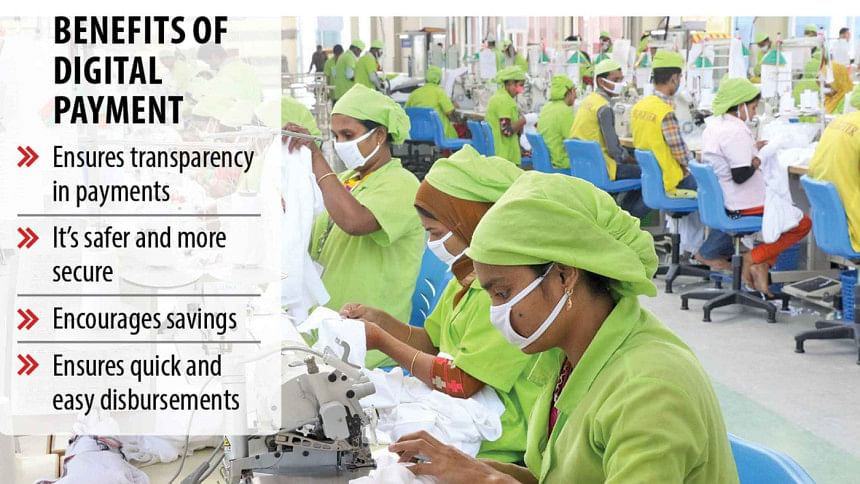 Wage disbursements through digital payment methods is beneficial for employees as it helps increase savings and improves their ability to mitigate unanticipated financial shocks, according to a recent World Bank (WB) study.
Before a new payroll system was introduced in June last year, nearly 90 per cent of the country's workforce received their wages in cash, which was both time consuming and difficult given the volume of disbursements that needed to be made.
Millions of workers, especially those in the garment sector, then started to receive their wages directly through their banks accounts or a mobile financial service (MFS) when local lenders started disbursing salaries from the government stimulus packages.
The study styled "Learning to navigate a new financial technology" was conducted with a sample of 3,136 workers.
"The digitalisation of the wage payment system is welcomed as it has many good sides," said Md Towhidur Rahman, president of the Bangladesh Apparels Workers' Federation.
Still, workers sometimes complain about the deduction of fees such as service charge when cashing out from an MFS but at least there are no such charges when using an automated teller machine (ATM), he added.
Besides, there are times when the workers cannot get their money in a timely manner since the agents of MFS companies like bkash, Rocket and Nagad at times do not have enough cash on had to make the large disbursements, especially on payday.
When it comes to ATMs, there is a shortage of booths in the more remote areas and the workers often forget their passwords.
They even take the help of others, such as the booth's security guard, to complete transactions and this puts them at risk of hacking.
"So, cash transaction companies should sit together to solve those problems so that nobody faces such an issue," Rahman said.
Despite these drawbacks, digital payment methods have been a blessing since the workers no longer need to stand in long ques to collect their salaries, according to Nazma Akter, president of Sammilito Garment Sramik Federation.
The study found compelling evidence of learning-by-doing when it comes to adopting a digital payment method.
Workers in the payroll account treatment condition interact with the account more frequently, develop greater trust in technology, learn to use the account without assistance and how to avoid common consumer financial risks, it said.
Individuals with comparatively lower literacy, financial experience and prior control over household finances benefit from exposure to the technology primarily from accumulating savings but do not necessarily learn to use the financial technology in the most cost-effective manner.
On the other hand, individuals with higher levels of literacy, financial experience and prior control over household finances benefit by learning to use the technology more effectively and sidestepping common consumer protection risks.
"We additionally examine the impact of introducing financial technology at scale and find suggestive evidence of positive market externalities of consumer learning: inexperienced customers are less likely to face extra charges in areas with higher payroll account adoption," the WB said in its findings.
"We find that channelling wage payments into an account creates a strong incentive to engage with the account and learn about the features of the technology in a way that is not achieved by account opening alone," it added.
Channelling wage payments into formal accounts is the obvious next step with potentially large positive implications for access to finance and consumer learning in low and middle-income countries, where wage payments are still predominantly made in cash.
However, the study also shed light on several barriers that could impede the adoption of payroll accounts.
First, employers may fear resistance from employees due to a lack of trust in the technology, as evinced by the study.
Second, an important barrier to scale-up may be insufficient documentation as the study found that many workers did not have sufficient documentation and had to rely on identification and guarantees provided by their employer to open an account.
Third, some employers may want to avoid the transparency that comes with payroll accounts and may require nudges from regulators to adopt them.
Many workers from rural areas are drawn to the relatively high, regular salaries paid in the garment industry and aim to save a portion of their pay cheques.
However, owing to high account maintenance fees, minimum balance requirements, and documentation requirements, workers in the garment sector are usually unbanked.
"At the time of our intervention, even large firms in the sector still paid wages entirely in cash," the WB said.
Moreover, there are significant social barriers that prevent low-income households from active participation in the formal banking system.
Anecdotally, many workers reported not feeling comfortable using bank branches or mobile money agents, despite having clear savings goals, it added.