Daraz continues growth amid pandemic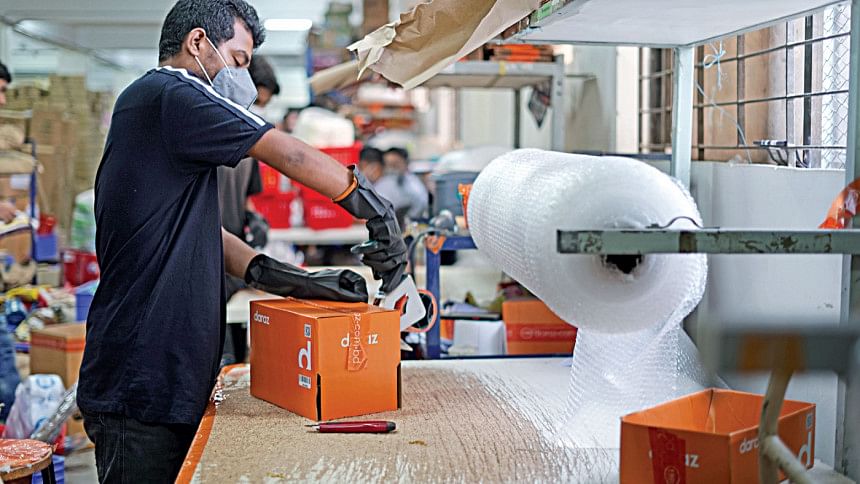 On November 11 last year, online shopping platform Daraz sold Tk 8.5 crore-worth products within the first 45 minutes of a 24-hour shopping event stemming from a marketing idea on encouraging people to spend money on themselves.
However, the sales figure was dwarfed by its parent company, Alibaba Group, which reached $1 billion for gross merchandise in the first one minute and eight seconds on the unofficial Singles Day, presumed to have been founded by Chinese students.
The figure has then ballooned to $12 billion after the first hour of the shopping blitz.
As a part of the company's policy, Daraz does not disclose its sales figures, Syed Mostahidal Hoq, managing director of Daraz Bangladesh, told The Daily Star.
But once Alibaba's instruction comes, it will disclose the sales figure, he said.
Alibaba's 11.11 sales figures, which is said to have totalled $38 billion last year, includes the sales of its subsidiaries, including Daraz.
In the upcoming Eleven Eleven shopping spree, Daraz is set to make more than half a million deliveries, making it the biggest online single-day shopping festival in Bangladesh.
"The orders in the Singles Day sales increased 10 to 12 times that of normal day deliveries. It's a big event for a country where only less than one per cent retail sales comes from e-commerce," said Hoq.
Daraz says it now receives 50,000 orders per day.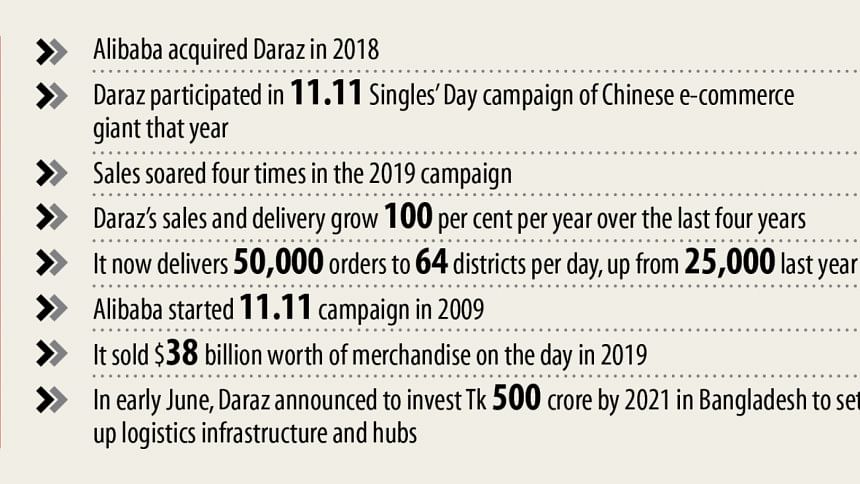 Online shoppers in Bangladesh apparently wait eagerly for the event mainly for hefty discounts.
Daraz started the sales event in Bangladesh in 2018, when, in a surprise move, the China-based global e-commerce giant Alibaba, acquired Daraz Group's operations in Bangladesh, Pakistan, Nepal, Sri Lanka and Myanmar.
In Bangladesh, Daraz witnessed fourfold growth on 11.11 sales year-on-year in 2019. It anticipates similar trends in growth this year.  
"As Bangladesh has over 10 crore internet users, we have so far explored only just over 10 per cent of the market. So, there is an enormous opportunity for the e-commerce platform to grow and expand," said Hoq.
Daraz have grown 100 per cent annually in the last four years in terms of customer and order numbers as Alibaba counts these two parameters while measuring growth.
The e-commerce platform was hit hard for a few weeks since late March, when the country went into lockdown. It lost around 5,000 of its import-dependent merchants soon after travel bans were issued around the world in order to curb the spread of coronavirus.
But then in May, the company added more than 10,000 local retailers to its platform.
"As coronavirus has brought a big socio-economic impact around the world, Bangladesh is no exception," said Hoq.
"For lockdowns in March, the number of products on Daraz witnessed a steep fall, coming down to only 3 lakh from 1 crore as most of sellers were unable to source, supply and manufacture products for movement restrictions and the general shutdown," he said.
To combat the changing situation and support buyers and sellers, Daraz increased the number of packaging stations, drop-off and collection points it had.
However, it prioritised home deliveries with the reasoning that customers were reluctant to come out of their homes.
It also stated to undertake some initiatives to benefit sellers. Since May, the number of sellers on the platform started to rebound. Now, it has 33,000 sellers, up from 20,000 in 2019.
Daraz says it regarded the last quarter of a year -- October to December -- as the campaign quarter, starting it off with a 10.10 sales campaign in October resembling the 11.11 on November 11, one marking Black Friday on November 25 and concluding with a year-end sale.
It prepared for Singles Day from early May to the end of August.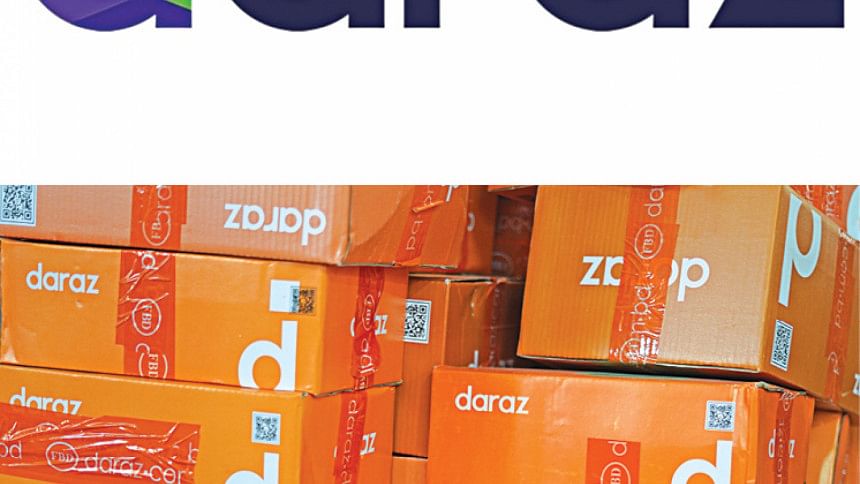 As a part of the groundwork for the campaign, Daraz have evaluated customer experience and changes in purchasing habits for the pandemic-induced economic hardship so that it could come up with products and offers that best suits the consumers.
"Since decreased imports of electronic devices created a huge demand for laptops and other gadgets, Daraz is bringing in adequate supply of those products thanks to Alibaba's strong supply chain and Daraz's presence in other South Asian countries," he added.
"Now, we are prepared for the biggest online sales event in the country."
It will launch some exciting products for Eleven Eleven, including two handset models of a new brand and some handsets from Realme and Samsung.
"The pricing would be low so that the pandemic-hit businesses can survive on a great sales volume, helping its sellers to recover from losses incurred in the last couple of months," he added.
During the daylong sale event on November 11, customers will be able to avail large discounts on some 10 million products on the platform.
There will be special attractions such as pre-sale discounts and a "Tk 11 Mystery Box", which is basically an undisclosed item one can purchase as a surprise for Tk 11.
Free delivery offers are also expected from sellers of specific brands and products.
Apart from this, there would be a pre-sale campaign from November 4 to November 10, when select products would be available at prices lower than what it would be during the 11.11 campaign.
Moreover, customers will get a chance to win a Toyota Aqua when they play a "1 Taka Game".
According to Hoq, smartphones, televisions, home appliances and fashion items, including clothing, accessories, watches, perfumes, home decor items and sports items, will be the highest-selling items this year.
Additional discounts are available from Brac Bank, City Bank, Eastern Bank Limited, Mercantile Bank, Standard Chartered Bank and bKash along with cash back offers.
Hoq also shared Daraz's ongoing activities and future plans with The Daily Star.
Daraz is transforming some villages into e-commerce hubs. Those villages would allegedly feature logistics, facility and training to inspire farmers to get involved in online sales of farm produce and local specialties.
It is said to closely resemble Alibaba's Taobao Villages, which comprise a series of e-commerce shops built in small villages, enabling villagers to both purchase products and sell goods online.
Daraz has set up over 4,500 centres where customers who are lagging behind in technology can order products online as well as introduce various training programmes for sellers.
The integration with Alibaba has mainly brought changes to the technological side.
"Before the acquisition, we thought of ourselves as just a marketplace and after Alibaba's taking over, we are broadening our vision, working on creating a better ecommerce ecosystem in the country as well as building a countrywide logistic infrastructure," said Hoq.
As a part of that vision, in early June, Daraz announced its plans to invest Tk 500 crore by 2021 in Bangladesh to set up logistics infrastructure and hubs that would help expand its footprint to all 64 districts.
"A big chunk of the investment has already been utilised on different purposes, including the purchase of over 100 vehicles, facilitating Daraz to mail products to 50 districts of the country through its own conveyances. Now we are equipped with the logistic infrastructure that Alibaba uses," said Hoq.
It is also now building a sorting centre which will be 2 lakh square feet in area and a warehouse of the same size with an investment of about Tk 150 crore, making both the largest in Bangladesh and employing around 2,000 people.