Chashibon, a ray of hope for farmers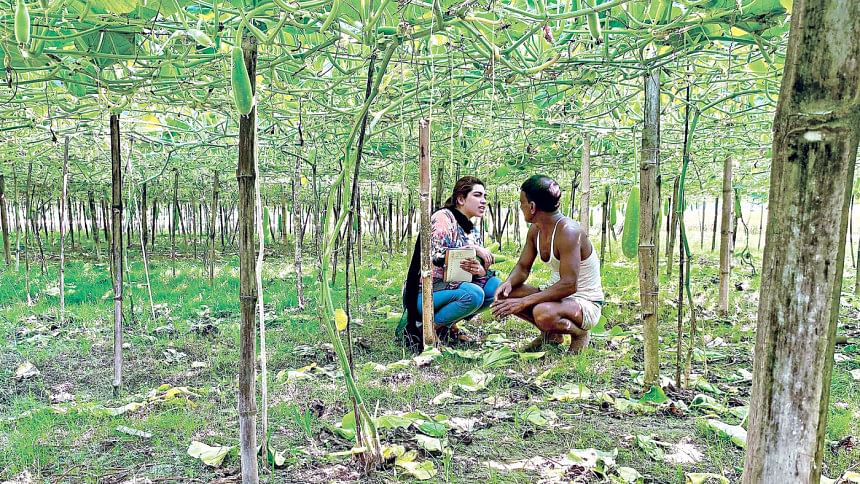 Chashibon, a concept developed by Kamrunnesa Mira in Natore, has not only added a new dimension to the country's agriculture sector but also eradicated the need for middlemen in the area, ensuring fair trade between farmers and buyers.
Although Bangladesh is an agriculture-based country, many farmers are deprived of fair prices due to the prevalence of middlemen and brokers.
Seeing this, Mira launched Chashibon in December 2019 with an aim to provide solutions for the country's ailing agriculture sector.
As a part of her plans, Mira envisioned a model village in Sadar upazila, where she could teach the farmers about smart agriculture, harvesting and marketing.
She has since bought a few plots across three upalizas of Natore district -- Sadar, Noldanga and Lalpur -- and started her own agri-business.
Having worked closely with farmers, Mira, a graduate of the media studies and journalism department at the University of Liberal Arts Bangladesh, was able to identify several challenges they face.
This includes investment deficiencies, a lack of insurance facilities, poor relationships with the direct market, climate adaptation and other natural issues such as insects.
Mira also established an agro-training centre, where young horticulturists and other volunteers provide the locals with free training on how to develop their farms, protect against insects and improve soil fertility.
Under the Chashibon initiative, the 25-year-old entrepreneur collects products like paddy, onion, garlic and mustard from local farmers to sell directly to businessmen in different towns and cities across the country.
Considering the lack of investment and insurance, Mira created a pre-order-based agriculture system, where she takes 60 per cent of a product's value in advance.
This allows the farmers to focus on their farming activities rather than retailing their goods since they already know where their products are going.
And since the product has been paid for in advance, the farmers are ensured enough liquidity to continue production and remain debt free from the local money lenders.
There are now 148 farmers across the district who enjoy the benefits of this initiative.
In turn, the farmers are able to help develop their communities. As such, a non-formal literacy centre has been established in Fultola village of Sadar upazila, where local youths can get a free basic education on agriculture.
Md Sumon Ali, a farmer of Fultola village, said he cultivates mustard on five bighas of land and that Chashibon has supported him a lot in this regard by giving growers their money ahead of cultivation.
"Earlier, we had to struggle a lot to arrange the amount for cultivation from local money lenders," Ali said.
Besides, Chashibon helps farmers sell directly to buyers and get a fair market price, he added.
Horticulturist Md Parvej of Noldanga upazila said the centre provides training on the proper use of pesticides and the best farming practices.
"They also educate the farmers on seasonal crops," he added.
Apart from Chashibon, Mira started another initiative, the All For One Foundation, on March 26, 2018.
It aims to educate underprivileged women about menstrual hygiene and provide them with sanitary napkins.
In 2019, Mira received the Diana Award for bringing a dramatic changemaker in the lives of disadvantaged girls, who do not learn about the do's and don'ts of menstrual hygiene in their formative years.
"My future plan for this venture is to become a sustainable agriculture finance company, decrease risk factors to provide fair value to farmers, convenient supply chain to eradicate middlemen and introducing AI and Robotics to prognosis future difficulties farmers may face," Mira said.
Farmers play a major role in Bangladesh and cannot be just replaced with technology.
However, it is possible to use their skills alongside advanced artificial intelligence and the internet of things so that they can increase yields and tackle risk factors.
"Chashibon is such a concept that not only believes in business, but also believes in providing education and training to make the farmer's life better," she added.