Can hybrid workplace be a post-pandemic business paradigm?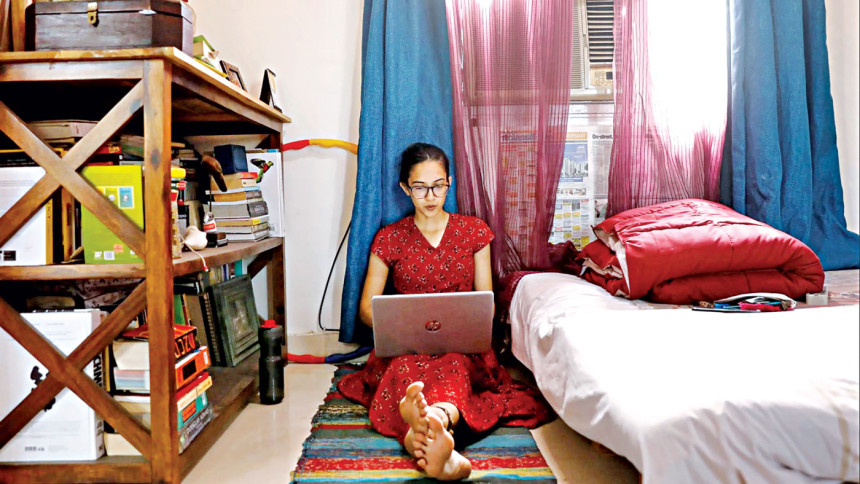 The ongoing coronavirus pandemic has led to unanticipated consequences in each aspect of everyday life, including workplace practices across the globe.
Due to the repeated threat of lockdowns and other restrictive measures aimed at curbing the spread of Covid-19, organisations were forced to adopt alternative work patterns in order to keep their businesses afloat.
Bangladesh is no exception in this respect as local businesses allowed their employees to work from home, which was the only option for them to beat the pandemic-induced economic downturn while lessening the threat of exposure.
Working from home not only offers the advantage of a flexible schedule, it also helps save time and money since there is zero spending for commute.
However, these advantages may come at the cost of mental health.
In this new reality, the anxieties of life coupled with the stress of work has a serious impact on an employee's mental well-being.
Jeanne Achille, founder and chief executive officer (CEO) of the Devon Group, said employees now face a multitude of problems, including isolation, grief, loss, anxiety and insecurity.
Similarly, Eric Yuan, CEO of Zoom Video Communications, says that "work as a fully remote" is not sustainable.
Instead, Yuan suggests welcoming a 'Hybrid workplace model' that will allow employees to have flexible schedules with some days of work at the office and some days at home.
Alternatively, they should be given a choice to work from home or from the office.
But with the backdrop of a very uncertain and unrestrained 2020, the efforts of Bangladeshi organisations to move forward with renewed optimism, enthusiasm and planning for economic recovery creates some concerns on the applicability of a new workplace reality.
Evidence from 2020 shows that knowledgeable workers of big national and multi-national companies were able to accept the work from home concept relatively easily while labour intensive workers found it relatively difficult to adapt due to the nature of their work.
Undoubtedly, it is evident that working from home was not feasible for organisations where direct customer service is associated. This includes banks, hospitals, power, water and energy distribution, garments, and some government financial institutions that deal with sophisticated national financial data.
Therefore, creating an infrastructure to work from home is quite risky and allowing all employees to do so at the same time is not viable for many organisations in Bangladesh.
On the other hand, IT, telecom and digital services agencies were able to continue operations without a hitch due to the infrastructures they developed before pandemic.
Many private banks also stepped ahead to build their infrastructure/system to comply with the work from home concept amid the Covid-19 pandemic.
This implies that companies in the sector that have underwent or are on the verge of a digital transformation were better-off in adopting the work from home concept to combat the Covid-19 challenges.
It is undeniable that the adoption of work from home also suffers from disadvantages such as a lack of infrastructure, poor internet connectivity, isolation, prolonged screen time, work-life imbalance due to non-specific working hours, lack of employee engagement and less bonding with co-workers.
On the flip side, it not only offers employees greater flexibility for spending time with their families, but also made companies realise that many jobs can be done equally efficiently from home.
Therefore, while the whole world is working to eradicate this pandemic and even after this is achieved, Bangladeshi companies should continue to enjoy the advantages of working from home by adopting the hybrid workplace model.
The hybrid model could help companies make good use of the advantages as mentioned above while minimising the problems related to working remotely.
Around the world, big companies are also testing the applicability of this new model.
For example, Microsoft, Apple and Facebook have already embraced working from home until next year while Twitter has allowed its employees to permanently work from home.
A recent survey by Google revealed that more than half of its employees want to return to the office, but not every day.
So, the Bangladeshi companies that have already adopted the work from home concept could adopt the hybrid workplace model in the post-pandemic period.
However, they need to develop the required infrastructure and support in favour of this model to get ready to cope with any future economic tragedy.
As the model offers employees a choice to work from the office, home or a combination of both, the organisation needs to be careful when planning on the right mix for maximum utilisation of office space and flexible employee working hours.
For instance, businesses could make a segment of employees that would work at office whilst another group of employees would work from home on a flexible, rotation basis.
As the organisations know how many employees and what level of employees need to work from the office on a regular/periodic basis, they can easily initiate a breakdown of the work schedules into smaller groups while maintaining all the safety measures, such as social distancing.
On the other hand, adequate support needs to be rendered for employees while they are working from home.
This includes ensuring infrastructural support such as high speed internet connection and suitable devices such as laptops, internet dongles and headphones.
However, the scheduling of working hours and space, the communication and interaction pattern among onsite and offsite employees, job responsibilities and reporting relationships need to be integrated and coordinated through a shared platform.
The implementation of the above also depends on how well the existing human resource management policies can adapt to the requirements of a new normal corporate reality.
The adoption of this new model not only requires infrastructural support but also adequate employee support so that they can learn the new corporate behaviour/culture.
Training on online learning technologies to enhance employees' soft and hard skills could be the first step to acclimate employees with digitalised corporate culture.
As indicated earlier, the work from home concept is blurring the line between personal and professional life and mental stress seems to be a by-product of this model.
Therefore, organisations should deal with their employees with empathy and kindness to foster resilience not only at the individual level, but also at the organisational level.
For example, few companies in Singapore provide a $500 compensation as a mental health payment per employee if psychological counselling is needed for someone diagnosed with stress disorders or if any physical injuries happened while working from home.
It is noteworthy and appreciable that some pharmaceutical and IT companies in Bangladesh have already taken many positive measures for their employees, such as providing infrastructural support, ensuring proper sanitation and social distancing, offering transportation services, lunch facility, resident facility, extra incentives and full treatment expenses for employees affected by Covid-19.
This implies that organisations need to ensure more compassion and sympathy for employees' mental and physical health and safety than ever before if the hybrid model is adopted.
Sessions on stress management, virtual counselling and telehealth services are just a few support options. So, truly caring and feeling an employee's emotion, forgiving mistakes, allowing them to learn from those mistakes, listening to and understanding their problems should be the corporate tone for those who adopt the hybrid model.
Overall, the adoption of this model can enhance the business outcome and employees' work-life balance if it can be integrated well with the corporate culture.
In this regard, big corporate leaders should take the initiative to alter the old paradigm of managing human resources.
The writers are professors at the Department of Marketing, Faculty of Business Studies, University of Dhaka