Calls getting louder for online return submission
Young taxpayers demand accountable use of tax money as fair ends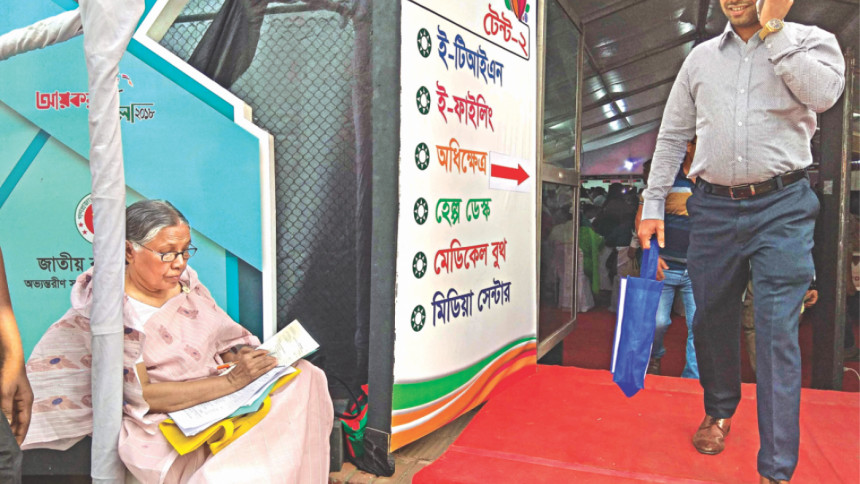 The ninth edition of the tax fair ended yesterday with record numbers and a louder call for a functional online returns submission facility.
"We buy tickets online, we purchase products online, and in fact, we do a lot of things online nowadays. So, why can't we complete income tax-related formalities online?" Abdullah Al Kafi, a multinational employee, told The Daily Star yesterday.
Kafi and his colleague were standing in front of an e-filing booth at the crowded tax fair at Officers Club in Dhaka to file their returns as well as collect passwords to log in to the online income tax return submission portal so that they do not need to make this trip next year.
The National Board of Revenue had launched the e-filing system in November 2016 to allow taxpayers to furnish their returns electronically.
But the system could not get traction because of the need to collect passwords from the tax office and difficulties in filling-up returns for new taxpayers.
Another shortcoming of the portal is that it can be accessed only on the Internet Explorer web browser.
"No one uses Internet Explorer now," said the annoyed 28-year-old, who submitted his income tax returns for the second year at the tax fair.
The show saw a record participation of 16 lakh taxpayers this year, according to the NBR. The tax collector got a record Tk 2,468 crore from the weeklong fair, up 11 percent year-on-year.
The number of tax returns surged 45 percent from a year earlier to 4.87 lakh, which is also the highest since the start of the fair in 2010, launched by the NBR with the view to creating a tax culture.
"It is a good feeling to submit returns in a festive atmosphere," said Md Monir Hossain, a banker.
But he suggested the authority increase the duration of the fair and hold the fair in Dhaka in at least two venues given the city's traffic situation.
"We submitted our returns in about 15 minutes, but we had to commute two hours from Mirpur to get here," said Tawfica Afsana, a teacher at Bhashantek Government Secondary School.
Although online returns submission would be a solution, her colleague Mahmuda Khatun Laboni is not keen on the idea.
"There is a risk of hacking," she said.
Md Mizanur Rahman, a new taxpayer, advised the NBR not restrict returns submissions to field office from which TIN numbers are registered.
Many salaried taxpayers usually get transferred from one place to another, but they cannot submit their returns if they are posted in a region where they do not have tax files.
Rahman, who works in a steel company, went on to cite a case in which a taxpayer could not submit his return at the fair in Dhaka as he is registered at the field office under Cumilla.
"Ideally, we would like to file returns from the comforts of our home," he added.
Rahman's opinion echoes that of Kafi and many other youths, who have been showing greater interest to pay tax.
"The tax return form should be easy to fill and many youths will be interested if the option for online return submission and payment is made available and user friendly," Kafi said, while suggesting a mobile app to facilitate returns submission.
He is aware that many people around him either do not pay tax at all or pay by showing a lower income and asset.
"As a citizen I feel that I should pay tax. Others should do the same," he said, while calling for more sincerity from the taxmen towards their profession to curb tax evasion.
There are allegations that many people in the tax office are involved in corruption and they help dishonest taxpayers avoid furnishing the coffer of the state, which has to depend largely on borrowing to finance budgetary expenditure owing to inadequate revenue collection.
Income or direct tax is the second biggest source of revenue, followed by value-added tax or consumption tax, although taxmen and analysts maintain that a large number of people do not pay tax despite having taxable income.
Organising tax fairs is a step in the right direction, Kafi said, while calling for more initiative to raise mass awareness.
His colleague Sheam Sufiean had more to say.
"Where is my tax money going?" he said, while demanding transparency and accountability in the use of taxpayers' money. 
"I am paying my tax. But am I getting adequate services from the state?"
The views of Sufiean, who is in his 20s, reflect the findings of a recent survey by the Centre for Policy Dialogue.
The organisation found that 85 percent of the taxpayers believe that increased provision and quality of public services will induce people to pay taxes.
"Invest more on public services including education, health, infrastructure and social protection. Establish Public Expenditure Review Commission," the report said.