Confidence in Bangladesh behind 60% of FDI through reinvestment: PM
Will provide support for investment-friendly environment in Bangladesh, she says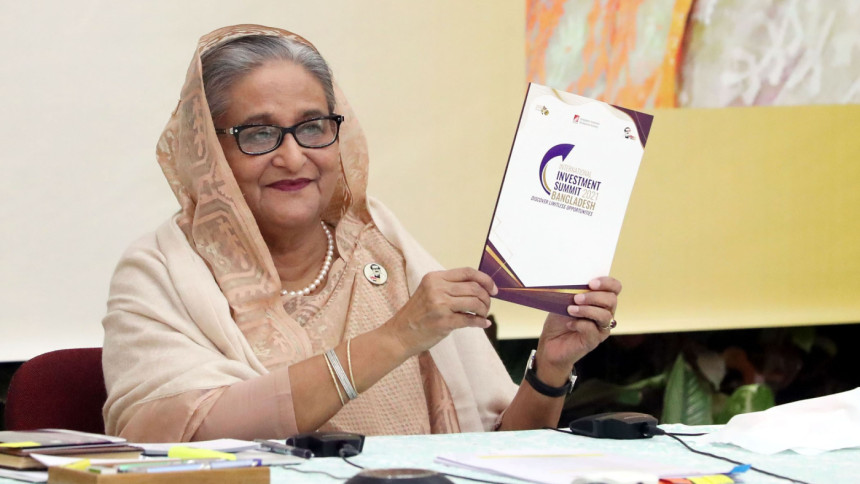 Prime Minister Sheikh Hasina today invited investment in Bangladesh, saying that the country is ready to provide all policy support to create an investment-friendly environment.
"...We are committed to provide all policy support -- including in infrastructure -- to create an investment-friendly environment in Bangladesh," she said.
She was addressing the opening ceremony of the two-day International Investment Summit-2021, Bangladesh in a Dhaka hotel, joining virtually from her official residence Gono Bhaban here.
The premier expressed hope that through this conference, investors will be able to learn more about the potentials in Bangladesh.
She said new markets for Bangladeshi products will be created and the country will be able to attract the desired investment during the summit.
Sheikh Hasina said her government has identified 11 potential investment sectors, including infrastructure, capital markets, financial services, information technology, electronics manufacturing, leather, automotive and light engineering, agro-products and food processing, healthcare and medicine, jute-textiles, and blue economy.
The prime minister mentioned that Awami League got people's verdict for three consecutive terms since 2008.
She said the importance of Bangladesh -- due to political stability, creation of skilled workforce, liberal investment policy through attractive incentives, and geographical position between huge markets of South and Southeast Asia -- is increasing day by day.
"As a result of confidence in Bangladesh, more than 60 percent of foreign direct investment is coming through reinvestment," she said.
Bangladesh Investment Development Authority (BIDA) organised this Summit.
Prime Minister's Private Industry and Investment Advisor Salman Fazlur Rahman, Saudi Arabia's Minister of Transport and Logistics Saleh bin Nasser Al-Jasser, and the Federation of Bangladesh Chambers of Commerce and Industry (FBCCI) President Jashim Uddin, among others, also spoke.
BIDA Executive Chairman Md Sirazul Islam delivered the welcome address.
Video messages of Indian Minister of Commerce and Industry, Consumer Affairs, Food and Public Distribution and Textiles Piyush Goyal, Chinese Vice Minister for Commerce Ren Hongbin, World Economic Forum Managing Director Jeremy Jurgens, Regional Vice President for Asia and Pacific of International Finance Corporation Alfonso Garcia Mora and President Consumer Durables of Koc Holding AS Turkey and Chairman of Singer Bangladesh Dr Fatih Kemal Ebiclioglu were played.
In addition, Japanese Ambassador to Bangladesh Ito Naoki read out the message of Parliamentary Vice-Minister for Foreign Affairs Honda Taro.
At the function, an audio-visual documentary titled Discover Limitless Opportunities was also screened.
The prime minister also unveiled the publication of the summit.