Brain Station 23: the homegrown fintech firm enabling local banks go digital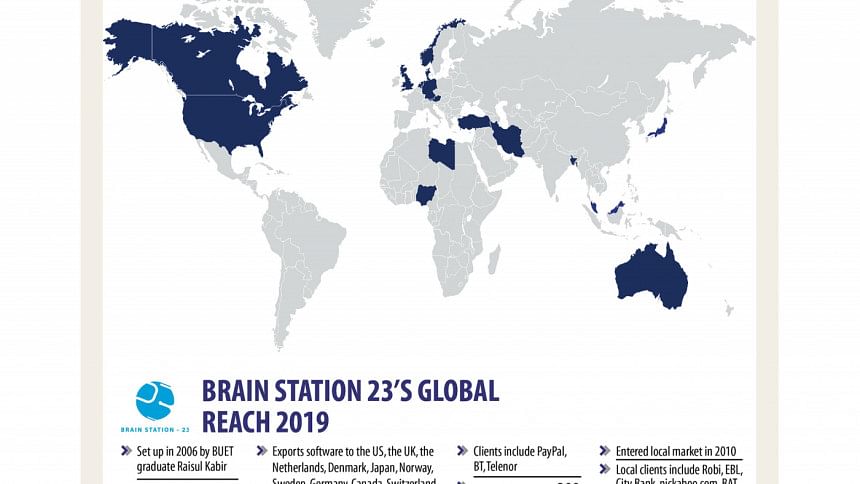 Brain Station 23 has recently signed a deal with Modhumoti Bank to develop the latter's new digital banking platform Go Smart, in a testament to the homegrown software developer's strong advancement in providing state-of-the-art fintech solutions to local banks and financial institutions.
Initially founded as a software company with the aim of providing outsourcing solutions to clients around the world, from 2012 Brain Station 23 began to pivot to the domain of fintech.
It all started with developing some mobile applications for online payment system PayPal, capitalising on the dexterity required for using complex technology to make these apps.
"Our outsourcing was good at that time as our work was applauded by our foreign clients," Raisul Kabir, chief executive officer of Brain Station 23, told The Daily Star.
"However, I realised that although we were bringing in foreign currency, many banks were spending dollars hiring international tech companies to build apps as they were diversifying their services to digital banking services. And thus Bangladesh was losing foreign currency," he said.
Brain Station 23 then took to developing and providing fintech applications to local banks, increasingly strengthening its footprint and contributing to the digital transformation of the country's overall fintech industry.
Its first local project was on making Citytouch, a digital banking app of City Bank.
"When we completed the job for a local bank successfully, many banks started to show their interest to avail our complete range of secure software solutions developed for banking."
Now, the company offers fintech solutions such as mobile banking, online bill payments, remote access to accounts, online transactions to banks and financial institutions.
The firm has gone on to develop digital banking apps for AB Bank and United Commercial Bank. Their technology-related services were also availed by IFIC Bank and Eastern Bank.
The company created these high-quality fintech applications using Java Spring MVC, Linux, Apache, Tomcap, Hibernate, Native Android, iOS Swift etc.
The software outsourcing company has come a long way since being founded in 2006 with just four people on board by Kabir, a fresh graduate of the Bangladesh University of Engineering and Technology.
"I have two key reasons for establishing Brain Station 23," Kabir said.
One was to prevent brain drain by creating employment for local software engineers and computer scientists who were leaving for abroad on being unable to see through the promising professional prospects in Bangladesh. 
And the other was to chase his dream to establish an information technology and outsourcing services company like Infosys.
During that time, Infosys had made over one billion dollars in revenue and it employed around 50,000 people.
"But we wanted to bring at least one million dollars in foreign currency to the country and generate employment for some."
Kabir's dream now has come true. Brain Station 23's annual revenue was about Tk 40 crore in 2019. Currently, it employs 350 software engineers.
Besides fintech, it develops innovative and native mobile apps for Android, iOS, BlackBerry and Windows platforms, providing Adobe Experience Manager that helps optimise clients' IT investments and digital marketing.
Its other services are solutions centring machine learning and artificial intelligence, cloud storage and business intelligence as well as customisations for e-commerce businesses.
Now, Brain Station 23 has developed an electronic know your customer (e-KYC) system that allows accounts to be opened without any documents being filled in.
"So far five local banks have shown interest in our e-KYC solution," Kabir added.