Beza plans generous incentives to tempt foreign investors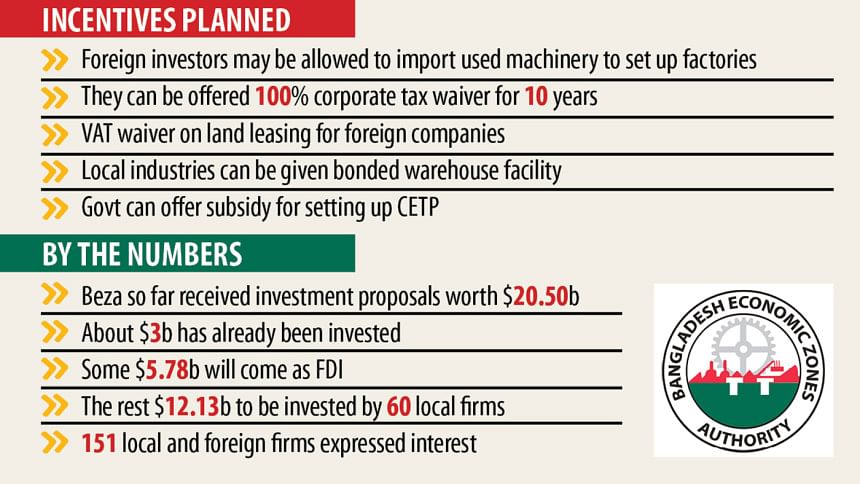 The Bangladesh Economic Zones Authority (Beza) plans to put in place a generous incentive package to perk up the country's investment climate and attract more foreign investors to economic zones in the post-coronavirus era when companies will scope out new destinations to reduce costs.
"We have submitted proposals to the Prime Minister's Office on how we can offer policy support and incentives to the foreign investors," said Paban Chowdhury, executive chairman of Beza.
As the pandemic is wreaking havoc on the global investment scenario and Bangladesh will not remain immune to the fallout, the country should use some innovative tactics to rope in investors, he said.
As per the Beza proposal, foreign companies that will relocate their production to Bangladesh can be allowed to import used machinery to set up their factories in the country.
Industrial units that will be set up in the government economic zones within 2023 can be offered 100 per cent corporate tax exemption for 10 years. 
Like the export-oriented industrial units, local factories should also be entitled to bonded warehouse facility, which allows exporters to import and store their raw materials without payment of customs duties for a certain period until these are used in manufacturing export products.
Beza also called for waiving value-added tax on leasing land by foreign companies for setting up factories as the provision of VAT erodes the competitiveness of the country as a lucrative investment destination.
Like India, the Bangladesh government should also provide 50 per cent of the cost for establishing central effluent treatment plants in the economic zones, Beza said.
Agro-processing industries operating outside the economic zones receive 20 per cent cash incentive irrespective of their ownership structure, but in the economic zones, only C-type industrial units that have 100 per cent local ownership enjoy 4 per cent cash incentive.
"This stands in the way of attracting foreign direct investment in agro-processing industries in the economic zones. This disparity should no longer exist," Beza said, adding that a flat 20 per cent cash incentive should be given to all investors in economic zones irrespective of their types.
As of February, Beza received investment proposals worth $20.50 billion from 151 local and foreign business entities, and of the amount, about $3 billion has already been invested in different special economic zones.
About $5.78 billion will come as foreign direct investment from companies in China, South Korea, Japan, India, Singapore, the UK, Australia, Malaysia and the US.
The rest $12.13 billion will be invested by 60 local companies, including TK Group, Karmo Foam Industry, Mango Teleservices, BDCOM Online, Bashundhara Group, Siraj Cycle Industries, Abdul Monem, Star Consortium and Ayesha Clothing Co.
The domestic companies want to pour funds in pharmaceuticals, steel, textiles, garment, bicycle, automobile, tyre and tube, electronics and ceramic industries, according to Beza.
WHY BEZA WANTS TO OFFER THE INCENTIVE?
In the existing global economic order, China is considered as the factory of the world as it hosts the skeleton of the global value chain, Beza said in the proposal.
But the post-COVID-19 economic order will not be equally interested to rely on the China-centric supply chain.
"Presumably the Japanese plan to relocate its manufacturing facilities from China presages an upcoming manufacturing exodus from the world's second-largest economy," it said.
If manufacturers decide to get rid of the Chinese dominance from their supply chain, their investments will be more equitably distributed to other countries that could hardly compete with China previously.
Whenever any incentive package is offered to attract investments, a short time compromise with revenue collection is made for a bigger return in future, according to Beza.
"A thorough cost and benefit analysis can justify the proposition of being generous with the investors at the cost of a short-term decline in revenue collection."
Joblessness will be the most serious concern in the coming days and it will not let the country increase the aggregate demand.
Against this backdrop, a prudent macroeconomic response is to be concerned with employment and aggregate demand, as boosting investment has always been a useful instrument in achieving these goals, Beza said in its proposal.