Local pharmaceuticals producing anti-flu drug that holds hope of Covid-19 cure
Beacon Pharma already sent a batch to DGDA; Beximco and six others to follow suit
Local pharmaceuticals have produced a drug called Favipiravir -- an anti-flu and viral infection medication -- said to be effective in the treatment of coronavirus patients in China.
Mohammad Ebadul Karim, managing director of Beacon Pharmaceuticals, handed over a batch of Favipiravir to Md Mahbubur Rahman, director-general of the Directorate General of Drug Administration (DGDA) today.
Beacon Pharma handed over 4000 tablets -- free of cost, according to Karim -- to DGDA for medical trial on coronavirus patients.
"With this batch, a total of 100 patients can be treated and we can go to commercial production when the trial results are positive," he said.
Beacon, as well as Beximco and five other pharmaceutical companies, are currently working towards making the medicine.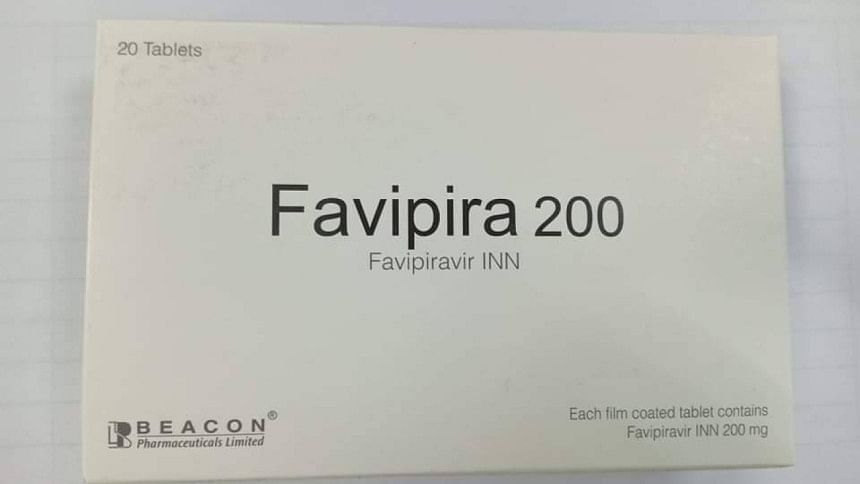 Favipiravir was originally developed to treat influenza by Toyama Chemical, which was owned by Fujifilm, the Japanese photography company that now has sizable holdings in biomedicine.
The drug was marketed under the name Avigan, and in 2014, was approved in Japan for human use, according to an article in Time magazine on Wednesday.
As Covid-19 spread around the world in February, trials began in China on the new drug, and on March 18 an official at the Chinese health and technology ministry announced that the drug had been "clearly effective" in treating 340 patients.
Subsequently, the drug caught the attention of the world, which has been desperately trying to find a solution to the coronavirus pandemic.
Along with China and Japan, doctors and scientists in Turkey, Russia and other countries have already begun using and testing the drug.
Bangladesh is also trying to get the drug as the number of confirmed cases for coronavirus infection is rising.
Each 200mg tablet of Favipiravir will cost Tk 400, and a patient needs roughly 40 tablets to be cured.
Despite being a Japanese formula, the active pharmaceutical ingredients (API) needed to manufacture Favipiravir were imported from China.
A bulk order for the necessary APIs has been placed so that there can be mass production, Karim said.
Beximco was given the green light to produce other forms of the medication alongside Favipiravir and is ready to deliver the drugs to the government, said Rabbur Reza, chief operating officer of the pharmaceutical company.
The medicine, which is effective in treating coronavirus during early stages of infection, should be mass-produced, he said.
The company will not supply Favipiravir to pharmacies as the general public will needlessly stockpile the medicine, said Reza.
He declined to mention how much medicine the company has produced, but Beximco will be able to meet the demand in stride, he added.