Bangladesh on the right track to becoming a digital economy
Says a top official of American tech giant Cisco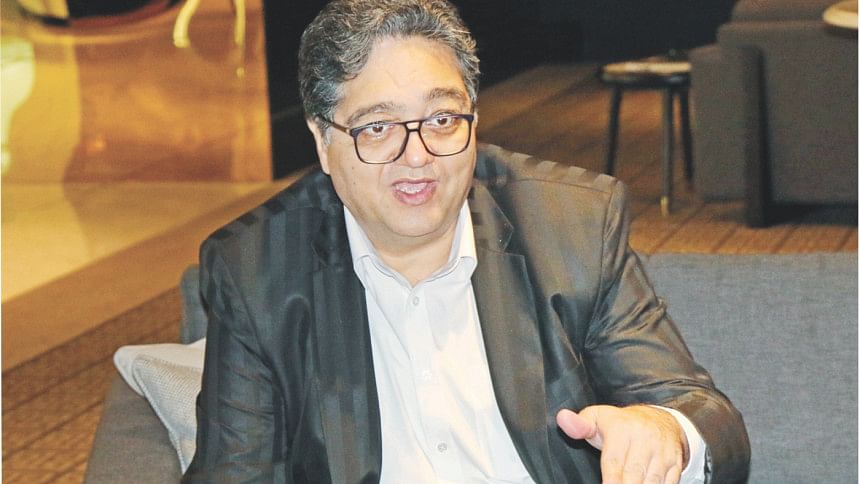 American tech giant Cisco Systems has doubled its headcount and office space in Bangladesh and opened a depot for spare parts as it looks to expand footprint in a country steadily moving to become a digital economy.
"We firmly believe that Bangladesh will be a very digital economy for what the government and the private sector are doing, and we are absolutely geared up to be the digital partner of choice," Sudhir Nayar, managing director for sales for India and the Saarc at Cisco, told The Daily Star in an interview in Dhaka last month. 
Cisco has been present in Bangladesh for two decades and was one of the first global IT companies that made investment in the country.
Today, it has more than 1,000 customers in Bangladesh and serves them through more than 100 partners.
"This is the testimony to the investment we have done over the last 20 years. The customers and partners are our strength. As we continue to grow into the digital economy, their numbers will multiply."
Deepening digitalisation in Bangladesh has prompted the technology company to expand its footprint.
Bangladesh has the ninth largest mobile penetration in the world and the fifth largest internet user base.
"These two are fundamental for any digital acceleration because people need to be able to get information, whether they want to read or get or share something and small businesses need to promote their products because for everybody global market is the market."
As per the World Economic Forum, Bangladesh will be the 24th largest economy in the world by 2030.
"Digitalisation is going to fuel the journey."  
About 120 ICT companies are exporting more than $1 billion worth of products to 35 countries. There are 6 lakh active freelancers in Bangladesh catering to the world's digital economy and generating $100 million worth of revenue for themselves.
"This is a humongous number. This is really what digitalisation can bring to the country. Bangladesh is already in the middle of a big transformation. We really want to be bridge."
Cisco has significant presence in Bangladesh: 88 per cent banks are running their core IT network and infrastructure on Cisco systems.
The government set up a national data centre a couple of years ago in a major stride towards building Digital Bangladesh and the centre is powered by Cisco.
Some 80 per cent of internet in Bangladesh goes through Cisco products. Video-enabled governance is connected by the US firm.
Bangladesh is the first country in Saarc that is implementing e-passport and Cisco is also a part of the core infrastructure.
"This is a sign of a very progressive government and a growing economy," Nayar said.
In Bangladesh, Cisco works with all leading private sector organisations. A lot of organisations are implementing their private clouds.
Banks are the most mature segment to adapting to IT and IT-enabled services in the country. The government is also adopting more digital technologies than the private sector now.
"In fact, the government is now leading the adoption of digital technologies," Nayar said.
In order to become digitalised, every organisation, public or private, needs to decide which parts of their businesses they want to digitalise.
For digitalisation, according to Nayar, three big pillars are needed: technology, process and people and culture.
The three things really need to work together for anybody to have a pure digital platform.
He lauded Prime Minister Sheikh Hasina's digital vision.
"It is not easy to start using digital technologies. But she is using it quite effectively to run her local governance and inaugurating a lot of events."
According to Nayar, when it comes to digitalisation, it is not only about large projects, about governments or big private organisations.
"The next growth in Bangladesh has to come from small and medium sectors," he said, adding that there are six million small- and medium-sized enterprise organisations in Bangladesh.
In the last quarter, Bangladesh was the fastest growing country for Cisco in the Asia and the Pacific region, recording three times more growth than in India.
"This is not a small achievement by any stretch of imagination. It is a very high growth country for us," said Nayar, who previously worked for Sun Microsystems, Oracle and Microsoft before joining Cisco three years ago.
He, however, did not give any specific numbers on revenue and growth.
The company has continued investment in partners and students training on digital technologies.
He credited the company's continued investment, the growing number of clients and partners, and digital drive of banks, retail companies, hospitals and hotels for the growth of the company.
The company has set a target to acquire five new customers every week.
"This is also a true example of digitalisation. Earlier, we used to talk about what we will do in a month, a quarter or a year. Now everything is about days and weeks because new companies are coming up every single day."
He also talked about the big trends that are coming up in the local market.
One of them is e-commerce, which is currently about $1.6 billion and the projection is it would grow to $3 billion by 2023.
"This is really huge. All these require technologies and the world is their market and they are not confined to any single geography alone."
Globally, Bangladesh has always been known for apparel exports. But in 2018, the country exported 12 industrial robots to Korea.
"This is phenomenal. This is not something we would have imagined even five years ago. The country has started to export ships and refrigerators. This is a new trend."
Cisco has opened a spare depot to serve Bangladeshi customers. Earlier, these spares used to come from India and whatever the company did and applied in Bangladesh took some time.
Now, thousands of thousands of Cisco systems will be just one hour away from the local depot.
"It is one of the biggest investments that we are doing here."
In Bangladesh, more than 1,000 customers are using 12,000 Cisco systems. It has invested in improving its capacity and it is now capable of supporting 20,000 systems. 
There are 15 people working in the local office of the technology company. Besides, 30 to 40 people make trips to Bangladesh frequently from Kolkata or Delhi.
So far, Cisco has trained 38,000 students through its programme called Network Academy. It has 15 academies at various universities, providing courses on digital networks and cyber security, among other topics. 
"We are happy to support it because this is the backbone to any digital economy's growth. The students are going to be the digital transformation agents for Bangladesh."
It is not about selling systems to customers and growing revenue; in any digital economy, the biggest thing is how the youth is empowered, so they are equipped with digital knowledge, he added.
Availability of technically trained workforce is the major challenge facing Bangladesh, he said. 
"This is not only true for just Bangladesh but also every developing country. Technologies also change too fast. We need to do a lot more about this. This has to change from the school level."
There are six million SMEs and thousands of other businesses and organisations that need to be digitalised and everybody needs trained workforce.
"If students come out with practical training and exposure to digital technologies and cyber security, they would be much more wanted in the industry."
Digitalisation at SMEs has to be augmented, he said.
"You have a workforce that is educated. If they become tech-savvy, then it will have a huge differentiator for any country," said Nayar, who has work experience spanning three decades and has a B.Tech degree in electronics and communications from the Regional Engineering College, Warangal in Telangana state.
According to Nayar, Cisco believes that when it has a trust of 1,000 customers and such a big infrastructure is being run on Cisco, it has responsibility to stand up and commit.
"We have been present in this country for 20 years. We are very proud with what the local team has done and the trust that the customers have in us. Obviously, we will continue to work, making sure that we train our staff, partners, clients and especially the students."