Bangladesh has highest number of green garment factories
10 more receive platinum rating from US organisation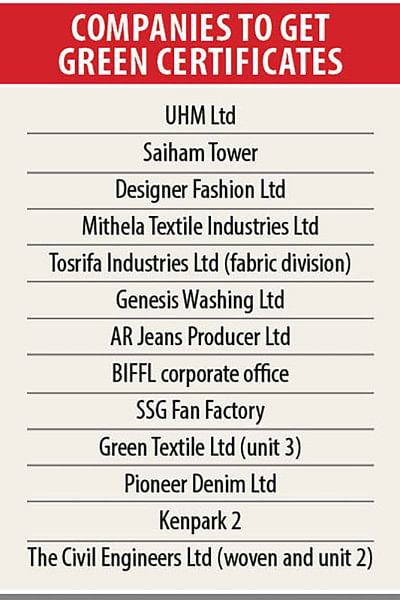 Ten more garment factories received the top billing from the United States Green Building Council (USGBC) to take the total to 24, the highest in the world, in a heartening development for Bangladesh's apparel sector, whose image has been battered by incidents of industrial accidents.
Of the 24 platinum-rated LEED (Leadership in Energy and Environmental Design) factories in Bangladesh, six are amongst the top 10 in the world.
"In every consideration, Bangladesh has the highest number of green garment factories in the world," said the USGBC.
Overall, the total number of LEED-certified garment factories in Bangladesh is 90, including the 24 platinum rated buildings, according to the USGBC. 
Although the buyers do not pay any extra money for green buildings, such initiative helps a lot in branding of the country or the company, said Mohiuddin Rubel, representative of Bangladesh at the USGBC's chief executive officer's advisory council. 
The move towards green buildings helped in recovering Bangladesh's image after the Rana Plaza building collapse in April 2013, which killed 1,134 and injured more than 2,000.
Not only branding, green technology also helps to cut down on energy usage by 40 percent and water consumption by more than 30 percent. 
"Among many benefits, green buildings mean less carbon emission. As a result, our environment is saved."
Green buildings also ensure a safe workplace for workers as the factory owners have to follow certain rules for construction of the buildings, said Rubel, also a director of the Bangladesh Garment Manufacturers and Exporters Association.
Faruque Hassan, managing director of Giant Group, whose building is one of the 13 to receive platinum certification from the USGBC at an event in Dhaka tomorrow, said he spent nearly Tk 200 crore for construction of the factory at Maona in Gazipur.
"The buyers should pay extra for green initiative as we have spent money to conserve the environment," he told The Daily Star by phone.
Some 15 buildings may get the LEED certification from the USGBC soon as they are nearing their completion of processes. 
More than 250 garment factories also applied for the LEED certification from the USGBC, according to industry insiders.
Apart from the platinum rating, the USGBC gives gold and silver rating and green certification to garment factories.