'Bangladesh committed to cut carbon emission by 22% within 2030'
FBCCI president says at Commonwealth Trade & Investment Summit 2022 in London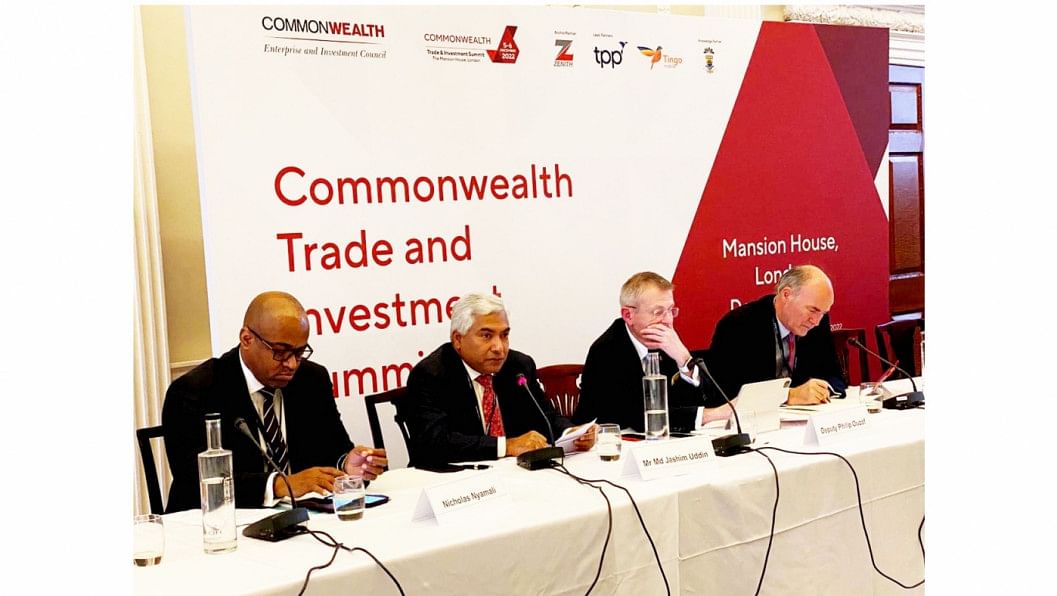 Bangladesh is the globe's one of the lowest carbon emitters, but still the country is committed to cut carbon emissions by 89.47 million tonnes or 21.85 per cent of carbon dioxide by 2030, FBCCI President Md Jashim Uddin said today.
To reach the target, Bangladesh will cut 96.1 per cent of emissions from the energy sector such as power, transport, industry, households, commercial, agriculture, brick kilns, and fugitive emissions, he said.
The remaining 3.9 per cent will be cut from agriculture and livestock, forestry, and municipal solid waste and wastewater, Jashim Uddin said.
The president of the Federation of Bangladesh Chambers of Commerce and Industry (FBCCI) made the remarks during a roundtable on "Financial and professional services - the role of standards and regulations on the road to net zero" at the Commonwealth Trade & Investment Summit 2022 at the Mansion House in London on December 5.
He attended the roundtable as one of the speakers, the FBCCI said in a statement today.
The government of Bangladesh is working with the private sector to implement environment-friendly industrialisation, he said.
The industries of Bangladesh are increasingly looking to innovate and move for maintaining environment-friendly standards, he added.
Bangladesh's current contribution to global greenhouse gas emissions and share of carbon emissions are just 0.4 per cent and 0.09 per cent respectively, which are not significant, Jashim Uddin said.
The FBCCI president also informed the delegates that Bangladesh has a national action plan ready on climate change that requires $230 billion over the next 27 years till 2050 with 113 interventions with 90 high-priority ones.
He mentioned that approximately $50 trillion in incremental investments is required by 2050 to transition the global economy to net-zero emissions and avert a climate catastrophe.
The roundtable was moderated by Bronek Masojada, chair of the East End Community Foundation and Alderman of the City of London.
Chairman of UK Accreditation Service Lord Lindsay, CEO of BSI Susan Taylor Martin, Director-General of the Institute of Export and International Trade Marco Forgione, Group Managing Director of Investment One Financial Services Limited Nicholas Nyamali, Senior Vice-President of FBCCI Mostofa Azad Chowdhury Babu, FBCCI Directors Md Jamal Uddin, Mohammed Bazlur Rahman and Abu Hossain Bhuiyan were also present.