Bangladesh to clock highest growth in Asia this year
ADB says in its latest report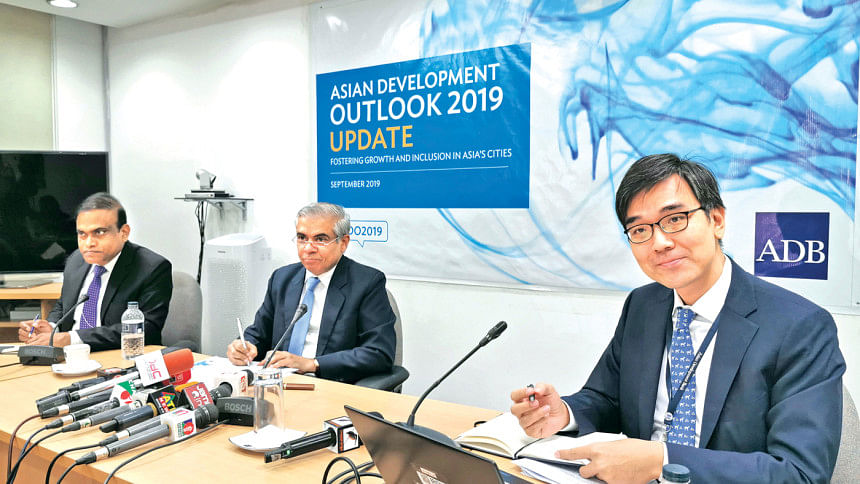 The Bangladesh economy will grow at 8 percent this fiscal year, which would be the highest in Asia, as per the latest forecast of the Asian Development Bank.
The forecast is close to the government target of 8.2 percent growth in fiscal 2019-20. Last fiscal year, Bangladesh pulled off 8.13 percent GDP growth.
The Manila-based multilateral lender disclosed the growth forecast while releasing its 'Asian Development Outlook 2019 Update' at its office in Dhaka yesterday.
"Buoyant exports, robust private consumption, higher remittance, accommodative monetary policy and ongoing reform to improve business climate and high infrastructure spending helped Bangladesh attain high growth," the report said.
Bangladesh continues to be among the fastest growing economies in Asia and the Pacific, said Manmohan Parkash, ADB country director.
On the supply side, higher expansion in industry and services lifted the robust growth.
Despite a weaker global growth, favourable trade prospects are expected to continue. Export and remittances are likely to be further strengthened. Strong public investment due to continued policy environment and expediting implementation of large infrastructure projects are also envisaged.
On the downside, private investment, which would propel the next level of growth, remained stagnant in 2019, Parkash said.
Private investment edged up to 23.4 percent in fiscal 2018-19 from 23.3 percent a year earlier.
Public investment expanded from 8 percent to 8.2 percent and total investment contributed 2.8 percentage points to growth.
Apart from that, private sector credit growth slowed to 11.3 percent from 16.9 percent, partly due to a decline in deposit growth.
"The private sector has to be part of the growth role for the next level of growth of the economy of Bangladesh. So, the private sector development is important," Parkash said.
According to Parkash, budget support and own fund will be needed more and more for education, social sector and urban development.
But the budget will come from revenue, so industrial and private sector development are needed to earn more.
"How will the private sector develop? You need ecosystem and framework, good governance and transparent financial system for private sector development," Parkash said.
The framework must have transparent financial system, good governance as well as skilled manpower, human capital, infrastructure and incentives, all of which encourage investors.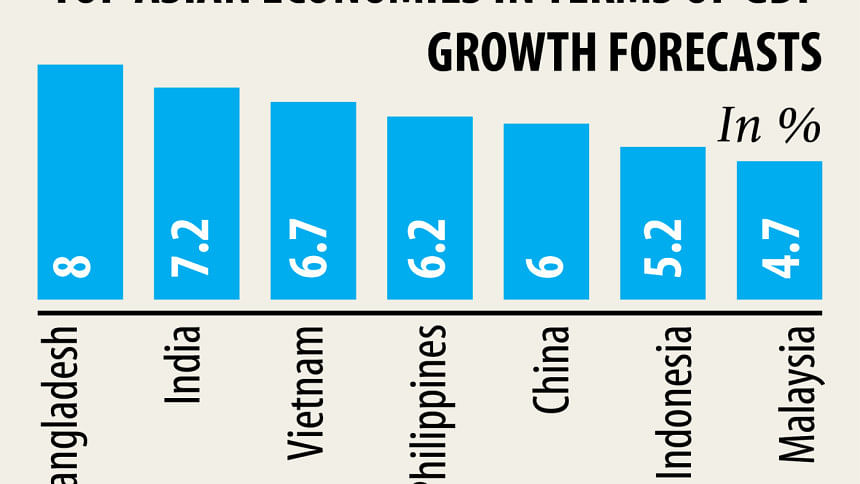 He further said the ease of doing business is important for private investment growth.
Soon Chan Hong, senior economist at ADB's Dhaka office, said the ongoing reforms, including establishment of a one-stop service for private investment and efficient budget spending, especially to develop infrastructure, will help Bangladesh achieve higher growth this fiscal year.
However, he forecast that inflation will edge up to 5.8 percent from 5.5 percent in 2020 on upward adjustments to domestic gas prices, higher price of goods and services due to expansion in value-added tax coverage, and the depreciation of the taka against the US dollar.
In fiscal count, revenue shortfall is expected to be offset by lower public spending, holding the budget deficit under the ceiling of 5 percent of GDP, he said.
Hong is optimistic about the continuing strong growth at 10 percent benefiting from trade redirection arising from the US-China trade conflict this fiscal year.
"Bangladesh should highly concentrate on export diversification and explore new markets such as Canada and Australia."
He forecast that import growth will be 9 percent higher in 2020, thanks to fast-tracking of the implementation of large infrastructure projects, boosts in capital equipment and raw material import, and the rise in new imports of liquefied natural gas.
Food imports continues to be lower, assuming a good harvest and revival of rice import duty, he said.
India will grow at 7.2 percent and Vietnam 6.7 percent, the bank said.