Bangladesh, Bhutan to sign preferential trade deal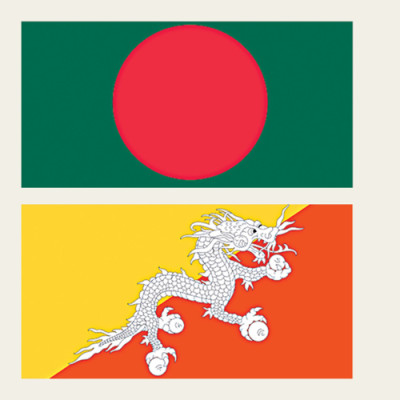 Bangladesh and Bhutan on Tuesday finalised the terms and conditions for signing a preferential trade agreement (PTA) to increase bilateral trade.
"We have reached a consensus to sign a PTA, not the free trade agreement (FTA)," said Sharifa Khan, additional secretary to the commerce ministry.
Under PTAs some select goods enjoy duty benefits from both countries whereas under FTAs almost all do, meaning that, in turn, both countries will also lose import and export revenue.
"So we are not preferring to sign FTA but PTA, also to protect our domestic industries," said Khan.
For instance, Bangladesh is not interested in signing an FTA with China because the government earns nearly Tk 25,000 crore as duty on import of goods from that country.
So if the government signs an FTA with China, it will lose out on this big amount of revenue. Currently, China is the largest trading partner of Bangladesh.
Bangladesh imports goods worth $14 billion from China every year while exporting goods worth nearly $1 billion.
"As per our discussion through a video conference, the officials of both Bangladesh and Bhutan agreed to make the PTA functional from August 30 this year," said Khan who led the Bangladesh delegation in the conference.
The law ministries of both countries are vetting the documents now, she said.
The documents were supposed to be finalised in March this year, but it was delayed due to the novel coronavirus pandemic.
Bhutan agreed to provide duty benefit on export of 100 different goods, including garments, processed agricultural goods and electronics.
On the other hand, Bangladesh agreed to provide duty benefit to 34 Bhutanese products including fruits, said Khan.
Being members of the South Asian Association for Regional Cooperation (Saarc), trade between Bangladesh and Bhutan is on the rise as both the countries have demand for products of each other.
Trade between Bangladesh and Bhutan that amounted to $26.52 million in fiscal 2012-13 reached $57.90 million in fiscal 2018-19, according to data from the commerce ministry.
Khan said negotiations were underway to soon sign PTAs with Indonesia and Nepal.
Last month Bangladesh ratified a duty offer of China, which granted zero duty benefit to 97 per cent of items originating in Bangladesh.
"Chinese duty privilege is a bit generous for us compared to other countries as China allowed us both old and new duty options," Khan had said earlier.
China granted duty benefit both bilaterally and under Asia Pacific Trade Agreement. So in a sense the Chinese offers are more generous compared to those from other countries, she said.