Bangladesh adds 3.3cr internet users in a decade
Finds GSMA study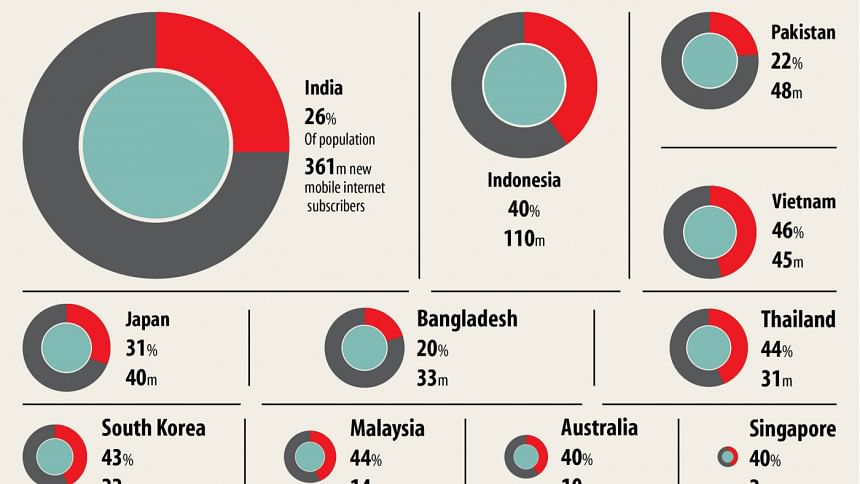 The number of internet users in Bangladesh expanded by 3.3 crore between 2010 and 2019, bringing another 20 per cent of the population online, according to a recent report.
Over the same period, India added 36.1 crore new users, or 26 per cent of its population and Pakistan added 4.8 crore new users, or 22 per cent of its population.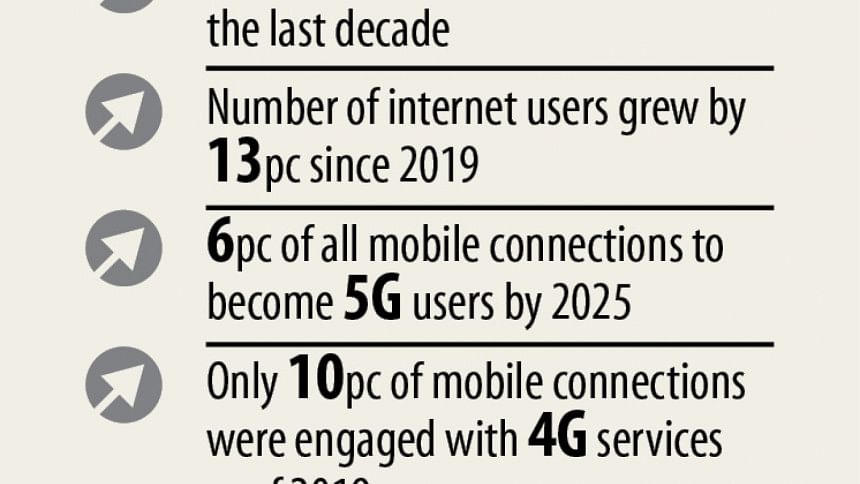 The report styled, 'Advancing digital societies in the Asia Pacific: a whole-of-government approach', was published by the Groupe Speciale Mobile Association (GSMA) last week. The association represents the interests of mobile network operators worldwide.
As a part of the study, the GSMA surveyed government agencies, mobile network operators and other players in the digital ecosystem in 11 countries.
The number of internet users in Bangladesh reached 11.11 crore in September, a 13 per cent increase compared to the same period in 2019, data from the Bangladesh Telecommunication Regulatory Commission showed.
"Bangladesh has witnessed a tremendous growth in the number of mobile internet subscribers over the last decade," Mustafa Jabbar, post and telecom minister, told The Daily Star yesterday.
5G service is now available in more than 10 countries in the Asia Pacific region, including Australia, Japan, Singapore, South Korea and Thailand, the report said.
As per forecasts, the combined number of 5G connections in the 11 countries will reach 310 million by 2025.
Besides, many countries in the Asia Pacific have plans to facilitate Industry 4.0 (the fourth industrial revolution) in their economies, as evinced by various government and industry responses to the survey, it added.
Industry 4.0 refers to the introduction of cyber-physical systems, networks, IoT, big data, cloud storage, artificial intelligence and augmented reality.
The fourth industrial revolution is expected to have a much wider impact on society than its predecessors. And the majority of respondents to the survey expect the key objectives of Industry 4.0 to be delivered by 2025.
E-government, manufacturing and healthcare are among the top sectors expected to feel the immediate impact of Industry 4.0. A key enabler of Industry 4.0 will be intelligent connectivity, which can be described as the fusion of advanced networks, AI and the Internet of Things (IoT).
The intelligent connectivity era has begun in the Asia Pacific and mobile operators are leading the way with investments in 5G infrastructure and various transformative technologies, including AI and IoT.
The report also mentioned that the post-pandemic world is set to be shaped by the greater use of digital technologies for everyday activities.
Therefore, stakeholders need to take a holistic approach in this process, considering the direct and indirect impacts it will have on societies.
More than 64 per cent of government respondents expect e-government services and manufacturing to significantly benefit from Industry 4.0.
Meanwhile, 50 per cent said that they believe the healthcare sector will get a boost and 43 per cent thought the same about agriculture and retail.
Thirty-six per cent of government respondents also expect the energy sector to benefit from the fourth industrial revolution, while 21 per cent said the same about societal or community progress.
For many governments in the Asia Pacific, Industry 4.0 is of paramount importance with 60 per cent of respondents ranking it to be as crucial as public health and education, which still holds top priority with an 80 per cent approval rating.
Six per cent of all mobile connections in Bangladesh will become 5G users by 2025, placing the country at far below the Asia Pacific average of 23 per cent, the report said.
However, Bangladesh fared better than Vietnam and Indonesia, where the number of 5G users will be 5 per cent of their active mobile connections by 2025.
As per the GSMA report, Pakistan, with a projected 4 per cent 5G penetration by 2025, is positioned at the lowest rank.
India ranked above Bangladesh with 7 per cent, Thailand 13 per cent and Malaysia 30 per cent.
South Korea will lead the region in the use of 5G services with 67 per cent, followed by Australia (54 per cent) Japan (47 per cent) and Singapore (36 per cent).
The BTRC formed a committee last year to prepare a draft guideline on 5G services and initially planned to launch the facility by 2023. However, the Covid-19 pandemic has forced all preparations to come to a halt for several months.
"We are ready to roll out 5G services and we have the capability to introduce it before March 26 next year, the golden jubilee of our independence," Jabbar said.
"We have enough 5G spectrum and the network providers and equipment handlers have the ability to install the technology," he added.
A separate GSMA report published in July stated that in Bangladesh, 4G will dominate the market with 46 per cent users in 2025.
At that time, 3G users will amount to 30 per cent and 18 per cent will still be connected to 2G.
But at the end of 2019, only 10 per cent of internet users had 4G connections, 40 per cent had 3G and the remaining users just use it for calling purposes.
According to the post and telecom minister, the pandemic created certain obstacles for the expansion of local 4G networks.
"However, I can assure there will be no problem in 4G networks by March 2021," he said.
Bangladesh's Covid-19 response Through Technology
The GSMA report said at the start of 2020, most universities in Bangladesh lacked basic learning management systems and digital infrastructure.
With the enforcement of lockdown measures amid the Covid-19 crisis, the University Grants Commission (UGC) introduced policies requiring all universities to go digital and to make admissions, teaching and learning activities accessible online.
According to the report, within four months, digitalisation was mainstreamed.
Around 3,800 classes are now held online daily with more than 220,000 students in attendance.
Mobile operators have been instrumental in providing the required connectivity for online learning.
State-owned Teletalk provides connectivity to the students of 42 public and 68 private universities, who are using the Bangladesh Research and Education Network platform run by the UGC. Grameenphone partnered with several universities, including East Delta University and Dhaka University, to facilitate online learning.
"By the end of July, around 203,200 classes had been delivered to more than 9.2 million attendees by 10,200 faculty members," the report said.