Artificial intelligence and the role of CEOs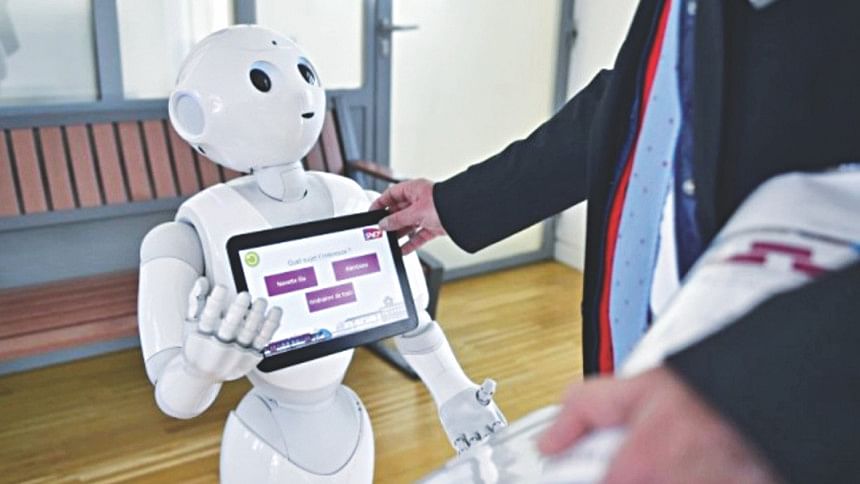 The CEO's job was never easy, and the confluence of changes in human capital and advancement of technology is going to make it even more difficult in the near future. The leadership in the corner office must possess certain traits, such as the ability to take a bold position on emerging technologies and to assist executives within the organisation to embrace a similar vision.  
At the same time, the CEO needs to be open to forming alliance with external experts on technology, as well as cautious about protecting the organisation's intellectual properties.
CEOs have an important role to play in the adoption and implementation of artificial intelligence (AI) – one of the key factors in shaping an organisation's future success. AI is no longer an emerging technology.
Organisations operating in developed nations have started considering it as one of their important assets. While companies in Bangladesh are yet to adopt AI widely, some of the leading companies have already started working on related technologies, such as machine learning (ML), to solve some of their business problems.
However, adoption of AI is not going to happen just by starting a new AI project. Many companies in Bangladesh have implemented globally reputed software for conducting their regular business. Some of those software will get embedded with AI in their future releases, and companies in Bangladesh will, by default, become users of AI when they upgrade their existing software.
A good number of cloud-based applications already have AI embedded in their functionalities.
Becoming an adopter of AI without truly understanding its applicability and potential will have its own advantages and risks. It is important that CEOs start educating themselves about the potential of AI, its impact on their organisations, and their evolving role with respect to this technology.
Worldwide, CEOs are at different phases in their journey of developing an understanding of AI. Some of them have started experimenting with it, while others are working on prototype development and large-scale adoption. At the same time, many CEOs are yet to embark on the journey.
It is important that CEOs gain working knowledge of the range of possibilities that AI offers and develop their ability to leverage these for strategy development. CEOs should cultivate a mind-set of lifelong learning and intellectual elasticity and, subsequently, encourage their executive team to do the same.
Global Digital IQ Survey of PricewaterhouseCoopers consistently shows that a CEO's digital acumen correlates with the company's financial performance. In the last survey, respondents from about 54 percent of top-performing organisations had categorised their leadership as digitally savvy. They also stated that their leadership helps the workforce think in a new way.
CEOs need to clearly define the vision of their organisations to accommodate automation and AI for driving their business strategy. It is important for a CEO to identify the business problems that AI is going to help in solving. The vision may cover goals such as boosting efficiency, improving customer satisfaction, or even creating new products and services. The CEO's ability to articulate these goals and visualise an AI-enabled future will drive the success of the organisational journey of AI adoption.
While CEOs don't get involved in the deployment and roll-out of AI technology (which is typically led by the CTO or CIO of the organisation), they need to be involved in formulating the right set of processes. AI implementation cannot be regarded as a typical IT project. It entails the mobilisation of a diverse set of skills, many of which require external expertise.
At the same time, the function heads within the organisation will play a key role in providing the right kind of inputs to solve business problems. CEO should help in formulating the right set of processes to avoid any kind of hindrance in the successful roll-out of this technology.
Adoption of AI is going to change the way companies perform regular tasks. CEOs need to encourage their employees to learn the new way of working. While finding the right kind of personnel to implement AI technology is a challenge, the adoption of AI by employees can be an equally challenging task. 
It will require a significant degree of upskilling and cross-skilling activities among employees. One of the critical roles of the CEO would be to motivate the organisational workforce towards embarking on these learning activities.
With the adoption of AI within an organisation, many organisational decisions will be taken by the combined intelligence of humans and machines.  Hence, the issue of responsible AI comes into the picture. CEOs need to be aware of the potential challenges arising from biased decision making by AI-enabled functions. 
CEOs will also have to brief stakeholders about the adoption of AI and the corresponding controls established to ensure responsible decision making. CEOs of AI-enabled organisations will have the dual responsibility of developing the capabilities of their people as well as the bold adoption of AI and other evolving technologies. 
Successful alignment of these two critical resources will determine the success of organisations in future.
The writer is a Partner at PwC.  The views expressed here are personal.