Agri food processors eye $1b in exports
Int'l expo kicks off in Dhaka tomorrow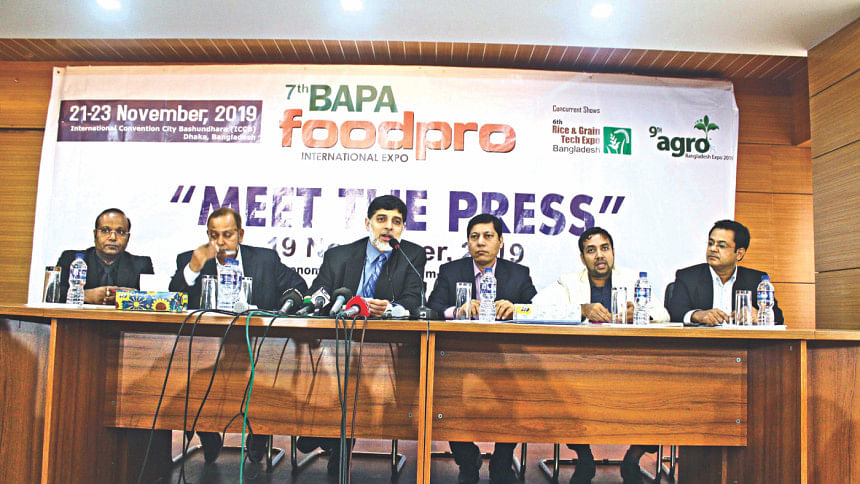 Agricultural food-processing entrepreneurs yesterday said they can raise their annual exports by more than 40 percent to $1 billion within 2021 through adoption of advanced technology.
Shipment by the agricultural food-processing sector stood at around $700 million in the last fiscal year.
"The agro-food processing sector needs to adopt advanced technology to fulfill the plan of exporting products worth $1 billion a year," said Ahsan Khan Chowdhury, chairman and chief executive of Pran-RFL Group, the largest agriculture food processor in Bangladesh.
He said the sector would play an important role in diversifying Bangladesh's export basket as the country's processed foods have demand in the international market, especially in India.
His comments came at a press conference at the auditorium of the Economic Reporters' Forum in Dhaka yesterday. 
The Bangladesh Agro-Processors' Association (Bapa) and Rainbow Exhibition & Event Management Services Ltd (Reems) jointly organised the briefing. 
The media briefing was organised to announce the schedule of the seventh Bapa Foodpro International Expo 2019, set to kick off at the International Convention City Bashundhara tomorrow. 
Two concurrent expositions – the 9th Agro Bangladesh Expo 2019 and the 6th Rice & Graintech Expo Bangladesh – would also take place in the same venue.
The exposition aims at creating a bridge between the local market and the international market and familiarising local entrepreneurs with modern technologies and products.
A total of 234 agro-processors, technology providers, financial institutions, and many other related companies from 15 countries will exhibit their products and services at the three-day fair, which is open to visitors from 11:00am to 7:00pm.
Anyone planning to start a business in the agro-processing sector or supply agricultural products to agro-processors can visit the expo, said Chowdhury, also the chairman of the exposition committee.
The event will also deepen rapport among all the stakeholders of the agro-processing sector, he added.
Bangladesh itself has a large market for processed foods. "There is a huge potential within the country," Chowdhury said. SM Jahangir Hossain, vice-president of the Bapa, said the country needs to diversify export items apart from apparels. 
"The agro-processing sector can play a vital role here."
He said the sector is already growing well and technological advancement would assist it to move to the next level.
Md Iqtadul Hoque, general secretary of the Bapa, and Chanmohan Saha, chief executive officer of Reems, were present at the briefing.