Agency Award Night of Turkish Airlines held in Dhaka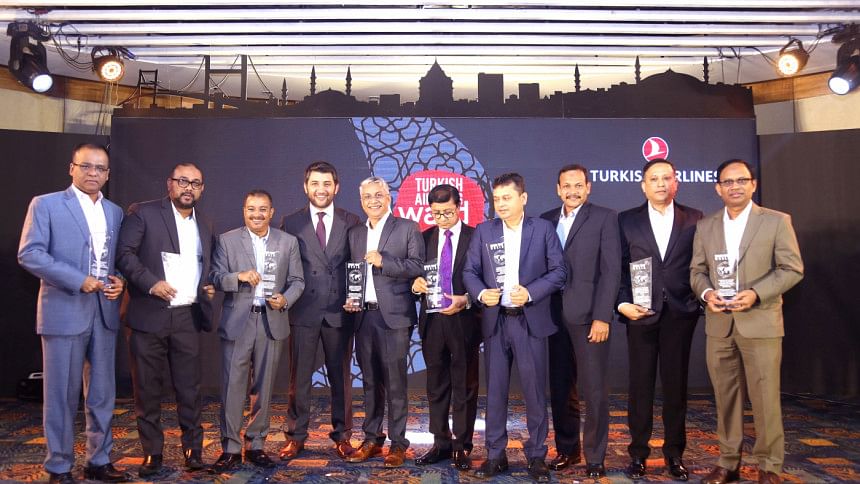 Turkish Airlines, the national flag carrier of Turkey, has arranged a grand award distribution ceremony for its top travel and cargo agents in Bangladesh.
The programme titled Agency Award Night was held on Wednesday, March 27, at Hotel Radisson BLU in Dhaka.
Emrah Karaca, country manager of Turkish Airlines in Bangladesh, distributed the prizes among the top 10 agents during the programme.
The award night was also attended by: Halit Tuncer, regional manager (Middle East & Asia) of Turkish Cargo; Al Latif Shahrear Zahedee, managing director of GSA Aeromarte Services; Tashfia Zahedee, executive director of GSA Aeromarte Services; Deniz Ket, Dhaka station manager of Turkish Airlines; and Yahiya Develioulou, regional finance manager of Turkish Airlines.
With a fleet of 338 aircrafts for its passenger and cargo divisions, Turkish Airlines is the largest carrier in the world by number of passenger destinations, offering huge scheduled services to 306 destinations in 124 countries.
Besides the 49 domestic airports, Turkish Airlines is operating international flights to 257 destinations worldwide.
The airline's cargo division serves 82 destinations across the world with an operational fleet of 20 cargo aircrafts. Turkish Airlines also a member of the Star Alliance, one of the world's largest global airline alliances.
The substantial growth achieved by Turkish Airlines has placed it among the top airlines of the world. It was chosen the "Best Airline in Southern Europe", and named the "World's Best Business Class Airline Lounge" and the "World's Best Business Class Lounge Dining" in the 2015 Skytrax World Airline Awards. Turkish Airlines has been chosen as the "Europe's Best Airline" for the sixth consecutive year in the 2016 Skytrax World Airlines Awards.
"Turkish Airlines takes its strength from its ever-expanding fleet, the significant position of Istanbul as an international transfer hub and the cultural diversity, and with that strength the carrier is permanently seeking to take the flight experience to a whole new level," Emrah Karaca said.
The event was attended by 150 travel agents and 50 cargo agents alongside the corporate members of the Turkish Airlines in Bangladesh and other renowned business establishments. 
All the guest also enjoyed a special performance by a Turkish folk dance troupe specially flown in from Turkey featuring the melodious tune of Turkish Ney flute.  The program concluded with an exciting raffle draw event.