Turkish plane diverts to Delhi over 'threat'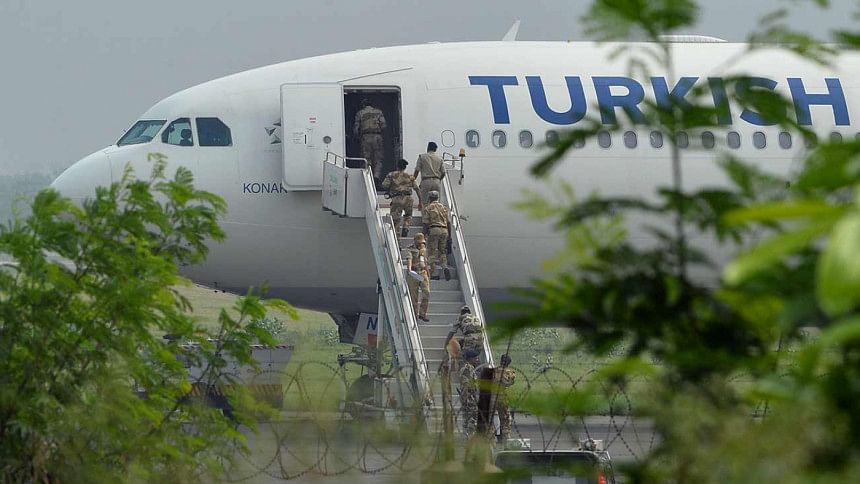 A Turkish Airlines flight from Bangkok to Istanbul made an emergency landing in India Tuesday after a bomb threat was scrawled in lipstick on a bathroom mirror, officials said.
All 148 passengers and crew were immediately evacuated after the plane landed safely in an isolated area at New Delhi's Indira Gandhi International Airport following the third bomb scare to hit the airline this year.
"Crew saw message on bathroom mirror that bomb in cargo hold... Plane will be inspected for explosives," the airport's chief spokesman Saptarshi Sanyal told AFP by text message.
Mahesh Sharma, junior minister of civil aviation, said that bomb disposal squads and national security teams had not found any bomb after scouring the main cabin.
"Inside of the cabin has shown that there is no explosive there. Now we are screening the luggage portion," Sharma told the NDTV news network, adding that passengers were now being questioned about the message.
The plane was being examined in an isolated bay at the airport after the crew informed the pilot of a note on the mirror of the plane's washroom reportedly scribbled with lipstick.
Sharma said that the plane was flying over the central Indian city of Nagpur when the pilot requested air traffic control for an emergency landing and diverted its course to Delhi.
It is the third such bomb threat to affect Turkish Airlines this year alone.
In April, a Turkish Airlines passenger plane flying from Istanbul to Basel turned back over Bulgarian air space after the discovery of a written note warning of a bomb on board, which turned out to be false.
A month before that, another one of its flights flying from Istanbul to Brazil made a similar emergency landing in Morocco after the crew found a written note in one of the plane's toilets warning of a bomb.