ADB sounds caution over taking BRI loans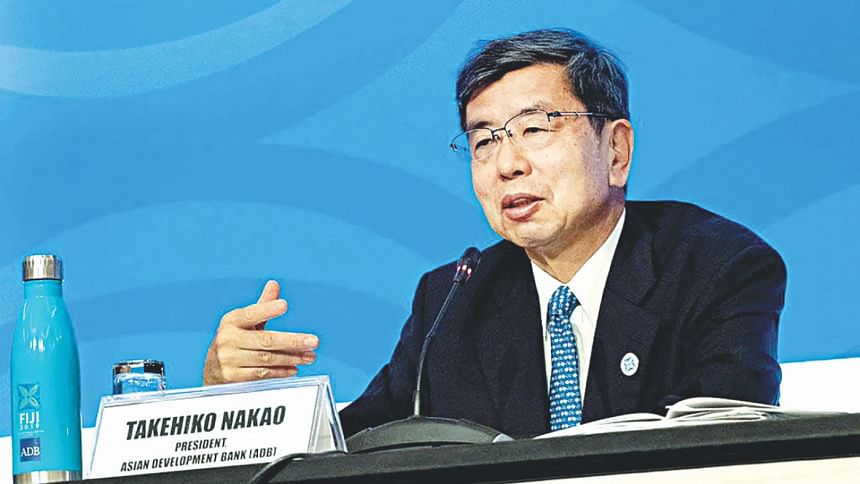 In a word to the wise, ADB President Takehiko Nakao yesterday advised countries to scrupulously evaluate the merits of a project before approaching China for funding under its flagship Belt and Road Initiative.
Each project identified should have a strong economic ground with a good return, he said  in a press conference on the sidelines of the 52nd annual meeting of the Asian Development Bank's board of governors, currently taking place in Nadi, Fiji.
"Otherwise, it would cause trouble for the payment capacity of the government. There are merits of having more investment, but at the same time we must be careful that we must find good projects with good returns."
Nakao's comments come as concerns are growing that the grandiose projects funded under the initiative will go on to create debt trap for the recipient countries.
Launched in 2013, the initiative wants to connect two-thirds of the world's population across 70 countries through a network of land links (the "belt") and sea routes (the "road").
In 2017, Sri Lanka handed over a seaport located strategically on its southern coast on a 99-year lease to China after it failed to meet its debt commitments. The seaport, which cost $1.3 billion, was a BRI project.
Myanmar, Pakistan, Malaysia and Maldives, countries that were generous beneficiaries of the BRI, are cancelling or rethinking the projects.
For instance, Myanmar has scaled back plans for a Chinese-backed deepwater port on its western coast, which was a key part of the BRI, after the initial $7.3 billion price tag set off alarm bells of the south-east Asian nation becoming heavily indebted to China.
Bangladesh, too, is of particular focus of the BRI because of its strategic geographical location.
Also, attention must be paid to the projects' environmental and social impact, said Nakao, a Japanese national.
If the criteria are met, the increased infrastructure investment is welcome.
"It is needed for global growth."
The BRI's idea of enhancing connectivity between East Asia, Central Asia and European countries all the way to Africa is a progeny of China's Han and Tang dynasties' ambitions. Hundreds of years ago, they had embarked on expansion of trade routes in this manner.
Nakao, however, remained ambiguous when probed about the possibility of the Manila-based lender's continuation of concessionary lending for Bangladesh once it becomes a middle-income country. 
"At this moment, we are full-heartedly supporting Bangladesh," he said, while citing the $200 million grant extended to the country last year to help the government deal with the influx of Rohingyas as a case in point.
The ADB provides both concessionary and non-concessionary loans to Bangladesh at present. The concessionary loans come with 2 percent interest rate, a 25-year repayment period including five years' grace period, while the non-concessionary loans have LIBOR-based interest rate that ends up being more than 2 percent.
Last year, the Manila-based lender pledged $2.20 billion for Bangladesh, its highest yet for the country and the third highest amongst the Asian nations in 2018.
Nakao also took the opportunity to praise Prime Minister Sheikh Hasina's leadership role over the past decade.
"I have a very positive view of Bangladesh because of her strong leadership, especially regarding gender and education issues. She is so enthusiastic about education for young girls, esp. in areas of science."
The prime minister is keen on partnering with the ADB regarding railway reform, port reform, water project and education, he added.
In a separate press briefing on Wednesday, Hun Kim, ADB's director general for South Asia operations, lauded Bangladesh for its economic advancement in the past decade.
"Bangladesh is really becoming a success story of the region -- pulling itself ahead of the game. We have big expectations -- we are betting big on the future of Bangladesh."
The country's capacity to implement large volumes of infrastructure projects will be the main stumbling block to realising its growth ambitions.
"Your capacity to implement mega projects or many projects is growing but that will be the main bottleneck. Money will never be an issue. If an economy is growing at 7-8 percent the whole world will come and invest," he added.
Finance ministers, central bank governors, government officials, private sector representatives, development partners, youth, as well as members of the academy, civil society, and media from Asia and the Pacific, as well as around the world, are participating in the five-day event.
The theme for this year's event is "Prosperity through Unity".