$21m USAID project to boost agriculture mechanisation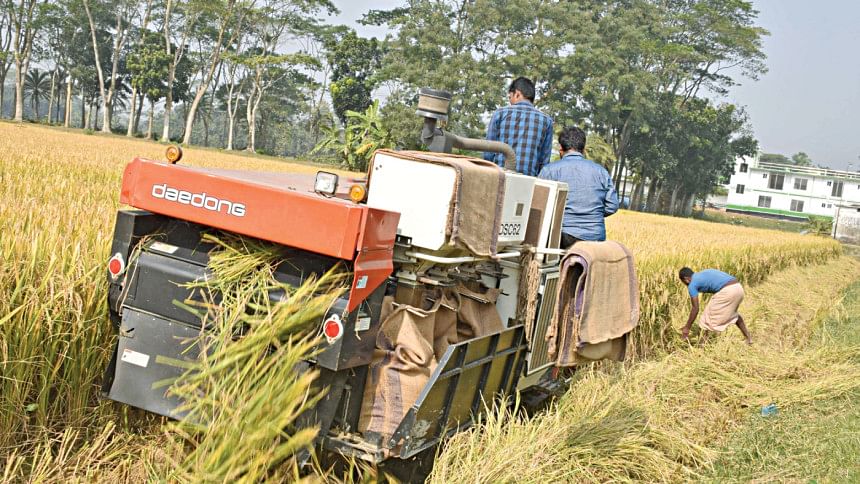 The USAID has started implementation of a $21.4 million project with the aim to support the mechanisation of agriculture and enable 243,000 farmers to adopt new mechanisation technology.
The five-year project, which is scheduled to end in September 2024, looks to train manufacturers to develop and adopt new technology of agri-machinery, marketers and machinery service providers (MSPs) and facilitate the MSPs to get access to finance to buy farm machinery.
Some 2,000 light-engineering workers will be trained, said Timothy David Russel, consultant adviser of the Cereal Systems Initiatives for South Asia Mechanisation Extension Activity (CSISA-MEA) project, at a virtual media discussion yesterday.
The USAID is funding the project implemented by International Maize and Wheat Improvement Centre (CIMMYT) in partnership with International Development Enterprises (iDE) and the Georgia Institute of Technology.
The scheme has been taken at a time when machines plough 98 per cent of the country's farm land.
The USAID said Bangladesh is one of the most mechanised countries in Asia when it comes to land preparation. 
"By contrast, the planting and harvesting of the 11 million hectares of rice grown every year in Bangladesh is still largely carried out by hand. At present, all crops grown in Bangladesh are largely planted, weeded and harvested by hand," according to a fact sheet of the project.
It said increasing labour costs and shortages of labour make crops such as rice increasingly expensive and vulnerable to delayed planting and harvesting.
Under the project, the agricultural machinery manufacturers will be supported to improve their capacity to manufacture competitively priced and high quality machines and spare parts.
The CSISA-MEA aims to support machinery marketing companies to expand their sales and machinery-owner support functions into areas currently poorly serviced by agricultural machinery services, including the Rohingya crisis-impacted communities of the Cox's Bazar region.
It expects the interventions will result in $5 million farm machinery sales and attract $3 million worth of financing by the financial services sector for all in the agri-machinery value chain, including light engineering companies, marketers and MSPs.
This will result in at 243,000 farmers adopting new technology, said Russel in a presentation at the event.