House passes Tk 4tr budget for 2017-18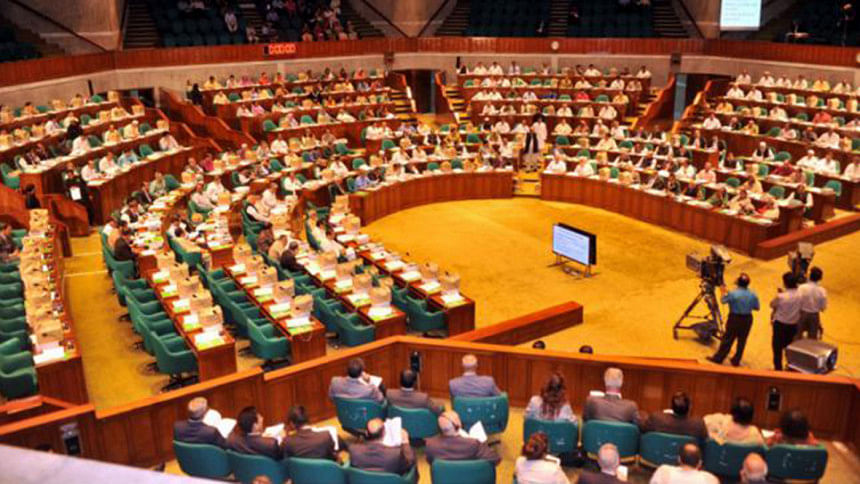 The parliament today passed Tk 4,00,266 crore national budget for 2017-18 fiscal year aimed for higher growth, lower inflation and gearing up investment.
Finance Minister AMA Muhith moved the Appropriations Bill, 2017 which was passed unanimously by voice vote.
Over 200 parliamentarians joined the general discussion on the proposed budget in the House.
Following the proposal mooted in the House by the Finance Ministry for the parliamentary approval of appropriation of fund for meeting necessary development and non-development expenditures of the government, the ministers concerned placed justifications for the expenditures by their respective ministries, through 60 demands for grant.
Earlier, parliament rejected by voice vote a total of 352 cut-motions that stood in the name of opposition and independent members on 60 demands for grants for different ministries.
READ MORE: New VAT law put on hold
Jatiya Party MPs Kazi Firoz Rashid, Fakhrul Imam, Nurul Islam Omar, Nurul Islam Milon, and independent lawmaker Rustum Ali Faraji, among others submitted their cut-motions on the budget.
They were allowed to participate in the discussion on seven demands for grants related to the Bank and Financial Institutions Division, the Education Ministry, the Health Ministry, the Local Government Division, the Food Ministry, the Power and Energy ministry and the Road and Transport ministry. 
Later, Speaker Shirin Sharmin Chaudhury applied guillotine to quicken the process of passing the demands for grants for different ministries.
Opposition and independent parliamentarians were present at the House when the Appropriation Bill was passed.
Earlier on June 1, the Finance Minister placed the Tk 4,00,266 crore national budget for FY17-18.
ALSO READ: 'Ambitious' budget focused on VAT
Earlier, yesterday the House passed the Finance Bill-2017, with some major changes as proposed by the Finance Minister to the original one that was placed before the House at the time of the presentation of the budget for fiscal 2017-18 on June 1 last.
With the passage of both the Appropriation Bill-2017 and the Money Bill-2017, the national budget of Tk 4,00,266 for fiscal 2017-18 got the approval of Parliament on the last working day of the current financial year.
The ongoing session of current parliament was adjourned today till 5:00pm of July 9.