Meena Bazar in talks to take over Agora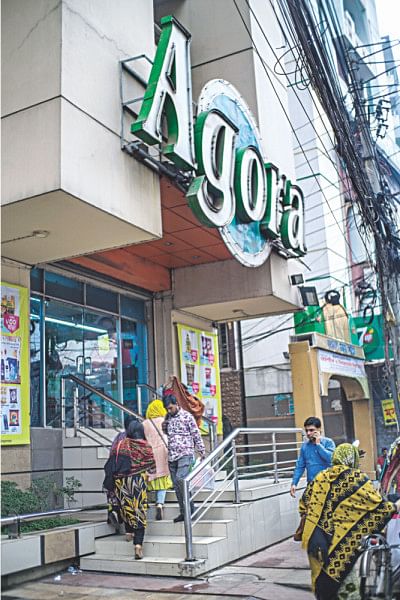 Meena Bazar, one of the country's biggest supermarket chains, is in talks to acquire its peer Agora in a bid to scale up its business volume to strengthen its foothold.
The discussions, which is halfway through, is expected to be complete by the middle of this year. People familiar with the matter were not interested in sharing the figures being negotiated.
Insiders said Agora's owners, Brummer and Partners and Rahimafrooz, started discussions with Meena Bazar's owner Gemcon Group a couple of months ago for what will be the first acquisition in Bangladesh's organised grocery retail sector.
Shaheen Khan, chief executive of Gemcon Food and Agricultural Products, Meena Bazar's operator, acknowledged the development.
Once the acquisition is complete, the number of Meena Bazar stores will double to 34 and it will become the second biggest retail chain after Shwapno. Agora has 17 stores, mostly in Dhaka.
Bangladesh's organised grocery sector started budding from 2001 thanks to Rahimafrooz.
Known in the automotive sector for battery, Rahimafrooz opened its first supermarket, Agora, in Dhaka in 2001 to attract shoppers by offering convenience in buying groceries and other daily essentials and giving a breather from visiting the unorganised wet market.
Since then, customers' turnout increased gradually alongside the number of stores.
Today, Bangladesh has more than 150 supermarkets and convenience stores. Annual turnover in organised grocery retail sector rose 19 per cent year-on-year to Tk 2,300 crore in 2019, according to operators.
The sector has been registering 24 per cent compound annual growth.
Yet, organised grocery sector accounts for 2 per cent of wholesale and retail trade as 5 per cent VAT on sales keeps many customers away from superstores and is holding back the sector from expanding at a brisk pace, according to operators.
Insiders said Rahimafrooz formed its partnership with Brummer & Partners in 2009 to expand business and improve services, a year after ACI entered the superstore chain-based trade.
It could not expand that much.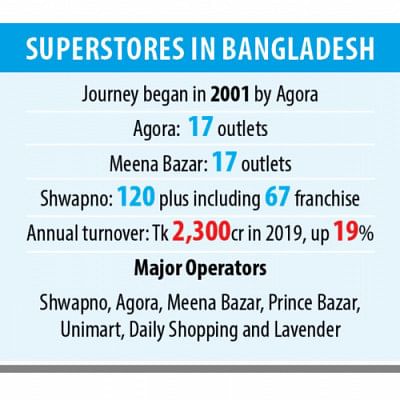 However, a board member of Agora said it had three stores when Brummer and Partners, Sweden's largest hedge fund manager, invested in Agora.
Today, Agora's total number of stores have increased to 17 and the Swedish firm has about 70 per cent stake in Agora, the second biggest superstore chain after Shwapno.
"Hopefully we have been able to make some contributions in making Agora bigger than what it was. We had been in it for 10 years. But when any foreign investor invests, it has to exit sometime. This is that phase," he said.
The sector will continue to grow and has great prospects as the supermarket landscape is still very small, the Agora board member added.
As the majority shareholder of Agora wants to sell its stakes, Rahimafrooz is also not willing to continue, said a senior official of Rahimafrooz on condition of anonymity.
"Both of us put some money and we want to make some money," he said seeking to remain unnamed.
Contacted, Niaz Rahim, director of Rahimafrooz (Bangladesh), said in a text message: "Negotiation is progressing." He did not give any further detail.
Insiders said Meena Bazar wants to buy Agora's operations to increase its volume of sales to ensure profitability in the low margin sector, taking advantage of Agora's existing setup.
Shwapno, a concern of ACI, is the biggest retail supermarket with more than 120 stores, including 61 Shwapno stores and 67 franchisees, known as Shwapno Express, mostly in Dhaka and Chattogram.