BONDED WAREHOUSE PRIVILEGE
Licences getting hard to come by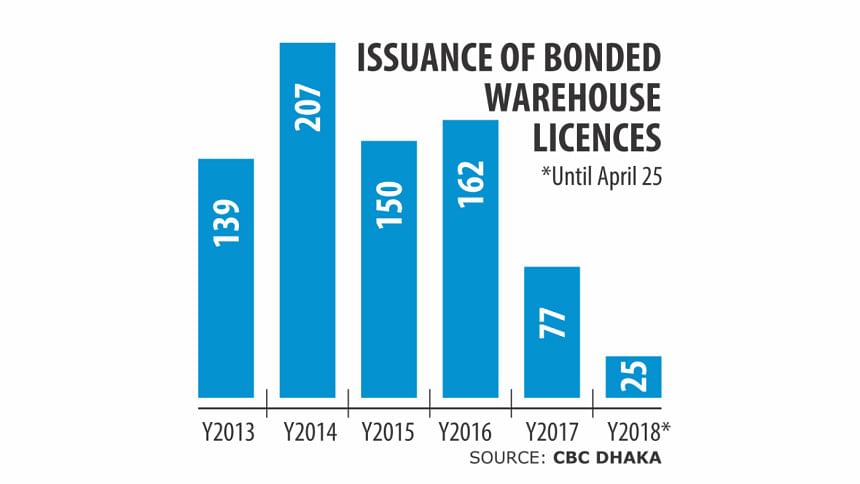 About 200 applicants, who have set up factories to make wares for export, are kicking their heels in frustration because of the Customs Bond Commissio-nerate's (CBC) apathy in giving out bonded warehouse licence, a duty-free privilege extended to exporters.
In some cases, some applicants are waiting for up to a year or longer.
"Not only me, many investors like me have been waiting for several months for licences," said an entrepreneur who applied for the permit in February.
The businessman has invested about Tk 150 crore for setting up a fully export-oriented denim factory, but in the absence of any production he now has to foot the costly bank instalments. Previously, licences were issued within a month of applying.
"On one hand, the government encourages us to invest to boost exports. On the other, we face delays in getting licences. This is contradictory," he said seeking to remain unnamed.
The Customs Bond Commissionerate Dhaka, which looks after nearly 6,000 fully export-oriented factories that avail bonded warehouse benefits, has issued 77 bonded warehouse licences in the last one and a half years, which is less than half the number of licences issued in 2016 (162).
And as of April 25 this year, it has issued 25 bonded warehouse licences. Since January 2013, 757 licences were issued, 68 percent of which were to garment makers.
So the current delays have left garment exporters jittery as they gun for $50 billion in receipts by 2021.
Despite repeated attempts, CBC Dhaka Commissioner Md Al Amin Pramanik could not be reached for comments on the issue.
However, a senior official of the CBC Dhaka on condition of anonymity acknowledged that there had been slowness in issuing licences over the last one and a half years.
One of the reasons was thorough scrutiny of all the documents accompanied with physical verification to ensure that only genuine exporters get the duty-free import privilege and the benefit is not abused, he said.
"But this does not mean that we are not issuing licences. We are issuing licences after checking the compliance status and documents. We are not extending the benefit to naughty and noncompliant firms."
The official said the field office under the National Board of Revenue became tough on granting bonded warehouse privilege amid allegations that a section of licence holders sold out the duty-free items to the domestic market, causing the state to miss out on large sums of revenue.
Officials said the state loses several thousand crores of taka for leakage of items from bonded warehouses.
At a meeting in August 2015, former NBR chairman Md Nojibur Rahman said the government could build two Padma bridges with the customs duty that the state was losing every year for the misuse of zero-duty import benefits under bonded warehouses. Subsequently, some officials refrained from issuing licences without checking documents properly to avoid probe by anti-corruption watchdog. Besides, many firms apply for licences with incomplete documents, he added.
"That's why, applications got piled up," he said, adding that steps are being taken to clear the backlog.
Out of nearly 170 applications for licences, the CBC Dhaka has sought documents from about 100 firms and 40 applications are under process of issuance, the official added.