LG, Butterfly to make LED TV locally
Plant to be inaugurated today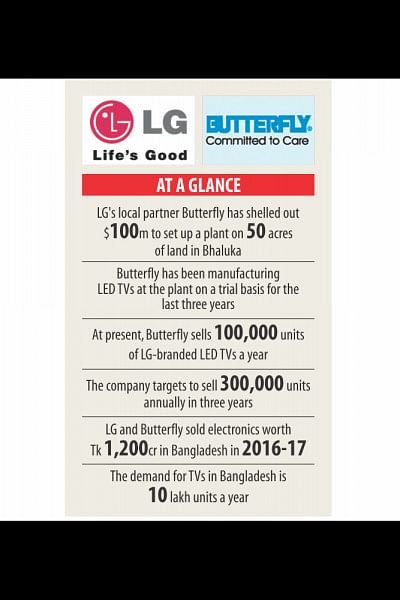 South Korean electronics giant LG Electronics is set to manufacture LED televisions, refrigerators and air conditioners in Bangladesh, following in the lead of its compatriot Samsung.
LG's local partner Butterfly has shelled out $100 million to set up a plant on 50 acres of land in Bhaluka.
The plant will be inaugurated today, said MA Mannan, chairman and managing director of Butterfly.
The plant's manufacturing line for LED TVs will roll first, followed by refrigerators and air conditioners next year.
Since June last year, Samsung has been manufacturing four home appliance products in the two factories it set up with Transcom Group and Fair Electronics in the capital's Mohakhali area and Narsingdi respectively.
"We started production of television first because of the football World Cup," said ASM Muntasir Chowdhury, assistant general manager of Butterfly.
Sales of TVs see a spike around the time of the tournament, which takes place every four years. The 21st FIFA World Cup kicks off in Russia on June 14 and concludes on July 15.
LG will extend technical support to Butterfly for manufacturing TVs locally, according to Chowdhury.
Butterfly has already been manufacturing LED TVs at the plant on a trial basis for the last three years. The TVs manufactured at the plant, which will range from 24 inches to 55 inches, will be sold in Bangladesh for now for Tk 25,000 to Tk 2 lakh.
"In future, we will export them to India, Nepal, Sri Lanka, Indonesia and Malaysia," Mannan said.
At present, Butterfly sells 100,000 units of LG-branded LED TVs a year. The company is targeting sales of 300,000 units in three years' time.
The demand for TVs in Bangladesh is 10 lakh units a year.
Both the companies have taken the decision to set up the manufacturing plant in Bangladesh as assembling of appliances was progressively becoming expensive due to high import duties, said M Tanvir Alam, head of factory operations of LG Butterfly.
Currently, the import duty for electronic components varies from 100 percent to 156 percent, as a result of which the companies' profit margins are squeezed, according to Alam.
Moreover, Bangladesh is progressively becoming a big home-appliance market as people's disposable income is on the rise and they are purchasing more and more electronic goods for their daily use, he said. For instance, LG and Butterfly sold electronics worth Tk 750 crore in fiscal 2014-15, which went up to Tk 900 crore in fiscal 2015-16 and Tk 1,200 crore in fiscal 2016-17.
"We are expecting the total sales to hit Tk 1,600 crore at the end of this fiscal year," Alam said.
Butterfly has been marketing LG products by assembling in Bangladesh since 1995.
The 31-year-old company markets LG's regular product offerings in Bangladesh such as LED TV, Smart TV, home theatre, surround sound systems, refrigerators, washing machines, microwave oven, vacuum cleaner and smartphones.
The company employs 500 people, with the number expected to hit 3,000 soon, Alam said.