IFIC Bank allowed to transfer $12.28m to its Nepal venture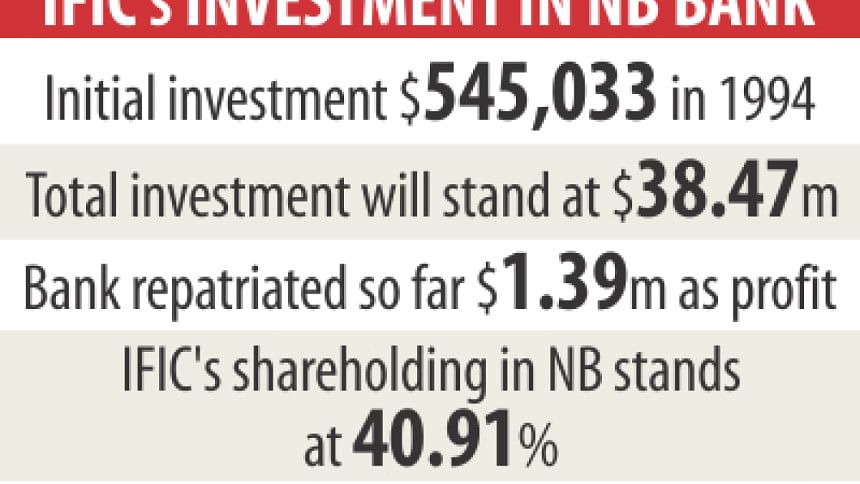 Bangladesh Bank has allowed IFIC Bank to transfer $12.28 million (nearly Tk 98 crore) to buy rights shares in Nepal Bangladesh Bank, a commercial bank IFIC set up in 1994 with Nepalese entrepreneurs.
The central bank last month declined to give IFIC the green light for the fund transfer on the grounds that profit repatriation from NB Bank was significantly lower than its investments.
Instead, it advised IFIC to provide the capital by selling the bonus shares received as dividends for fiscal 2015-16. The central bank also asked IFIC to repatriate the rest of the money after buying the rights shares.
IFIC holds 40.91 percent stakes in the joint venture bank in Nepal and it needed to transfer the sum to buy right shares against the holdings to meet the regulatory requirement of the central bank of Nepal.
NB Bank has to increase its capital to $70 million by 2017.
"We have allowed IFIC to take the capital to Nepal as the joint venture bank is overcoming losses gradually," said a senior BB official.  If NB Bank performs well, it will be a positive branding for Bangladesh, he said, asking not to be named. The official hinted that the BB mulls over liberalising the foreign investment provision to allow local entrepreneurs to invest aboard.
Between 1994 and 2014, IFIC Bank transferred a total of $26.18 million to Nepal and repatriated only $1.39 million, according to a BB report.  The report shows that the share price of NB Bank reached a highest of $8 a share from $4.77 in fiscal year 2015-16.
Had IFIC Bank sold its bonus share, it would have bagged over $32 million -- enough to buy the rights shares.  Moreover, the bank will be able to repatriate over $23 million into Bangladesh. However, IFIC's stakes in NB Bank would come down to 30.99 percent.
At present, IFIC has controlling power of NB Bank, taking up three posts of the seven-member board. If IFIC sold the bonus shares, it would lose one spot from the board and control of the bank as well.
Shah Md Moinuddin, deputy managing director of IFIC Bank, confirmed to The Daily Star about the BB's approval to transfer the money to Nepal. "We were able to convince the Bangladesh Bank that the investments will be good for us," Moinuddin said, adding that the NB Bank has been expanding fast and making profits as well.
NB Bank counted $11.23 million as profit in fiscal 2015-16.