Idcol to help develop market for improved cooking stoves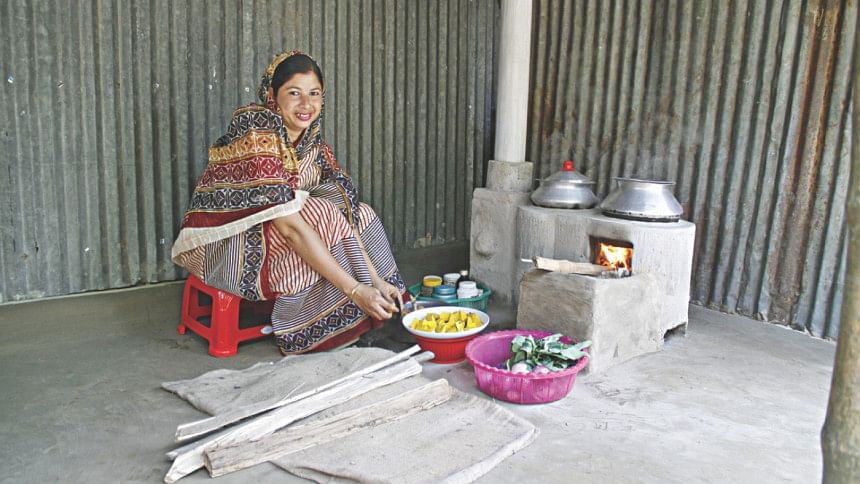 Infrastructure Development Company Ltd (Idcol) now plans to help develop a sustainable market for adoption of improved cooking stoves in Bangladesh after it successfully installed one million burners two years ahead of schedule.
The Idcol's ICS Programme was initiated in 2013 with the aim of installing 1 million stoves by December 2018.
The state-owned financial institution achieved the target in January 2017, and more than 1.48 million improved cook stoves were disseminated among the rural households till February 2018.
The next phase of the programme is aimed at supporting a sustainable market for adoption of ICS, reducing greenhouse gas emission and indoor air pollution (IAP) by way of cutting usage of cooking fuel, said Rasel Ahmed, assistant manager (renewable energy programme) of Idcol.
"This will benefit about 5 million rural households in Bangladesh by 2021," Ahmed said after talking to the users of the stoves in Gabtoli upazila under Bogura district.
The agency is implementing the ICS programme in 290 upazilas through 66 partner organisations (PO) with financial assistance from World Bank.
The POs are mostly NGOs, microcredit institutions, and private organisations.
Idcol extends grant, capacity building and other technical assistance to the POs, which manufacture and install stoves and ensure after-sales service and promote the technology in their allocated upazilas.
Currently, 150 ICS production centres exist across the country capable of producing 80,000 stoves per month.
This has established a strong base to achieve 100 percent coverage of improved stoves by 2030 in line with Bangladesh's Country Action Plan for Clean Cookstoves, said Idcol in the statement.
Only 10 percent of the over 30 million households in Bangladesh have access to natural gas for clean cooking solutions, leaving the majority of the population to depend on traditional biomass fuels such as wood, dung, and agricultural residues for cooking in low-efficiency stoves (5 to 15 percent fuel efficiency).
This inefficient traditional stove produces smoke composed of a large number of particulate matters and carbon monoxides through incomplete combustion of biomass fuels, thus creating indoor air pollution.
IAP resulting from the smoke is linked with many diseases such as acute and chronic respiratory conditions, lung cancer, heart disease, stroke, and cataract.
According to World Health Organization, more than 100,000 people die every year in Bangladesh due to various diseases caused by IAP, which is also responsible for degradation of the natural environment and deforestation.
The IAP and deforestation can be controlled by using ICS, according to Idcol.
The stove has been designed by the Bangladesh University of Engineering and Technology (Buet) and tested by the Centre for Rural Technology, the University of Dhaka.
The agency said it is convenient to the cooking process and creates a smokeless environment in the kitchen. The energy efficiency of burning biomass fuel in ICS is between 20 and 35 percent, far better than that of traditional stoves.
The ICS Programme has been well-recognised worldwide for its unique modality and effectiveness.
The Green Climate Fund Secretariat said the approach or business model of the Idcol for market development of, and barrier removal related to, clean cooking stoves is an important benchmark case study for many other countries.