ICT exporters get 10pc cash incentive
The government has granted 10 percent cash incentive to the ICT industry against their exports – a move that could be a game-changer for the country's export scenario. 
Bangladesh Bank issued a circular to this effect on Thursday, and the incentive will be retrospectively effective from July 2017.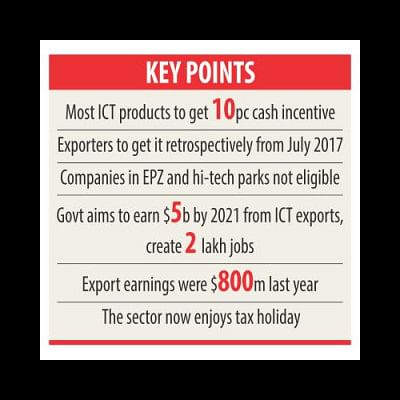 The measure meets a long-time demand of the entire information communication technology sector of Bangladesh.
Industry people said this would help attain the target of export earnings of $5 billion from the ICT sector by 2021.
Mustafa Jabbar, minister of telecom and ICT, called the development a great achievement for the digital industry as a whole. He said it would help increase the export earnings from the technology-related industry.
"I am quite sure exporters will feel encouraged to export more and we will find more and more companies which will start exporting their products," he said.
The minister said the incentive would boost Bangladesh's IT industry's competitiveness further.
Previously, the government had given cash benefit to exporters in the garments and food sector and they have utilised the support and got the industries to flourish.
Today, Bangladesh is the second largest garment exporter in the world and the labour-intensive sector accounts for more than 80 percent of the country's export earnings.
According to the circular, ITES products such as digital content development and management, both 2D and 3D animations, geographic information services, IT support and software maintenance services, website services, graphics design, search engine optimisation, and web listing will get 10 percent cash back on export earnings.
Other beneficiaries include exporters of shipping document conversion, imaging and archiving, software or application customisation, website development, website hosting, software test lab services, robotics process outsourcing, and cybersecurity services. Software, mobile device manufacturers, laptop, and other gadgets assemblers will receive the benefit even if they add only 20 percent value to their products. For software and other IT-enabled services, the value addition has to be at least 30 percent.
The entire device-related manufacturing segment with artificial intelligence, internet modem, display devices and other accessories are also eligible.
However, companies that are located inside export processing zones, economic zones or hi-tech parks will not be entitled to the benefit, according to the notice. 
Exporters can calculate the benefit even if they have already shipped their products and services. To avail the benefit, they will have to file an application within 60 days of the issuance of the notice.
The incentive came after repeated demand from the Bangladesh Association of Software and Information Services (BASIS) in the last couple of years. The association, however, called for 20 to 40 percent cash incentive.
Syed Almas Kabir, president of the BASIS, said thanks to the incentive, export would definitely get a boost and new players will feel interested to export.
"Besides, exporters who are not bringing in their export earnings to the country at all or bringing it using alternative ways will change their mind. I think this will change the whole game," said Kabir.
According to the Export Promotion Bureau, export earnings from the ICT sector stood at about $250 million in 2016-17. Industry people, however, said this figure would be more than $800 million.
The central bank has made trade bodies liable in this regard in order to ward off fraudulent activities. The BASIS will verify export documents for the ICT and e-commerce sectors, said Kabir.
If any official of the trade body is found guilty of any wrong declaration, he or she will face punishment, according to the circular. "We will try our best to perform well so that we can demand more incentives next year," Kabir added.
In case of any wrong declaration and unlawful payment, the central bank will also hold the exporter's bank liable and deduct the amount from its account with the BB.
Rashad Kabir, managing director of Dream71, said 10 percent is definitely a big amount of money and this single decision can change the whole scenario of export trends.
He said even today Bangladesh is little known as a digital product importing country. "But thanks to the incentive, the situation will start changing. After a couple of years, the whole world will know us as a technology products and services exporting nation," said Kabir. Dream71 exports application and games and other digital solutions to nine countries.
The circular also declared business process outsourcing and related activity as an ITES. Digital data analytics, data entry, data processing, call centre service, and overseas medical transcription have been included in the list.
E-commerce and online shopping, which are getting huge popularity, were included. Though the total market for online shopping is about Tk 1,500 crore, there are few exports using technology.
Welcoming the move, Md Abdul Wahed Tomal, general secretary of the e-Commerce Association of Bangladesh, said people would now be more enthusiastic to carry out cross-border e-commerce business following the circular.