Grey, Magnito teams win Young Lions Competitions Bangladesh 2017
Winners will lead Bangladesh in the upcoming Spikes Asia 2017 in Singapore Sept 27-29
Two teams from Grey Advertising Bangladesh and Magnito Digital Ltd have won Young Lions Competitions Bangladesh 2017 under two separate categories.

With the theme 'In Search of the Most Creative Young Professionals', The Daily Star and Bangladesh Brand Forum, in association with Cannes Lions organised the competition, the third edition of its kind.

The day-long competition was held at The Daily Star Centre, in Dhaka yesterday.

Both the teams will represent Bangladesh in the upcoming Spikes Asia 2017 which will be held in September 27-29 in Singapore.

The Grey team, comprising of Farah Yasmin, senior visualiser, and Maisha Binte Siddiq, executive, GMS, won this year's title under the category of Integrated campaign.

Meanwhile, the other team from  Magnito, comprising of Tasnim Noorin Brotee, senior strategic planner, and Md Mahmudur Rahman, senior visualiser, was announced the winner under  the category of Integrated Digital Campaign.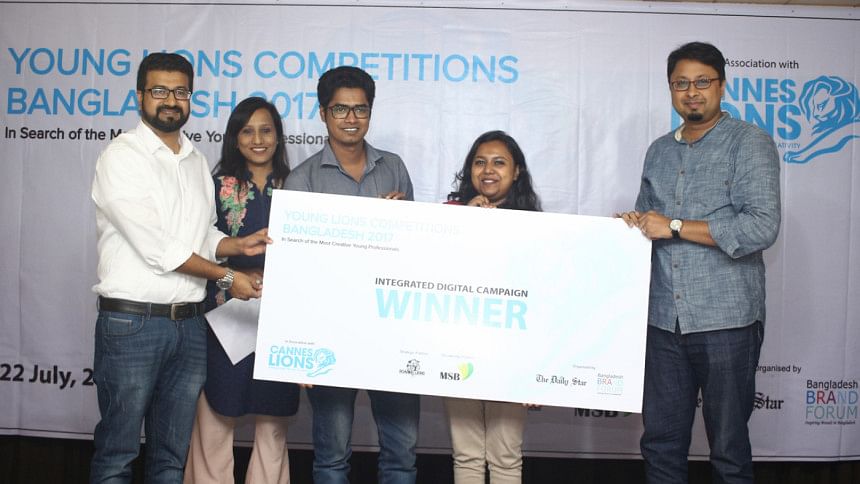 A total of 27 teams from 18 creative agencies participated the competition. Among them, 16 teams participated in Integrated Campaign and rest 11 teams in Integrated Digital Campaign categories.

The teams developed campaigns on "Human! Save the ear to hear who you are!" solving the noise pollution problem of Bangladesh.

The teams had to work under a real-life scenario and a strict deadline.

Each of their developed campaigns were focused on creating mass awareness, informing the people about the consequences of noise pollution, generating buzz about the issue, and bringing in positive changes in people's behaviour.

The competing teams had only five minutes each to present they module before an expert jury panel.

Aftab Mahmud Khurshid, CMO, Bengal Group of Industries; Mahzabin Ferdous Sharna, head of brand and corporate communication of IPDC Finance Limited, Md Tajdin Hassan, head of marketing, The Daily Star, and Md Quamrul Hassan, business director, ACI Limited, were in the jury panel for Integrated Campaign.

On the other hand, for Integrated Digital campaign, the jury board was comprised of Zakia Zerin, head of app eco system, Grameenphone Limited; Neamul Mukit Ahmed, head of e-engagement and marketing, Digital Division of Banglalink Digital Communications Limited, and Hasan Mehdi, chief executive officer, SSD-TECH.

Almost all the teams came up with some tremendously interesting ideas. From attractive print advertisements to interactive outdoor campaigns.